Salespage Snapshot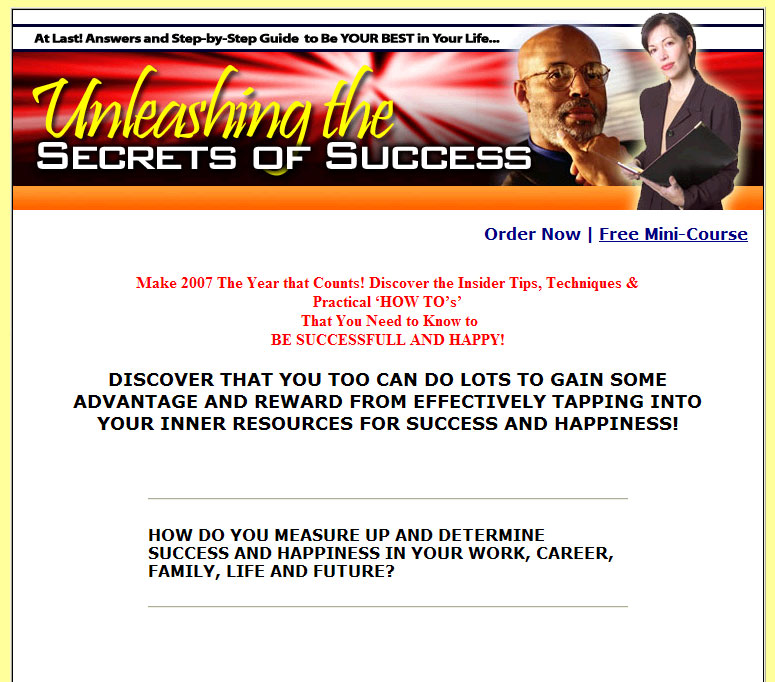 >> Click Here To View Sales Page...
Ebook Table Of Contents
SECTION 1
Introduction And Foreword: What Is Success, How To Get And Enjoy It – An Overview And Brief Word To Get Started                                    3
Factors That Affect Success And Happiness        7
SECTION 2
Random Chance?                              11
Balanced Views, Perspectives, Plans And Actions                                                  15
Monetary Considerations                         19
Education                                      20
Exaggerated Self-Confidence                      21
Bravery, not bravado!, not bravado!              24
Anxiety And "Angst"                          26
Depressive States                              28
Not Succeeding                                  29
Predictability And Consistency                   31
Bias And Filters, Preconceptions And Prejudice      33
Tranquility And Acceptance                      35
SECTION 3
LOOKING AHEAD AND INWARD                39-53
Conclusion                                      54
Resources and Publications                    61-62
PLR Ebook Sample Content Preview
Introduction And Foreword:
What Is Success, How To Get And Enjoy It – An Overview And Brief Word To Get Started
We naturally want to gravitate to what success offers. It comes naturally for our curiosity, nature, appetite, heart's desire and purpose.  Success for most of us means taking the high road, aspiring to something more and beyond, reaching ever-higher, to achieve, grow, expand and get better. It is ingrained and instilled in us almost.
Success is then typified as mastery and being in control of destiny, process and outcome, not feeling helpless, a victim of events, random chance and the like. Success embodies our wants, needs and desire as individuals, as human beings!
Living life to its fullest potential is at stake here. Success if mind over matter and within our every easy reach. It is about the balance between moral and ambition, regardless of your role, function or contribution in society. We all want to taste of success and be successful. We envision, crave and work (even manipulate if we have to) our way for and towards it.
Success is individual and unique and collective. Whether artiste, soldier, business executive, media representative, clerk, we all strive for a better life and getting ahead. It is common bond and factor we all share. Success is within reach of all, especially those who choose to embrace it fully. WE can make and claim our reality and destiny into being and some argue this is the only true path to success – know and make happen what you are striving for, discover and execute for SUCCESS! YOUR SUCCESS!
BOTH choice, free will, predisposition and assets can help, hinder, improve, destroy, showcase, trip up, even grow and expand our own success.
You need to know what your special gifts and talents are in order to tap into them effectively! But what contributes to being successful or tasting SUCCESS in your life?
There are THREE interwoven and inter-related concepts, forces at work here in this success dynamic. They are:
Health – Well-being
Judgment – Ability/Knowledge, Intuition
Industry – Ambition …
Other Details* Sales Page:
Included, HTML, MS Word Doc
* File Format:
MS Word Doc, PDF
* Number of Pages:
62
* Included Graphics:
Ecovers, PSD
* Extras:
5 Part Autoresponder Email Message Series
* Download File Size:
12,078 KB