Salespage Snapshot: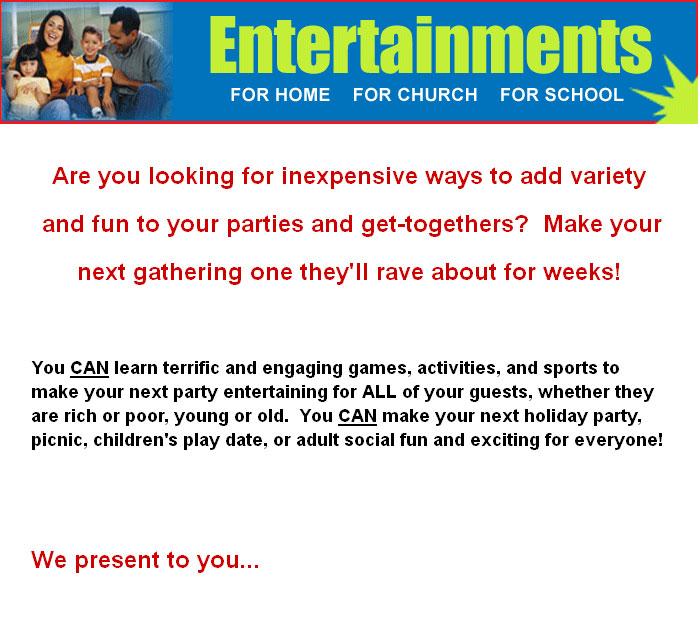 >>> Click Here To View Full Sales Page…
Table Of Contents
INTRODUCTION
HOUSEHOLD GAMES AND AMUSEMENTS
GOING SHOPPING
LIGHTING THE CANDLE
HIT OR MISS
CROSS QUESTIONS
THE GAME OF RHYMES
THE MOST IMPROBABLE STORY
ANIMATED ART
GUESSING CHARACTERS
WHO IS MY NEIGHBOR?
TONGUE-TWISTERS–ANY NUMBER OF PLAYERS
BUTTON, BUTTON
FRENCH RHYMES
CONSEQUENCES
ANT AND CRICKET
A SPOONFUL OF FUN
WHAT IS MY THOUGHT LIKE?
BIOGRAPHY
NICKNAMES OF CITIES
HOW, WHEN AND WHERE
MY GRANDFATHER'S TRUNK–ANY NUMBER OF PLAYERS
LOCATION
PREDICAMENTS
PROGRESSIVE PUZZLES
MIRTH
CRAMBO
AUCTION
BEAST, BIRD OR FISH
THE ROTATION OF THE GLOBE
ADVICE
WORDS
FLAGS OF ALL NATIONS
ANOTHER GAME OF WORDS
GRAMMATICAL GAME
MENAGERIE
PRINCE OF INDIA
EXCHANGE
HUNT THE RING
SHADOW BLUFF
GUESSING EYES AND NOSES
THE TAILLESS DONKEY
THROWING THE HANDKERCHIEF
MAGIC MUSIC
CUSHION DANCE
MUSICAL INSTRUMENTS
ANIMAL BLINDMAN'S BLUFF
MY LADY'S TOILET
MARY AND JOHN
GOING TO JERUSALEM
"WHAT D'YE BUY?"
THE LEMON PIG
THE SEASICK PASSENGER
THE ENCHANTED RAISINS
THE DEMON LUMP OF SUGAR
THE MYSTERIOUS PRODUCTION
THE FAMILY GIANT
"THE WHAT-DO-YOU-THINK?"
THE KNIGHT OF THE WHISTLE
"HE CAN DO LITTLE."
"THROWING LIGHT."
CHURCH AND SCHOOL SOCIALS
ACTING CHARADES
LIVING PICTURES
VARIOUS TABLEAUX
Waxworks
OPTICAL ILLUSIONS
RAISING A GHOST
A MAGIC-LANTERN TRICK
THE PHANTASMAGORIA
CHINESE SHADOWS
A WONDERFUL MIRROR
THE DISAPPEARING PAPER
MULTIPLIED MONEY
MULTIPLYING SHADOWS
TABLE GAMES FOR ADULTS
DOMINOES
BACKGAMMON
CHECKERS
JENKINS
BOUQUET
ZOO
SIMON SAYS
AUTHOR'S INITIALS
SKETCHES
STRAY SYLLABLES
SHAKESPEAREAN ROMANCE
PARODIES
LONDON
CHESS
OUTDOOR GAMES FOR ADULTS
LAWN TENNIS
POLO
HOCKEY
GOLF
ARCHERY
RING TOSS
LAWN BOWLS
HOLIDAY GAMES AND AMUSEMENTS
NEW YEAR'S EVE PARTY
CHILDREN'S NEW YEAR GAMES
LINCOLN'S DAY
VALENTINE PARTY
WASHINGTON'S BIRTHDAY
FOR APRIL FIRST
EASTER EGG PARTIES
FLAG DAY
A HALLOWEEN PARTY
BOBBING FOR APPLES
FLOATING NEEDLES
CANDLE AND LOOKING-GLASS
APPLE GAMES
THANKSGIVING PARTY
KRIS KRINGLE PARTY
SNOWBALL BATTLE
CHRISTMAS GUESSES
JACK FROST
LEAD TEST
APPLE TESTS
A PUMPKIN GAME
THE CHRISTMAS DINNER
SUGGESTIONS FOR GAMES TO BE PLAYED AT CHRISTMAS TIME OR AT THANKSGIVING
OUTDOOR GAMES FOR GIRLS
BASKET BALL FOR GIRLS
BOX BALL
GUESS BALL
TARGET BALL
BOMBARDMENT
STRING BALL
PASTIMES FOR CHILDREN
SUN DIAL
MOTHER, MAY I GO OUT TO PLAY?
GARDEN SCAMP
DO THIS, DO THAT
WEATHER COCK
THE FLOWERS AND THE WIND
BLIND MAN'S BUFF
FRENCH BLIND MAN'S BUFF
BLIND MAN'S BUFF WITH A WAND
HIDE-AND-SEEK GAMES
FOLLOW OUR LEADER
FEATS AND FORFEITS
DUMB MOTIONS
WAND TUG OF WAR
CATCH AND PULL TUG OF WAR
NINE PINS
PRELIMINARY BALL
BALL DULL
TIME BALL
RAILROAD TRAIN
MERRY-GO-ROUND
PEBBLE CHASE
HOW MANY MILES TO BABYLON?
PUSS IN THE CORNER
INDOOR GAMES FOR YOUNG CHILDREN
PATCHWORK
QUOTATIONS
TABLE GAME
A DOLL SHOW
PEANUT GAME
PEANUT HUNT
A PEANUT PARTY
A CHILDREN'S FAIR
SOAP BUBBLES
A POP-CORN PARTY
CANDY PULL
A BABY SHOW
MISS CHILDREN
THE COOK WHO DOESN'T LIKE PEAS
MAGIC MUSIC–ANY NUMBER OF PLAYERS
ZOOLOGY–ANY NUMBER OF PLAYERS
OUTDOOR GAMES FOR YOUNG CHILDREN
TARGET BEAN BAG
BOX BEAN BAG
BEAN BAG GAMES
BEAN BAG RACE
BEAN BAG AT THE SEASHORE
SKIPPING THE ROPE
HOME TAG–ANY NUMBER OF PLAYERS
SECRET TAG
JAPANESE TAG
CROSSING THE BROOK
SINGING GAMES FOR CHILDREN
ORCHESTRA
CHARLEY OVER THE WATER
JACK BE NIMBLE
MARY'S LITTLE LAMB
THE SNAIL
OATS, PEAS, BEANS
MULBERRY BUSH
ITISKIT, ITASKET
FARMER IN THE DELL
THE KING OF FRANCE
LONDON BRIDGE
MOON AND MORNING STARS
WEE BOLOGNA MAN
DRAW A BUCKET OF WATER
GAMES OF ARITHMETIC
HOW TO TELL ANY NUMBER THOUGHT OF
ANOTHER WAY
A THIRD WAY
A FOURTH WAY
HOW TO TELL NUMBERS THOUGHT OF
GOLD AND SILVER GAME
THE NUMBER BAG
THE MYSTICAL NUMBER NINE
THE MAGIC HUNDRED
TO GUESS THE MISSING FIGURE
THE KING AND THE COUNSELOR
THE NAILS IN THE HORSE'S SHOE
THE DINNER PARTY PUZZLE
BASKET AND STONES
ONE HUNDRED CONUNDRUMS
Sample Content Preview
INTRODUCTION
Games are meant to amuse, but in addition to amusing, a good game, played in the right spirit, may have great educational value.
Now, this is distinctly a book of games and amusements. There are games for indoors, scores of them, while there are other scores that can be enjoyed only in the open.
When young folks, and older folks, too, for that matter, meet for a pleasant evening, it is rather depressing to have them sit solemnly on stiff chairs in the company room and stare helplessly at one another, like folks awaiting a funeral service.
Now, if there is present, and there usually is, a bright girl, who knows the games in this book, and she starts in to "get the ball a-rolling," all will soon be enjoying themselves better than if they were watching a three-ring circus. And then the volleys of wholesome laughter that will roll out–why, they will be better for the digestion than all the medicines of all the doctors.
It will be noticed that some of the outdoor games, and others devised for indoors, require some apparatus, like tennis and croquet, or back-gammon boards and magic lanterns, but the majority need only the company, and–let it be added–the disposition to have a good time.
Other Details
- Ebook (PDF), 203 Pages
- Software (EXE)
- Salespage (HTML)
- Ecover (GIF)
- Year Released/Circulated: 2010
- File Size: 1,447 KB