Features:
* 52 Weeks Pre-written Newsletters
This isn't just ANY private label content. These newsletters are written to effectively promote best-selling affiliate products for an entire year. All the work is done for you.
* List of Top Affiliate Programs
Comes with high-paying, high conversion affiliate programs from Clickbank, Commission Junction, Shareasale, and others – just sign up! Once you've got your affliiate links, you put them into the content and bam – your newsletters are branded and ready to make you money!
* Opt-In Template For Each Niche
Pop in YOUR autoresponder information, and you're ready to upload this page to any domain and start collecting leads!
Opt-In Template Preview: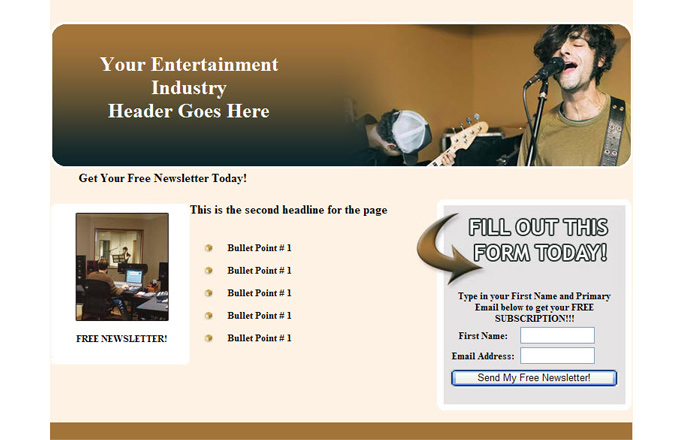 Autoresponder Message Titles:
– Romantic Comedy
– Sports As Entertainment
– Theater, Movie, And Television Makeup Artists
– Drama
– Television Variety Shows
– Cartoons And The Funny Papers
– Politics As Entertainment
– Talk Shows
– Orchestras
– Busking
– The Movie And Television Rating Systems
– Concerts As Entertainment
– The Record Industry
– Westerns In The Movies And On Television
– The Biz
– Vaudeville
– Costume Design
– Magicians On Television
– Entertainment For Children
– The Opera
– Computer Games
– The Soaps
– Performing Arts Schools
– Authors Who Entertain Us
– Theater In The Round
– Musicals And Musical Theater
– Ballet
– Movie Actresses
– Musical Comedy
– Education As Entertainment
– Broadway
– Silent Film
– The Talkies
– Rodeos
– Online Games
– Theme Parks
– Television Actors
– Hollywood
– Movie Actors
– Branson
– Off Broadway
– Comedy
– Las Vegas
– Traveling Side Shows
– Gambling
– The Circus
– How Television Entertainment Has Changed
– Old-Time Radio
– Television As Entertainment
– Talent Search As Entertainment
– Music As Entertainment
– Amusement Parks
Sample Affiliate Program Preview:
Puzzle Master
"Puzzlemaster is one of the most extensive sites in the world for puzzles and brainteasers." Commission of 10% on all sales; two-tier commission system; 120 day cookie. They have a 7-Day EPC of $56.25.
eParty Unlimited
"The leader in innovative party supplies and entertainment since 1999." 12% Commission, 7-Day EPC of $33.95, 45-day cookie.
Viral Media Cash
"Discover How To Make Thousands Running Your Own Viral Media Entertainment Website." Make $25.42 per sale (60%), administered through Clickbank.
Watchdirect
Watchdirect – "Hot New Product! The Only Movie Site With Live Trailers! Top 20 Movie, PC Games, Anime, Music, Ipod And TV Show Listings. Unreal Conversions!" Commission is 75% per sale ($24.93).
My New Satellite TV
"Watch 2,500 TV Channels On Your PC! Radio & TV Channels from 80+ Different Countries." Get paid $32 per sale. No trial period or refund periods to worry about. Bonus given for generating 25 sales per month.
Sony Computers and Electronics
"Sony has hundreds of thousands of products including computers, electronics, accessories and services" Affiliate benefits include: Deep Linking; 2% commission and a performance incentive once you reach $50,000 in sales (average order size over $595). 30-Day Cookie, Computer & Electronics Product Datafeed available.
Other Details* No Of Messages
: 52
* File Format
: TXT
* Included Graphics
: eCover [PSD, JPG]
* Extras:
Squeeze Page
* Extras:
Affiliate Programs [PDF]
* Download File Size:
1,330 KB