Salespage Snapshot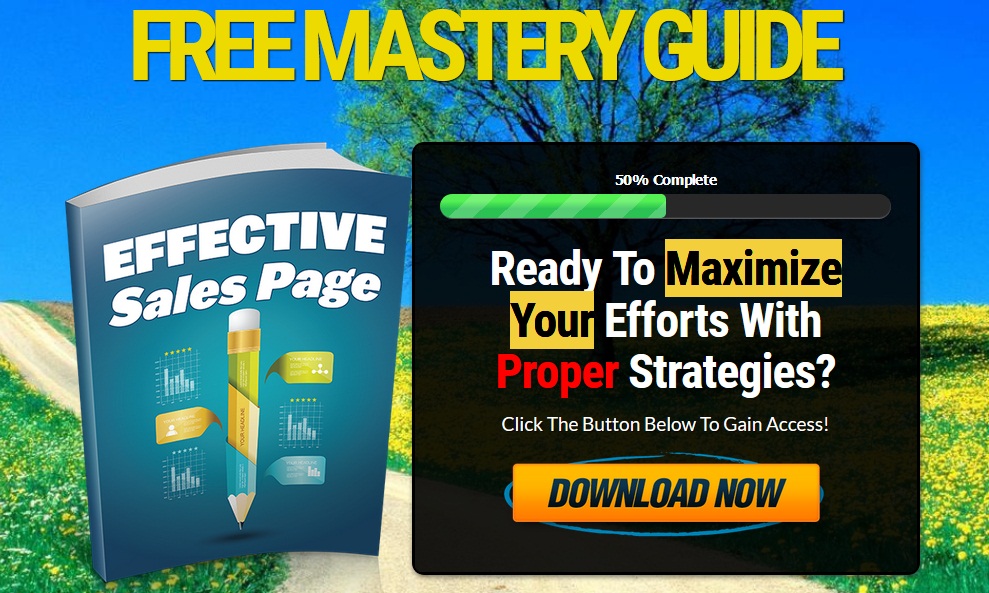 >> Click Here To View Sales Page...
Sample Content Preview
Unfortunately, true honesty, integrity, and authoritative knowledge are quite rare on today's Internet. For every one person like you who is focused on making a legitimate business out of your efforts, there are dozens (or more) of people out there focused on finding new and creative ways to scam unsuspecting prospects out of their time and money.
When you firmly establish yourself as being honest and authoritative regarding your product (beginning early in the sales page and continuing throughout the sales page), you dramatically increase your potential results.
#4 –INSPIRE WITH BENEFITS
Your prospects aren't going to fall all over themselves to make a purchase just because you have a great product or service; no, you have to capture their emotions and inspire them to take action by describing and emphasizing the most interesting and positive benefits they will enjoy after they buy your product or service.
Benefits are quite different from features; a feature is some attribute or function of a product or service, while a benefit is some advantage, help, or aid that results from owning and using the product or service. The key to presenting benefits successfully is to identify which ones are most important to your specific prospects and then emphasize them from highest priority to lowest priority.
Research tells us that people reading Internet sales pages do much more scanning than reading, so if you want to capture attention and clearly communicate benefits of your product or service, then you need to present them in a bullet point format. For instance, let's say I want you to know my product has many benefits, such as being easy to use, increasing your vocabulary, and improving your writing skills.
Can you quickly and easily find the product benefits written in the paragraph above? No, of course not. Now let's try it in a better and more effective way.
My product has many benefits, such as:
• It's easy to use
• It will increase your vocabulary by at least 15%
• It will improve your writing skills by at least one full letter grade
See the difference? The bullet points make each benefit stand out more clearly to the readers, making it easier to catch their attention and tap into their emotions.
Don't be afraid to include a long list of benefits as part of your sales page; think of each and every thing you can, right down to the smallest little positive outcome you can figure. Once you have your list, put the benefits in order of priority with the highest priority coming first. This way, your prospects will read the most powerful benefits first and also have an easy time scanning through the entire list without taking too much time or effort.
#5 –INFORM WITH FEATURES
Think about the last time you went shopping for a bicycle. You probably looked at a number of different factors when comparing different models; most importantly, the specific features offered by each model. Items such as the number of gears, the type of brakes, and the type of seat are all examples of important features you looked at and considered.
The same holds true for your product or service; you have to include information about the features (and sometimes specifications) offered so that the prospect will know exactly what they are getting when making a purchase from you.
When you communicate the features well, your prospects get the kind of details they need to make a buying decision. This is why you need to be as accurate and as thorough as possible. You'll gain two advantages by doing this:
1. You will increase the conversion rate from prospects to paying customers because your sales page will provide the detailed information needed to demonstrate the value of your product and entice the prospect to make a purchase.
2. You will receive fewer complaints and/or requests for refunds because customers will know what they are getting in advance and there will be no unpleasant surprises for them.
In most cases, you'll want to list the features in the same basic format (bullet points) as the benefits we talked about in the last section, but with a few minor changes. Because the features represent the details of your product or service, you'll need to use more text to describe everything clearly. You may need to use sub-bullets to get all of the information in there without becoming too text-heavy and hard to read.
Another approach that can be very effective is to combine the major features and benefits together so they look something like this:
• Feature #1
o Benefit of this feature #1
o Benefit of this feature #2
• Feature #2
o Benefit of this feature #1
o Benefit of this feature #2
This is more of a design and formatting issue, which we will discuss a little bit later on in this report.
#6 –AN EXTRA BONUS!
Everybody likes to think they're getting a good deal when they buy something, but exactly what goes into a good deal can vary a lot depending on the product, service, and situation. In most cases, though, the best way to increase the value of something so that prospects see it as a good deal is to add in some sort of extra bonus.
This strategy is used all over the place. For instance, if you buy cable television, chances are, your service provider has a number of different "packages" available with various combinations of channels and services; each package is offered at a price that's lower than if you were to buy the individual services separately. Another example is when you purchase a combination meal at your favorite fast food place; the cost of the meal is generally less than the cost of each individual item purchased separately.
The same approach works very well when it comes to Internet marketing and creating an Internet sales page. You want your prospects to be strongly enticed to purchase the main product or service, so to sweeten the deal a bit, you offer an extra bonus item. Maybe it's an ebook written on a similar subject or perhaps it's a "special edition" version of a poster, print, or the like. Whatever it is, when you offer an extra bonus, you make it harder and harder for the prospect to walk away without making a purchase.
The best bonuses are those things that customers would very likely be willing to buy separately from your main product; adding bonuses like these to your main products is what makes your offer appear to be such a great deal to them. Just as importantly, the best bonuses are those things that cost you as little as possible to provide. By keeping your costs down, but still adding value for the customer, you increase customer satisfaction and increase your profits at the same time.
Other Details
- 1 Ebook (PDF), 14 Pages
- 1 Squeeze Page (HTML)
- 2 Ecovers (PNG)
- Year Released/Circulated: 2019
- File Size: 2,019 KB
License Details:
[YES] Can sell and keep 100% of the sales.
[YES] Can edit the squeeze page.
[YES] Can be bundled into another paid package and sell at a higher price.
[YES] Can be used as a bonus to another product you are selling.
[YES] Can be sold in a Dime sale event.
[YES] Can be added into a paid membership site.
[YES] Can pass on the Master Resell Rights privilege to your customers.
[YES] Can be given away for free AGAINST an email address (lead generation)
[NO] Contents of the product can be edited, modified or altered.