Salespage Snapshot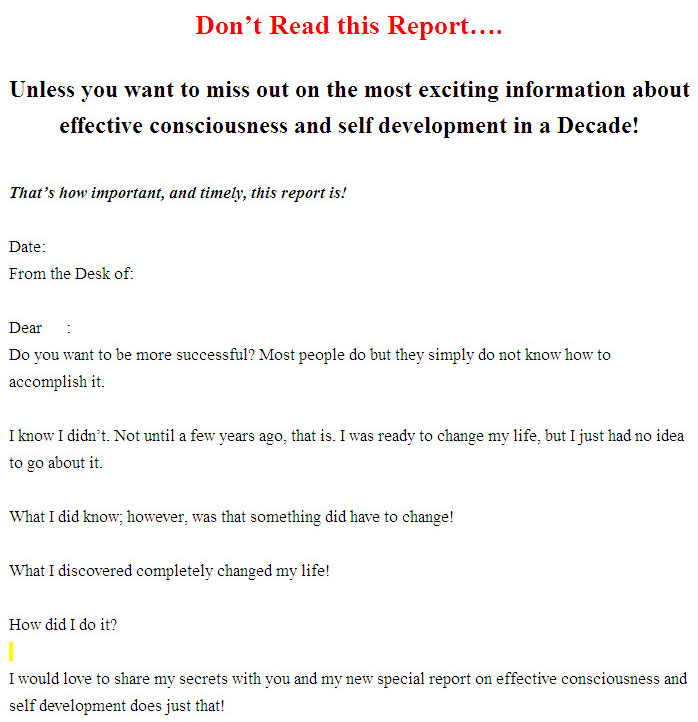 >> Click Here To View Sales Page...
Ebook Sample Content Preview
Effective Consciousness and Self Development Goals
How the benefits of setting goals help you:
Setting goals is the start to develop self-awareness. When you set goals, it gives you something to look forward to. However, to set goals you also need plans to back them and you need strategies to support your goals and plans.
Once you establish your goals you are set to go and once you put your plans in action you can move ahead to success. First, however you need some strategies.
When you think of building memory and self-development, think about what it takes you to accomplish your goals. What outcome do you want to achieve from your plans to develop effective consciousness. Of course, you want to improve your memory. But what will it take to do this.
Mental exploring relates to the mind. It relates to the mind without any physical reactions. It carries out in the mind and produces images or visions to the mind so that you can focus and learn from them. Mental exploring is a form of subliminal learning because you may enter into the mind without awareness and discover existing knowledge and experiences in your past. You discover subliminal messages, which you can explore to use in your advantage to build memory.
Your goal then is to improve memory by exploring your mind. To get started however you want to guide your body and mind to relaxation so that you have complete control of your actions.
Relaxation helps you to focus. Therefore, we want to include strategies that guide you to relaxation often. Today, many people are altering solutions, which includes easy sounds of music, yoga, meditation, natural breathing, aromatherapy, and so on. Try what works best for you. Perhaps you can try each strategy to find the best solution for you, or you can combine a combination to see what happens.
Take you time. Never think that any solution will start working immediately. Remember, it took some time for your body and mind to adapt to these old ways, it will also take some time for the mind and body to adapt to new ways of living.
Other Details* Sales Page:
Included, HTML, MS Word Doc
* File Format:
MS Word Doc, PDF
* Number of Pages:
155
* Included Graphics:
Ecovers
* Download File Size:
913 KB