Salespage Snapshot: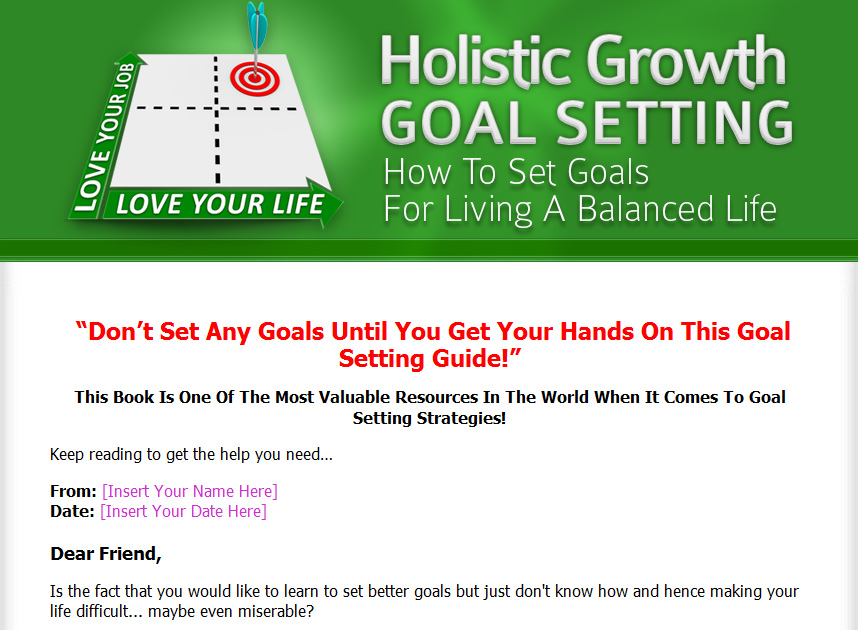 >>> Click Here To View Full Sales Page…
Table Of Contents
Chapter 1: Introduction
Chapter 2: Holistic Growth
Chapter 3 Goal Setting and the Principles
Chapter 4 Living a Balanced Life
Chapter 5 The Impact of Goal Setting To a Balanced Life
Chapter 6 How to Set Your Goals
Chapter 7 Success and Goal Setting
Chapter 8 The Benefits of Goal Setting With Respect To Setting Goals
Chapter 9 The A-Z Strategies in Goal Setting
Chapter 10 The Ways of Enhancing a Holistic Growth
Sample Content Preview
Chapter 8:
The Benefits of Goal Setting With Respect To Setting Goals
Synopsis
Setting your goal has a great deal of benefits. However, always think that having your goals properly set is important in order to achieve these benefits. How would you do this? Well, through a careful consideration of the goal setting principles, found in Chapter 3. Once you identify the goals you wish to attain, acquiring its benefits could be another reason for appreciating it.
Make the Most of Goal Setting
Goal setting has a considerable number of benefits from which you will surely feel satisfied with. One of the benefits of goal setting is that it makes you feel conscious about your weaknesses, allowing you to enhance them by converting them into strengths. This is one evident and useful benefit of goal setting. Another benefit you can acquire from goal setting is that it provides you the sense of previous successes of accomplished goals, using them as your inspiration to become successful in your present goals. This one will probably give you an idea that having one goal at a time is much better than striving for them at once.
Goal setting can also assist you in visualizing and planning the necessary actions in order to attain what you desire through executing them. Setting your goal, as mentioned in the previous chapters, provide you the right track to run on, or the direction to follow, helping you become aware of the path you are going to. Setting your goals properly can give you more even more benefits by encouraging you to lay down your priorities, which probably limits you from participating in some distracting things or factors. This will then lead you to have a definite precedence to prioritize. Establishing your goals can also help you provide proper definitions about real life acts that separate them from fancy thinking.
Another crucial benefit that comes from goal setting is that it allows you to become responsible for your own failures and successes. Once you set your goals, you should be aware of the possible consequences when they fails, so it allows you to respond positively to them. This is the act of a responsible person. You should know and understand that not all the times success is for you, hence you should accept it once it's done. However, you should not stop from trying because setting goals is always there to help you. You can reset your goals into a better and more possible format, which will allow you to reach your goal this time.
Setting your own goals is also training yourself with purpose and intensity. Since striving for success requires burning motivation, it lets you become trained with intensity. This will enable you to be a tougher and stronger individual in return. Once you have a set goal, it also lets you identify and keep track of your goal's progress, making it more useful to you. You set your goals in order to enhance your mental and physical performance because of the things you typically encounter along the way toward reaching success. Having your goals properly set assist you in planning your time, balancing the many aspects of your life, keeping track of your achievements and assisting you in managing your everyday life.
Chapter 9:
The A-Z Strategies in Goal Setting
Synopsis
Using an efficient strategy for goal setting is important. This will help you make things easier without having to encounter many hassles in achieving your goal. Just like when you are playing a certain game or sport, having the efficient strategies is required in order to attain your goal. Say for example in a basketball game, you need to use the most efficient technique in order to reach your goal, which is to shoot the ball inside the ring. This is also true with goal setting. You should use the most effective technique, so that you will guarantee your success.
So, what strategy should you apply in order to make things right on track? Using the SMART approach will help you in this situation.
Set Your Goals SMART
Setting your goals through the SMART approach could provide you efficiency. What is a SMART approach? This approach is actually the way you will create or establish your goals. SMART, stands for Specific, Measurable, Attainable or Achievable, Realistic and Time limited.
The first factor you should consider when setting your goals is for it to be specific. As you may observe, this is quite related to the first principle of goal setting. Of course, your goals have to be specific, so it will be clear what steps are necessary to attain it. A clear goal is the one that is measurable, leaving no room for any misunderstanding. Your goals should be very explicit when it comes to the desired behavior.
Continue asking yourself a helpful question like "what does it look like when your goal is finished?" Your answer to this question will probably assist you in identifying specific and clear goals.
M is for Measurable. Your goal should definitely be measurable, which is in connection to the first factor of the approach. Say for example, you want to be good on computers. What is exactly meant by the word "good" in such a goal? Instead of having this goal, you may want to change it into a measurable one like being good at encoding or programming. You should simplify them, so it will be easier for you to measure them. Creating measurable goals may not only help you to achieve your goals, it may assist you in beating your personal targets as well.
A is for Achievable or Attainable. This one is quite self explanatory. This factor of SMART approach is quite too associated with R, which stands for realistic. By their individual definitions, you may eventually think that the goal you wish to set should be realistic or possible to attain. Don't get yourself stuck with the fancy ones because they may only give you some sense of disappointment. So, be sure that the goal you would want to establish is attainable and realistic.
The last letter which is T stands for Time limited or time frame. Just like what is mentioned in the principles of goal setting, your goal should have its specific time frame. Consider the length of time you wish to spend in order to reach your objective. Similar with any other tasks, it should have its own limit. This is important because setting a goal without the accurate time frame may only lengthen the process, probably leading to its failure. Therefore, you need to make sure that you set a precise time allotment possible for you to achieve your goal. Keep in mind that you should consider your capability when setting the time allotment.
Other Details
- Ebook (PDF, DOC), 24 Pages
- Salespage (HTML, PSD)
- Ecover (PSD, JPG)
- Thank You, Earnings Disclaimer & Privacy Policy Page (HTML)
- File Size: 81,908 KB