Salespage Snapshot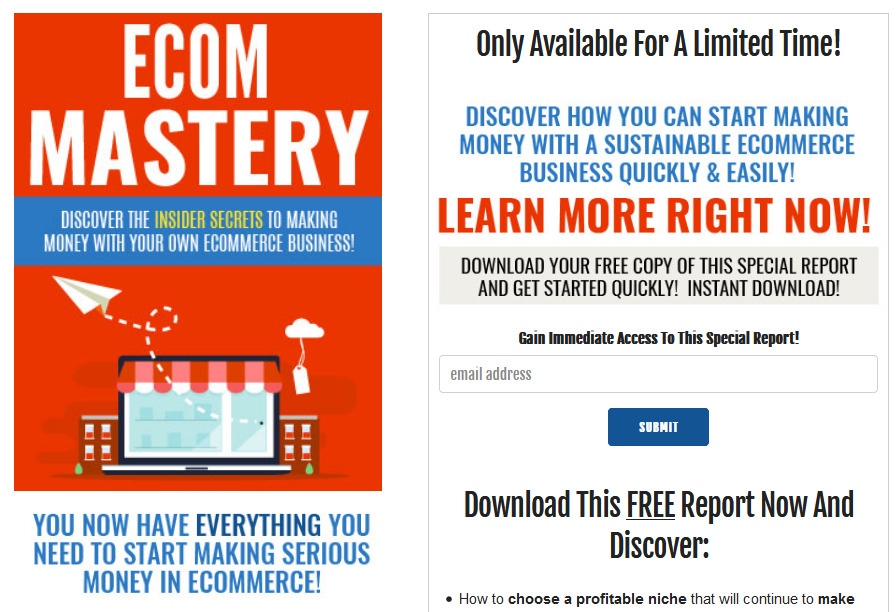 >> Click Here To View Sales Page...
Table of Contents
Table of Contents 3
Introduction 5
Choosing a Profitable Niche 6
Finding Your Passion 10
Going Deep 11
Sourcing Products 13
Drop Shipping 13
Buying Wholesale 14
Creating Your Own Products 15
Marketing Your Store 17
Have A USP 17
Social Media 19
Facebook 20
Instagram 21
Pinterest 23
Other Social Networks 23
Conclusion 25
Resources 26
Sample Content Preview
You want to make sure there are enough people who are interested in the niche to support a good number of sales, but you don't want the niche to be so saturated that it's difficult to make a profit.
You want a market in which the buyers are passionate, or have a real need for the product. It's going to be difficult to make good money selling ordinary products unless you have a very unique selling point, such as a drastically lower price, or some sort of value added selling point. You want to sell products people will be excited to buy, and that they will keep coming back for.
You want to make sure you have products that can be priced high enough to make you a good product without pricing you out of the market. You probably won't make a lot of money selling products priced under a dollar, because you won't be able to build a large enough market quickly enough, but a product priced at ten dollars or more would probably be enough to justify the opening of a store. Of course, there are people who have made fortunes with very inexpensive products, but it takes more volume than a beginner could likely manage.
A good starting point for niche research is to simply make a list of your own hobbies, interests, areas of knowledge, and needs. The more you know about a particular subject when you open the store, the easier it will be for you to source products people would want to buy and to find the right marketing channels to reach your core audience.
Once you have a list of at least 10-20 topics, you can begin to research them in earnest. You want to find out how many people might be interested in each potential niche, how many products are available that you could sell, and how much of a profit margin would be possible.
There are many different ways to do this, but one of the most popular ways is to check Amazon. Start by searching for individual products you might buy in a particular niche. For example, if you want to research the golf niche, search for things like golf clubs and golf balls and find out the bestseller rank for each product. This will give you a general idea of how well each product sells.
You want to be able to find at least a few products selling well enough to be in the top 10,000 in their main category, and in the top 1,000 would be even better.
Here is an example from a live Amazon listing for a particular brand of gold balls:
This product is currently #857 in its main category (Sports & Outdoors), which shows there is a strong market for golf balls, especially when I take a look at other products in the Golf Balls category. The top product in this category is #125 in Sports & Outdoors.
Now, you should be aware that strong demand within a main category might not always mean huge sales. Some categories will have fewer sales than others, of course. But this will give you a general idea if there is a market in the niche.
If you want to learn more about niche selection, I highly recommend checking out Ecom Smart Start. You'll learn all about niche selection from start to finish, including dozens of broad niche topics you can use as a starting point for your brainstorming.
Finding Your Passion
It's not enough to choose a niche that is profitable. If you choose a niche you aren't passionate about, or one that you find you truly dislike, your business is likely to turn into a drudgery very quickly. In fact, one of the reasons many people start a business is to get away from jobs they hate, and the last thing you want is to end up in the same position you were in before you left your job—unhappy and wanting something different.
So as you look for potential niches, try to find something that interests you and you're passionate about. This will make it easier for you to source products, market the products, and spend the time required to make your store a success.
It's possible that you won't have any interests that would be profitable, but it's highly unlikely. Even if you like some relatively obscure things, there will usually be at least a decent number of other people who are also interested in it.
Going Deep
Once you have found a niche you believe has a lot of potential for both profitability and passion, you should try to drill down even further to create the tightest niche possible.
For example, let's say you've decided you want to concentrate on the outdoor hobby niche. This might include things like camping, backpacking, hiking, hunting, and fishing. But there are thousands of popular stores that specialize in this area, so it would be quite difficult to compete.
In order to have an all-encompassing store in a broad niche like this, you'd have to source thousands of products, and make sure the prices stay updated. It would be a tremendous amount of work for just one person, or even a small team.
Instead, it's good to focus on a single area. It could be the area you are most interested in, or the one you believe will be most profitable (as long as you're still interested in it). But it's important to drill down to the tightest niche you can without going so tight that it would be difficult to find an audience or source products.
For example, instead of "outdoor hobbies", you could drill down a bit to fishing. This may still be too broad, so you could drill down to fly fishing. This is pretty good, but you might even go a little further to specialize in a specific type of fly, or maybe into fly tying supplies for people who want to tie their own flies for fishing.
Keep drilling down until you reach a point when you can no longer find enough products to source or interest in the niche. You'd be surprised just how far you can go in many niches! For example, blacksocks.com specializes in—you guessed it—black socks. They also have other products that they expanded into, such as colored socks and underwear, but they started out selling black socks and have been wildly successful!
Other Details
- 2 Ebooks (PDF, DOC), 26 Pages
- 7 Part Autoresponder Email Messages (TXT)
- 1 Squeeze Page (HTML)
- Year Released/Circulated: 2018
- File Size: 1,186 KB
License Details:
[YES] Can be sold
[YES] Can be used for personal use
[YES] Can be packaged with other products
[YES] Can modify/change the sales letter
[YES] Can modify/change the main product
[YES] Can modify/change the graphics and ecover
[YES] Can be added into paid membership websites
[YES] Can put your name on the sales letter
[YES] Can be offered as a bonus
[YES] Can be used to build a list
[YES] Can print/publish offline
[YES] Can be given away for free
[YES] Can convey and sell Personal Use Rights
[YES] Can convey and sell Resale Rights
[YES] Can convey and sell Master Resale Rights
[NO] Can be added to free membership websites
[NO] Can convey and sell Private Label Rights