Salespage Snapshot: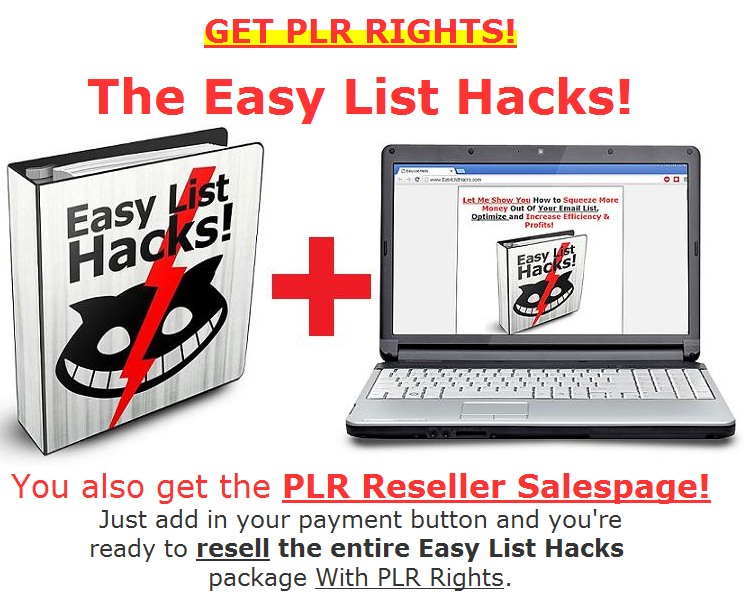 >>> Click Here To View Full Sales Page…
Table of Contents
Chapter Content Introduction Page 3
Hack #1: Fortune Favors The Brave Page 5
Hack #2: Niche Selection and Promotion Page 10
Hack #3: Text or Html Emails? Page 13
Hack #4: Tracking & Split Testing Email Blasts Page 15
Hack #5: Subject Lines That Kills! Page 22
Hack #6: Easy Autoresponder Series For Any Niche Page 25
Hack #7: Reducing Email Marketing Costs Page 29
Closing Words Page 32
Sample Content Preview
Introduction:
Welcome and thank you for purchasing the Easy List Hacks. This is a guide filled with tips and tricks for optimizing and squeezing the most out of your email list. I'll assume, you already have an email list of some sort. It doesn't matter the size or the niche of your list, this guide will show you some simple tips and tricks as well as advance methods to bring out more money in your email list.
Before we get started, I want to say that I am just like most of you. I have failed and have given up on list building/email marketing many times. But one can only fail so many times before realizing the missing ingredients to finally succeeding and making money with email marketing.
Even with just a few thousand subscribers, I am now making a comfortable living by sending out promo offers to my email list. If you can grow a quality email list of 2000+ subscribers, you can certainly make a nice monthly income from your email list.
You see… when someone is on your list, you can continue to promote to this person over and over again. Let's say in the span of 1 year, you send out over 200 email blasts to your list, and the average subscriber only buys 1 product from you at $5 each. Not everyone on your list will buy, but some may buy multiple times and even 5+ times in a year. But anyways, so you're making an average of $5 per subscriber for a year. That's about $10,000/year with just a list of 2000 subscribers, assuming you'll lose some and gain some new subscribers along the way.
The Easy List Hacks you are about to learn are a compilation of tips and tricks from my years of email marketing failures and successes. One last thing, I use GetResponse (email marketing & autoresponder service), and so all of the screenshots of my email dashboards are from GetResponse.
ENJOY!
Hack #1: Fortune Favors The Brave!
One of the biggest mistakes I've learned after all these years of failing at email marketing is the fact that… I didn't actually sell enough to my list. In other words, I was afraid to sell to them.
I didn't want to come off as someone that just only spam my email list with affiliate offers from all over the place. I wanted to be the nice guy and build a good relationship, giving out free offers and tips almost all of the time.
With all of the focus on building a good relationship and giving away free tips, I never really tried hard enough to send out affiliate offers. Therefore, my list hardly made me any money. Then soon after, I would mail less and less, and finally just give up on my email list.
So here's the main idea I want you to understand from my Hack #1 – Be Brave. The sole purpose of building an email list is to make money from your list. If you want to make money from your list, then you got to be brave and send out those promo emails. And you got to send out a LOT of promo emails to make you the big money!
Other Details
- 2 Ebooks (PDF, DOC), 32 Pages
- 1 Salespage (HTML)
- Year Released/Circulated: 2016
- File Size: 1,182 KB
License Details:
[YES] Can give away this ebook for free
[YES] Can change ebook content, graphics
[YES] Can rebrand and add your name as the author
[YES] Can be used for personal use
[YES] Can be sold for personal use
[YES] Can sell Resell Rights to the full package
[YES] Can be packaged with other products
[YES] Can be offered as a bonus with other things you sell
[YES] Can give away individual courses to build a list
[YES] Can be added to paid or free membership sites
[YES] Can sell Master Resell Rights to the full package
[YES] Can sell PLR rights