Salespage Snapshot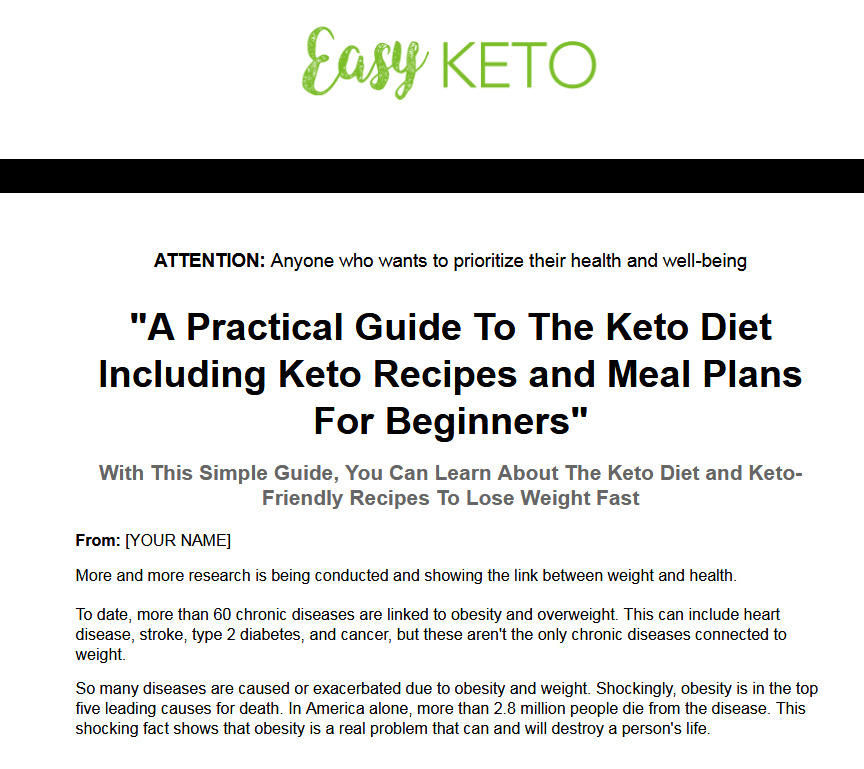 >> Click Here To View Sales Page...
Table of Contents
Introduction 6
Part 1 – The Keto Diet 8
What is the Keto Diet? …… 9
Ketosis – the Secret to the Keto Diet 9
Benefits of the Keto Diet . 10
Side Effects ….. 12
The Keto Lifestyle … 14
How to Go Keto ……. 14
Choose a Ketogenic Diet …. 14
What You Can Eat .. 15
What You Can't Eat . 17
Kickstarting Ketosis . 18
Tips for Going Keto . 19
Plan Your Meals . 19
Make It Fun . 19
Try Intermittent Fasting ……. 20
Listen to Your Body …. 20
Part 2 – Meal Planning ….. 22
How to Meal Plan …. 22
Meal Planning and Meal Prepping .. 23
Steps for Creating a Great Meal Plan ….. 23
Meal Plan Ideas …… 26
Breakfast ….. 26
Lunch.27
Dinner…….27
Snacks…..28
Part 3 – Recipes.30
Recipes – Breakfast…..30
Keto Cereal…30
Cabbage Hash Browns…….32
Keto Breakfast Cups…..33
Recipes – Lunch……35
Taco Stuffed Avocados…….35
Buffalo Shrimp Lettuce Wraps……37
Loaded Cauliflower Salad.39
Recipes – Dinner…..41
Keto Mac & Cheese…….41
Keto Fried Chicken.43
Keto Meatballs….45
Recipes – Snacks…47
Avocado Chips…47
Keto Ice Cream..49
Bacon Guac Bombs…….50
Conclusion…..54
Sample Content Preview
Tips for Going Keto
Once you have decided what keto diet you want to follow and commit to it, it may be time to start trying your keto diet. Before you start, you may want to find a way to incorporate these techniques into your routine to make the process of switching to a keto diet a bit easier:
Plan Your Meals
Eliminating carbohydrates can be difficult at first simply because they are the star of most western diets. Adjust to a keto diet by planning every meal you eat. This includes breakfast, lunch, dinner, and snacks. Do not leave it up to chance because it might be more challenging to stick to your keto diet if you do this.
Part 2 is completely dedicated to meal planning, so I won't spend much time on this now.
Make It Fun
Most people think of diets and sigh. Try to make your keto diet fun so that you can stick to it longer. Getting a keto recipe book or doing it with your friends can be a great way to make the diet more fun and engaging. The more fun you make it, the more rewarding the diet feels. Not to mention, it will be easier to stick to it if you make it fun.
If you like cooking, definitely try to find keto versions of your favorite meals. That's a great way to keep it fun and fresh. If you don't like cooking, then maybe it is time to start.
Try Intermittent Fasting
As I have previously mentioned, intermittent fasting is a great way to kickstart ketosis. Even after you have reached ketosis, try to incorporate intermittent fasting into your daily life anyway. Intermittent fasting paired with keto is a great way to see weight loss results fast. At the same time, they are also healthy to use together.
Listen to Your Body
Many people who support a keto diet don't tell you this: you need to listen to your body. Not everyone needs the same amount of carbohydrates. Some people will need more than others. Your goal should never be to eliminate all carbohydrates.
Listen to your body first and foremost. The goal of any diet should be to make you healthier, not sicker. If your body does not feel right, you need to adjust the diet to live the healthiest and happiest version of yourself possible.
PART 2 – MEAL PLANNING
Meal planning is when you plan out what meals and snacks you are going to eat in advance. Depending on your schedule, you can either plan out your meals but make them the day of it or make all of the meals in advance, put them in a freezer, and reheat them up later on in the week. No matter what approach you prefer, meal planning is a great way to make sure you stick to your diet, even on the days when you feel tired. In Part 2, we are going to look at how to meal plan and give you meal plan ideas. Use Part 2 as inspiration for starting your ketogenic diet journey in a way that is fun, exciting, and easy to follow.
How to Meal Plan
Do you ever think you're going to eat healthily, but your plans are derailed by a busy week? Whether you have had a busy day at work or don't feel good, it might be difficult to stick to your diet when the realities of life come knocking at your door. That is where meal planning comes in.
Meal planning takes a lot of the stress and pressure away from preparing your meals. It forces you to plan your meals so that you don't have to think about food on your working or busy days. No matter what diet you prefer, meal planning is a great way to make sure you stick to it and hold yourself accountable for eating healthily.
In this chapter, we are going to look at what meal planning means. Though you probably already have a general notion of what it is, this chapter goes into more detail so that you can start meal planning now.
Meal Planning and Meal Prepping
Meal planning means planning your meals in advance. Most people like to meal plan on a Saturday or Sunday when they don't have as much work to do. This makes it much easier to eat healthily on the days that you are busy with work and other pressures of life.
To meal plan, come up with the meals and snacks you intend to eat for the week. Depending on what you have in your pantry, you may need to go to the grocery store to get any ingredients or items. You may want to write down the recipes or ideas for the week, so you don't forget later on. The beauty of meal planning is that you have ample time to figure out what you want to eat. This gives you plenty of time to look online or on Pinterest for yummy ideas that you are dying to try.
Some people like to take meal planning a step further and try meal prepping as well. Meal prepping is when you also make the meals in advance. Most people will make meals on a Sunday and then put them in the freezer. As the week goes on, you pop the frozen meals into the microwave or oven for quick and easy homemade meals.
Meal prepping is great for those who know that they are having a busy week. It means you won't have to take the time even to make the meals later on.
Steps for Creating a Great Meal Plan
Creating a meal plan is pretty easy. It really only takes four steps, and most of them you already do. You just might not do them as organized or keto centric as I am recommending.
1. Find Recipes
When you meal plan, you need to think of your recipes in advance. Look in keto cookbooks or online for keto recipes that you can try out. Remember, look for recipes that are high in fat and low in carbohydrates. The only way you will stick to your diet is to find that eating keto is enjoyable and satisfying. Try different recipes to find your favorites. Don't eat the same thing every day because you will quickly grow bored of it and potentially get mineral deficiencies.
Try a variety of recipes to keep yourself feeling happy, full, and satisfied with your diet. I will offer recipes at the end of this book but feel free to look online for other sources and recipes.
If you have a favorite meal, try to find a keto version of it. Today, there are so many options that allow you to eat exactly what you want while still maintaining your diet. Remember: the keto diet is a lifestyle. Try to incorporate it into your life as best as you can.
More than just your meals, also meal plan for snacks and desserts. So many pesky carbs and calories are hidden in snacks. Prevent yourself from overeating on snacks by meal planning accordingly.
2. Target Recipes for Your Ratios
Once you know what recipes you might be interested in, come up with a plan every week for how you want your meals to go. This includes selecting recipes that match your intended ratios. Make sure that your weekly plan consists of a variety of vitamins and minerals to keep you healthy.
For example, if you have spinach and chicken on Monday, you might want to opt for steak and peppers on Tuesday. This gives you a variety to look forward to that is also healthy and packed full of fat and vitamins.
3. Get Ingredients
After you have decided on what meals you intend to make throughout the week, get all of the ingredients and items in advance. Waiting until the day of to get your ingredients is a surefire way to ruin your diet since there might be some days when you don't want to go to the grocery store.
You may even want to mark what meals the ingredients go with in advance.
This will make it super easy to cook the meals whenever the time comes. No matter what style you have for storing your ingredients, just make sure you get them in advance to be more motivated to cook later on.
Other Details
- 1 Ebook (PDF), 54 Pages
- 2 Graphics (JPG, GIF, PNG)
- 1 Salespage (HTML)
- Checklist, Resource Cheat Sheet, Mindmap, Optin Page, Social Media Images, Email Swipes
- Year Released/Circulated: 2020
- File Size: 61,172 KB
License Details:
[YES] Can be sold
[YES] Can be used for personal use
[YES] Can be packaged with other products
[YES] Can modify/change the sales letter
[YES] Can be added into paid membership websites
[YES] Can put your name on the sales letter
[YES] Can be offered as a bonus
[YES] Can be used to build a list
[YES] Can print/publish offline
[YES] Can convey and sell Personal Use Rights
[YES] Can convey and sell Resale Rights
[YES] Can convey and sell Master Resale Rights
[NO] Can modify/change the main product
[NO] Can modify/change the graphics and ecover
[NO] Can be given away for free
[NO] Can be added to free membership websites
[NO] Can convey and sell Private Label Rights