Salespage Snapshot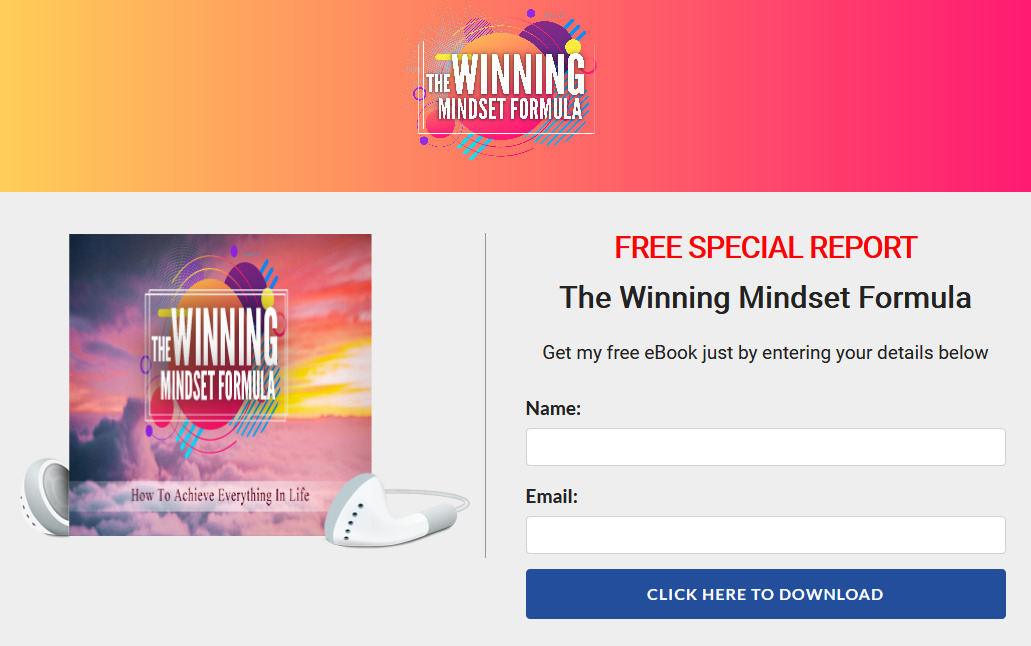 >> Click Here To View Sales Page...
Sample Content Preview
The truth is that the way you choose to see life and your future is totally down to you. If you see it in a negative light like so many people do then you are not going to achieve much. But if you make the switch to a positive outlook then everything seems possible.
All of use experience negative thoughts in our heads no matter how successful we are. It is how you deal with these negative thoughts that makes all of the difference. We are also surrounded by negativity from the media, our friends and family and other sources. Again how you handle this negativity is very important.
The bottom line is that you can ensure that you only allow positive thoughts to permeate your mind. It takes a bit of practice but you can certainly do it. If a negative thought enters your head such as "you will never be able to do that" then you can neutralize this with a positive thought such as "I can do anything". It is going to take some effort and time to perfect this process but it will work and will certainly be worth it for you. You have a conscious mind and a subconscious mind. Your conscious mind deals with the things that you interact with in this world including the thoughts in your head.
Your subconscious mind is a lot more powerful and stores beliefs and habits that you have accumulated over the years. The reason that you experience negative thoughts in the first place is due to your subconscious mind. Maybe you failed at something in the past and your subconscious has stored this and will remind you of this. The good news is that you can changed what is stored in your subconscious mind. And you need to do that if you want to develop a winning attitude. Your subconscious mind cannot tell the difference between a negative or positive thought. It will allow anything in if your conscious mind allows it.
Your conscious mind is the gatekeeper to your subconscious. If you allow yourself to be dominated by negative thoughts then this will have a significant impact on your subconscious. The same is true if you let positive thoughts dominate your mind.
When you neutralize negative thoughts with positive ones you prevent the negativity reaching your subconscious. There are other things that you can do to train your subconscious to provide you with a positive outlook such as visualization and positive affirmations.
Please answer this question:
Do you believe that you can achieve anything? If you do then you already have a winning attitude and mindset. If you don't then you have work to do.
What do you want from your life? Where do you see yourself in the next five years? How would you answer these questions? Most people will tell you that they don't know or they have never thought about it. It's pretty sad that so many people never take the time to think about what they want from their lives.
For a lot of people, deciding what to have for dinner is a major issue for them. You do not want to be in this situation. You need to be totally clear on what changes you want to make in your life and have some goals to pursue.
The reason why most people do not know what they want is because it takes effort to think about it and make the decision. We live in a world that is full of distractions so it is much easier to waste your time with social media than it is to think about your future.
People with a winning attitude know exactly what they want from life and when they intend to get it. They set themselves challenging goals and achieve them due to their winning mindset. They don't sit still and wallow in contentment. Instead they push themselves to achieve even more in life.
So you owe it to yourself to identify what you want in life. Get a pen and paper and go somewhere quiet where you won't be disturbed. Think about the different areas in your life such as your career or business, your finances, your relationships, your health, your skills and so on.
Ask yourself questions to determine what you want. So for career or business you could ask "what kind of career or business do I really want?" For health you could ask "what can I do to improve my health?" Write down the answers that you get from your subconscious mind (yes your subconscious will provide you with answers).
Other Details
- 1 Ebook (PDF, DOC), 12 Pages
- 1 Audio (MP3)
- 1 Graphic (PNG)
- 1 Squeeze Page (HTML)
- Year Released/Circulated: 2021
- File Size: 9,032 KB
License Details:
You're granted master resell rights, resell rights or to resell with personal use rights.
You may add this product to your PAID membership site
You may giveaway the product as a bonus when people buy through your affiliate link
You may edit the included opt-in / squeeze / landing page
You may giveaway the eBook for Lead Generation purpose
No, you may NOT edit the contents of the eBook
No, this product does NOT include private label rights. You are granted Master Resell Rights only