Squeeze Page Preview: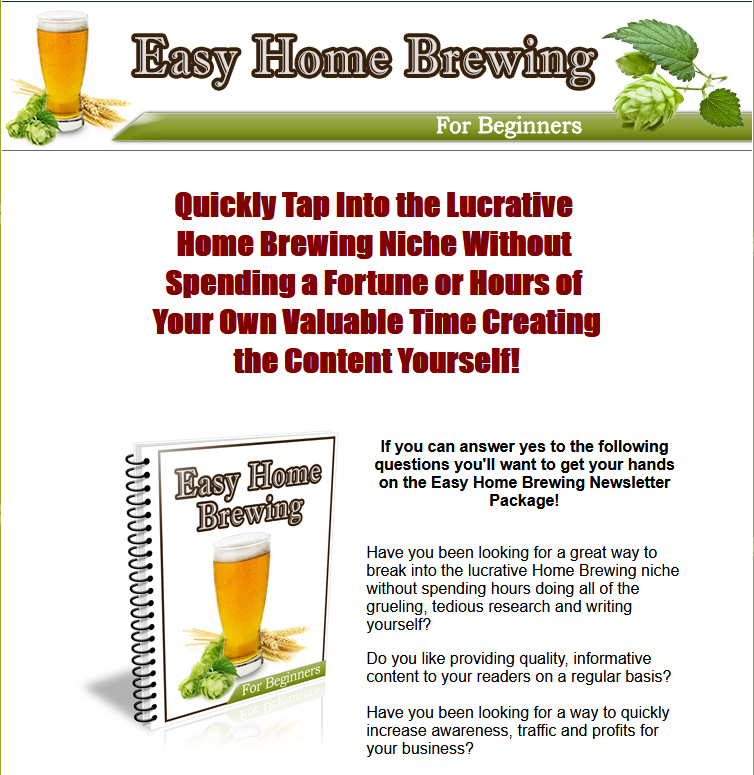 >>> Click Here To View Full Squeeze Page…
Features:
* 12 Issues Full Of Great Content
– Just add in your contact info and plug it in to your favorite auto responder. Each issue contains 500 words or more!
* One Ready To Go Squeeze Page
– Just add in your opt in form, upload to your server and your done!
* One Ready To Go Thank You Page
All ready to remind your subscribers to check their email and confirm their subscription. It even has built in revenue!
* 4 Researched Click Bank Products
These are top selling products on Click Bank that I've personally researched and chosen for each series.
* Extra Copy And Paste Article Content
You will get:
– Extra titles
– Extra opening paragraphs
– Extra closing paragraphs
– Extra fill in paragraphs
(these would make great tips that you add in to your follow ups system for more frequent contact with your readers)
Sample Content Preview
Hello "autoresponder code here",
In the last issue, we talked about including your kids in on the fun of home brewing.
In this issue, we are going to go over the steps involved in kegging.
When you first learn the craft of home brewing, one of the big steps is the transfer of the beer into larger bottles for fermentation and then smaller bottles for storage as well as to serve your guests a delicious brew. This can be messy but it is an important step along the path to great tasting beer. Learning the beer transfer and bottling skills will be a big step as your sophistication at home brewing comes along.
There comes a time that you can consider the next big step in becoming more skilled in your home brewing talents. That next big step is into kegging your home made brews. However before you make that step, its good to know what you will need and the costs and efforts involved so you can go into the kegging step with eyes wide open.
For one thing, kegging your own beer can get a bit expensive. There is another level of equipment including CO2 storage tanks; the kegging canisters and even a kegerator that can all add another level of cost to your home brewing hobby. Hopefully if you have been making your own beer for a few years before you make this step, you can see that the money you have saved on beverages has been significant enough justify making the next big step into kegging.
The first step perhaps of moving into kegging is to get the family on board, especially your spouse. A natural progression, though, is to start your hobby of home brewing for the fun and the savings and then to go toward brewing when you become a serious home brewing zealot and you know the quality of your beer demands this step. So if your family has evolved and you are a home brewing family, they will be as excited as you are to learn this next step.
Along with the costs, get a good feel for the additional storage space kegging will add to your beer making needs and requirements. Along with the equipment for kegging, you will also need additional refrigerator space.
This might be the time to consider the purchase of a specialized refrigeration unit called a kegerator that is made just for chilling and serving your fine beer from the kegging setting. However, if you entertain a lot and you are getting those rave reviews for the quality of your homemade beer, such a purchase is a slam-dunk decision.
The upside of kegging is that it does reduce much of the fuss and mess of using bottles and always having to clean and make sterile those bottles for the next use. Kegging gives you a lot of control over the levels of carbonation in your beer.
That gives you even more options and freedom to adjust carbonation to use in the creation of unique styles and tastes in your beer. That is just one of many ways kegging improves the over all quality and diverse flavors you can achieve with your homemade beers.
Of course there still will be a place for bottling your beer even if you have overhauled your storage and at home serving method to move to kegging. There is a real fun and pride when you can serve family and guest's great tasting ice-cold beer directly from a keg like you could get it in the pub.
However, you will want to keep some bottles around to create bottled beer for gifts or to take with you to a social outing. When you show up for that next big barbeque with bottles of your own home made and kegged beer, you will be the hit of the event.
Make sure you look for your next issue soon.
Until then,
"your name here"
"your email address"
"your URL here"
Sample Extra Titles
What You Don't Know About Home Brewing
Fraud, Deceptions, And Downright Lies About Home Brewing Exposed
Unbiased Report Exposes The Unanswered Questions on Home Brewing
Lies You've Been Told About Home Brewing
The Secret To Home Brewing
5 Essential Elements For Home Brewing
Ideas, Formulas And Shortcuts For Home Brewing
All About Home Brewing
New Step by Step Roadmap For Home Brewing
The New Angle On Home Brewing Just Released
A Deadly Mistake Uncovered on Home Brewing And How to Avoid It
The 5-Second Trick For Home Brewing
The Good, The Bad and Home Brewing
The 2-Minute Rule for Home Brewing
The Biggest Myth About Home Brewing Exposed
The Do's and Don'ts Of Home Brewing
A Review Of Home Brewing
The Little-Known Secrets To Home Brewing
The Fundamentals Of Home Brewing Revealed
The One Thing To Do For Home Brewing
The Do This, Get That Guide On Home Brewing
What The In-Crowd Won't Tell You About Home Brewing
The Lost Secret Of Home Brewing
And More…
Sample Extra Paragraphs
The first group you should become a part of to become connected to the larger world of home brewing is the American Homebrewers Association. They operate an interesting, informative and up to date web sites about home brewing at http://www.beertown.org/ba/index.html.
————————————
One of the best things you will discover on the AHA's web site is a list of upcoming home brewing events all around the country. The odds are that somewhere in your geographic area there is an event being planed to bring home brewing enthusiasts like you together to trade methods, share recipes and generally celebrate this exciting hobby together.
————————————
The reason different people get into home brewing vary. Some love the social aspect as you join a large local and international community of brewers. Another reason is that it is just great fun to assemble the equipment, learn the recipes and take a stab at making your own home grown batch of tasty beer. Even if you "botch" a batch of beer, its all in the spirit of learning and it just drives you on to learn from your mistakes to make even better beer next time.
————————————
Keeping the temperature of your finished beer constantly under control during fermentation is also a central issue with beer making gurus to make sure their beer is of the highest quality. If you are a devoted home brewer and want to buy a refrigerator just to devote to fermentation, that would be the best situation because you could carefully control the temperature.
————————————
For that first time home brewing recruit, one of the best ways to help him have the fun of making beer at home without so much investment and mess that will come in due time is to go with a home brewing kit or machine. Beer making machines literally take all of the thinking and planning and risk out of trying out home brewing to see if you want to make the investment in a full set up. The machine comes with a full set of ingredients for one batch of beer and the equipment is automated so the novice home brewer can make the beer and move it through the fermentation and aging process and know the fun of having real home made beer a few weeks later.
And More…
Other Details
- 12 Part Autoresponder Email Messages (TXT, DOC)
- Squeeze Page (HTML, PSD)
- Ecover (PSD, JPG)
- Affiliate Programs List
- File Size: 31,600 KB