Salespage Snapshot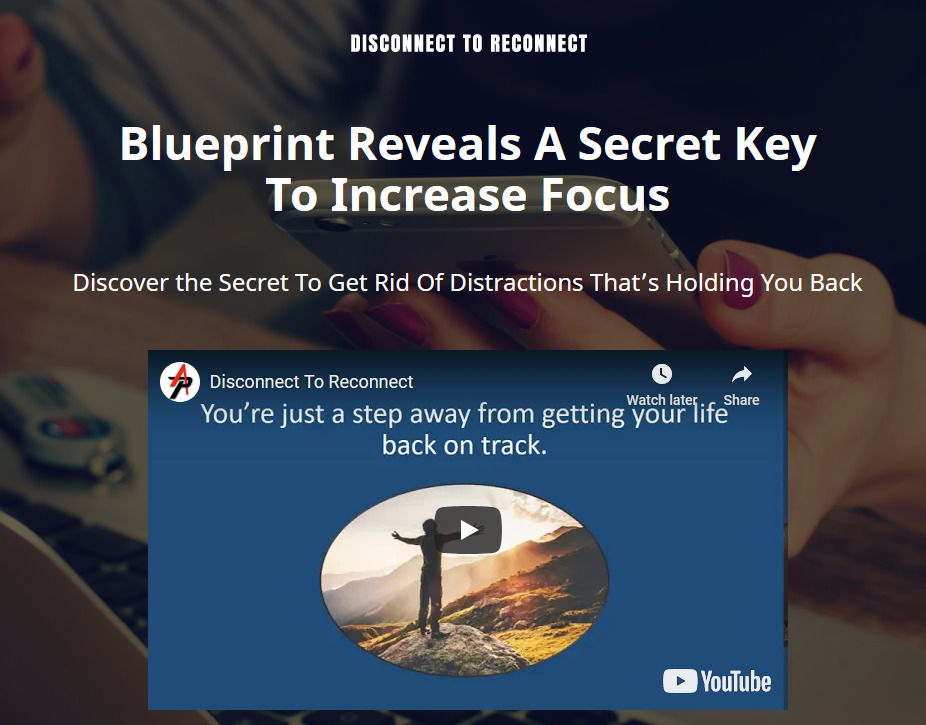 >> Click Here To View Sales Page...
Table of Contents
Introduction ……… 6
Chapter 1 – What is Digital Detox? ……. 9
Stats on Social Media Addiction … 10
The Dark Side of Social Media ….. 12
Digital Detox to the Rescue .15
Chapter 2 – The Negative Impacts of Media Addiction ….. 18
Weak Interpersonal Relationships ……… 19
Procrastination ……… 20
Average Job Performance… 21
Poor Work-Life Balance ….. 22
Lack of Focus .. 23
Low-Quality Social Interactions … 24
Physical Health – Dieting and Regular Exercise …….. 25
Sleep ….. 26
Chapter 3 – How Social Media Addiction Affects Your Psychological Health ….. 28
Fear of Missing out (FOMO) …….. 28
Depression …… 29
Anxiety .. 31
Low Self-Esteem ……. 32
PTSD Trigger .. 33
Hive Mind ……. 34
Low Emotional Intelligence ……… 36
Chapter 4 – What Research Says About Social Media Addiction 38
Technology can Create Tension …. 38
Digital Devices Can Cause Sleep Problems …… 40
Social Media Addiction Can Lead to Mental Problems …….. 41
Excessive Connectivity Affects Work/Life Balance …. 43
Digital Connectivity Can Create Anxiety 44
Social Comparison can Limit Contentment ….. 45
Chapter 5 – Writings on the Wall: Signs you Need Digital Detox 48
Not Holding your Phone Makes you Anxious .. 48
Likes, Comments, and Reshare Mean the World to you …… 49
You're Scared You'll miss Something if you stop Checking your Phone …51
You Usually Stay Late or Wake Early to use Your Phone ….. 52
You've Attention Issues Because you often Check your Phone …… 53
You Check your Phone Every few Minutes ……. 53
You're not Happy Because of the time you Spend on Social Media ……… 54
Chapter 6- Benefits of Disconnecting to Reconnect ……… 56
Quality Physical Health …… 56
Excellent Mental Health ….. 57
Robust Interpersonal Relationship …….. 58
Effective Work/Life Balance …….. 60
Superb Performance in Everyday Task .. 61
More Time for Hobbies …… 62
Chapter 7 – Reconnecting to your true self by Eliminating Media Pressure …. 65
Recognize Technology use Addiction Symptoms ……. 66
Identify Limiting and Destructive Thoughts …. 67
Eliminate Distractions …….. 68
Place Value on Yourself Outside of Media Construct . 69
Be Productive . 70
Practice Gratitude …… 71
Chapter 8 – Vital Tips to Hack Your Digital Devices use Addiction …….. 74
Be Practical ….. 74
Don't Overrate Yourself …… 75
One Step at a Time … 76
Place Limits …. 76
Digital Fast ….. 77
A Day Off …….. 78
Be Accountable ……… 78
Visit Friends and Families More .. 79
Limit Easy Access to Social Media Apps 80
Keep Track of Your Progress …….. 81
Conclusion 82
Sample Content Preview
Chapter 1 – What is Digital Detox?
Activities such as yoga and meditation are gaining more prominence because they help people to attain inner tranquility. More people need them because it's becoming more challenging to focus in the modern world, thanks to the myriad of devices and fancy toys we possess. It's difficult to find a teenager in the 21st century without a mobile phone. Access to the internet is increasingly easier and cheaper. Indeed, it has many advantages. Nonetheless, its negative impacts are also numerous.
One of the ills of social media addiction is a lack of focus. Meanwhile, you cannot have maximum performance when you've issues with attention. So, it's critical that you've control over your use of social media, and that's why you need a digital detox. This chapter will explore how social media use can go wrong and how you can reconnect to your true self again.
Stats on Social Media Addiction
Indeed, social media platforms are parts and parcel of the modern world. We all want to be connected to people in other parts of the world through these mediums. However, when you don't control the time you spend on these platforms, it will affect your productivity.
Social media addiction is a severe issue that's ruining many people's potential. Many people are immersed in the digital world such that they struggle to get to grips with the real world. Some people have friends on these platforms but struggle to commit to or maintain quality interpersonal and social interactions.
The stats regarding social media use and abuse are startling, if not terrifying. For example, the Nielsen Company reported that the average US adult spends around eleven hours interacting with media daily! This duration includes reading, listening, and watching videos.
This analysis shows that an average US adult spends almost half a day in the digital world! Meanwhile, many people spend around fourteen to sixteen hours interacting with digital devices, especially during holidays. Instead of using leisure periods for building a robust bond with loved ones, many people spend them in the digital world.
Moreover, this statistic is mindboggling because it reveals that many people only have around twelve hours left to sleep, eat, work, and interact with loved ones. Many people claim that they don't have time for social activities, hobbies, and regular exercise. Besides, some people also struggle to have sufficient sleep because of their social media activities.
Meanwhile, the Sleep Foundation recommends that you should sleep between seven to nine hours a day. So, such people will not be able to have enough rest for optimum performance in their daily tasks. There're many reasons you need to consider giving up your phone and devices for a while. For example, you may want to enjoy more personal time without interference.
You may also feel that your device use is becoming excessive and increasing your stress and anxiety level. According to a poll conducted by Common Sense Media, 50% of teenagers admitted that they were addicted to their mobile devices. This report also revealed that 78% of the respondents check their digital devices every hour.
The Dark Side of Social Media
Despite its multiple benefits, there's a dark side to social media use. Indeed, these platforms aren't evil, but people can misuse them to hurt others and also hurt themselves. The unpleasant results of social media abuse are as follows:
Insensitive Comments due to Anonymity
Social media platforms allow people to register without using their real names. This anonymity empowers people to say insensitive things that can make others depressed. Many people don't realize that Twitter followers or Facebook friends have many reasons for associating with them. Some of these people you meet online don't care about you or how you feel. Many people say things online that they will never dare to say to you in physical interaction.
Body Shaming
If you're not careful, the media can make you feel horrible about your body shape, especially if you're fat. It's becoming increasingly embarrassing to call people "fat" because of the barrage of media abuse associated with the word.
Other Details
- 1 Ebook (PDF), 83 Pages
- 5 Part Autoresponder Email Messages (TXT)
- 2 Graphics (PSD, JPG, PNG)
- 1 Salespage (HTML)
- Checklist, Mind Map, Landing Page, Lead Magnet, VSL
- Year Released/Circulated: 2020
- File Size: 46,996 KB
License Details:
[YES] Can be sold
[YES] Can be used for personal use
[YES] Can be packaged with other products
[YES] Can modify/change the sales letter
[YES] Can be added into paid membership websites
[YES] Can put your name on the sales letter
[YES] Can be offered as a bonus
[YES] Can be used to build a list
[YES] Can print/publish offline
[YES] Can convey and sell Personal Use Rights
[YES] Can convey and sell Resale Rights
[YES] Can convey and sell Master Resale Rights
[NO] Can modify/change the main product
[NO] Can modify/change the graphics and ecover
[NO] Can be given away for free
[NO] Can be added to free membership websites
[NO] Can convey and sell Private Label Rights