Salespage Snapshot: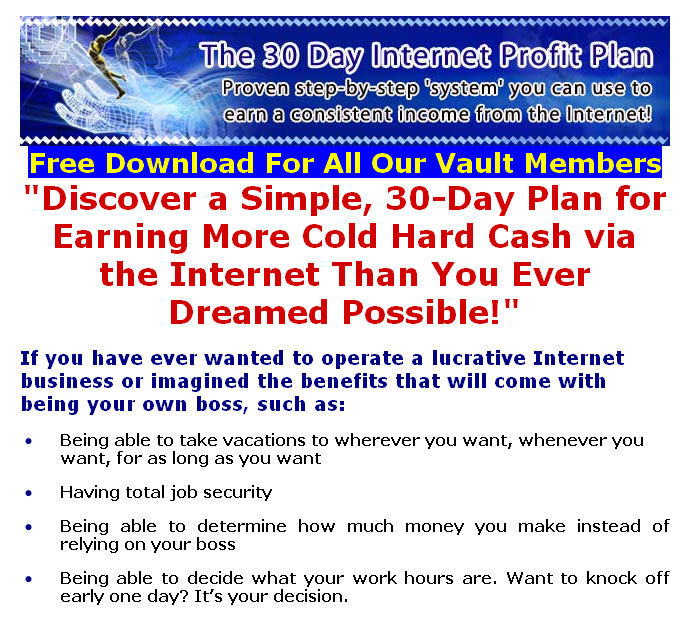 >>> Click Here To View Full Sales Page…
Sample Content Preview
The following 30-day 'Internet Profits' plan is designed for anyone (beginner or veteran) to put to use and easily start pulling in a steady stream of online profits.
If you follow the steps, and take action, you will see results!
Day 1: Develop A 'Success Mindset'
The first day is about finding your center and creating the right mindset! This is extremely important! Without it, you will have a difficult time finding success.
You can have the best tools and strategies at your disposal. But if you have a poor attitude and mindset, those tools and strategies will not do you much good.
If you want to succeed, you have to pull out all the stops and use all that you have. And your mind is the greatest asset you possess.
First of all, realize the simple fact that every problem is really an opportunity in disguise.
If you are brand new to the Internet marketing world, you are extremely fortunate! Because, you have to opportunity here to start from scratch!
You don't have to pick just another job and get stuck in it again. You have a chance to pick something that you actually enjoy doing!
The only way is up from here. And that's what we will focus on. We have an opportunity here to find what we are really passionate about and do that!
I would use this day to clearly outline a few rules for myself to follow, for the rest of the 30 days, and beyond:
• I will realize that my failures are in my past. They're gone, old news. I'm not going to dwell on them or beat myself up over them. Today is a new day and I'm going to make a fresh start! I will simply learn from my mistakes and forge on ahead!
• I will not worry or panic about my current financial situation, as that will not help matters at all; it will only slow me down. If I run across any problems or challenges, I will spend very little time focusing on the problem while spending most of my time focusing on the solution!
Other Details
- 1 Ebook (PDF), 28 Pages
- 1 Salespage (HTML)
- Year Released/Circulated: 2008
- File Size: 6,172 KB