Salespage Snapshot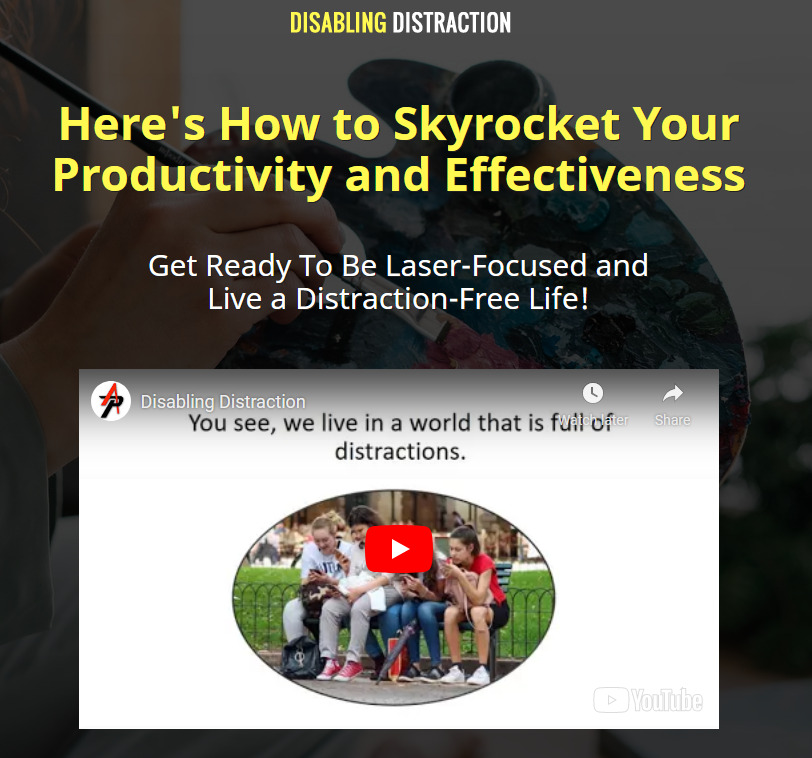 >> Click Here To View Sales Page...
Table of Contents
Introduction…….5
Chapter 1: Tips to Manage Your Scattered Brain…… 9
Recognize What You Have to do and Prioritize10
Chapter 2: Habits that kill Your Productivity and Focus…….18
Habit 1– Having Unnecessary tabs open on your Browser……. 19
Habit 2– Checking your Phone Immediately you wake in the Morning… 20
Habit 3– Watching TV or Netflix first Thing in the Morning…20
Habit 4– Leaving Alerts and Notifications on.. 21
Habit 5– Sleeping in 23
Habit 6– Eating Bad Foods…… 24
Habit 7– Not Drinking Enough Water……25
Habit 8– Being Productive Versus Being Busy 26
Habit 9– Not Scheduling Your Days and Weeks…….27
Habit 10– Putting Your To-do List in Your Mind…..28
Habit 11– Multi-Tasking.. 29
Habit 12—Procrastinating30
Chapter 3: Dealing with Procrastination..33
Recognizing Procrastination…..34
The Reasons You Procrastinate36
Adopting Anti-Procrastination Strategies 37
Chapter 4: Rules to Master Your Focus and Achieve Your Goals.44
Your week Should be Planned According to your top 3 Goals.. 45
Identify your WHY… 46
Time-Block Like you Mean it….46
Have the Strong Will to say no. 47
Begin your day with Strong Intentions….. 47
Create Your Deep Work Area… 48
Keeping Distractions out..49
Employ the Pomodoro Technique…. 50
Take Care of your Body….. 51
Increase your Mental Focus Through Mindfulness…51
Chapter 5: The Real Reason we are Constantly Distracted.. 53
Pay Attention to when Your Mind Starts Wandering…….. 55
Shift your Attention, and Focus on the Present56
Rewire, Refocus, and Savor the Moment..56
Chapter 6: Tools to Eliminate Distraction…….. 58
Rescue Time….. 58
Time Doctor……59
Tools to Block Distractions……. 59
Chapter 7: Overcoming Tech Addiction…. 65
How to Know if you are a Tech Addict……66
How to Overcome Tech Addiction?..68
Chapter 8: Time Management…..74
What Does Time Management Include?…75
Conclusion……..76
Sample Content Preview
You will never get the satisfaction of doing anything if you don't know what you want and stuff is just flying around in your head. You, therefore, have to make a list of everything that is on your mind. Ensure that you prioritize them accordingly. By so doing, you are telling your brain to stop bothering about the little things, and things that can wait, and focus on the most important things.
Break it down, and make it simple
Choose one to start with and break it down to the simplest form of action once you have your list and you can then determine your top two to three tasks. You shouldn't take more than 15 to 30 minutes to complete each step. Break it down further if it takes longer.
Understand that if you have a smaller task, it would be easier to get it done, and the more you would want to stick with it. What you are doing is telling your brain to stay with it for 15 minutes.
Start the task and take it slowly
You might be tempted to speed things up just to save time, but don't. What it only does to your brain is to make it drift to what is next on your table, instead of focusing on what you are doing now.
The brain is designed to only focus on one thought at a time. You, therefore, have to only focus on what you have in front of you. Do things deliberately and slowly. Once you complete your tasks, you will feel better.
Break is important
It is not advisable to work nonstop for hours. You will only burn
out your energy, which will make you lack the motivation to continue again. Take a break and do something fun after completing a 15-30 minutes' task. You can read books, articles, or whatever you feel like doing. You can move, stretch, walk, or do something you like doing. All that matters is that you don't take much time. 5-10 minutes is okay to do whatever you want to do; then go back to what you have to do.
Take a longer break, an hour or so, once you complete 4 tasks. You are guilt-free and you can do other things.
Practice focus
You need to learn how to meditate and do it if you want to have a laser-sharp focus. We all know that meditation is now mainstream, and even easy to do. You necessarily don't have to spend hours meditating. All you need is just 15-30 minutes. Research the form of meditation that suits you: mantra or breathing? Anyone is fine.
However, training your brain to relax is the most important thing, either through breathing or the mantra.
Forget about the clock/work and watch in the interval
You don't have to become obsessed with the clock. Take some time to forget about it. It is not important when you begin working on something. You can get a timer and set it to a time you think you will be able to complete a task (ensure that the interval is no more than 30 minutes). Go for it when you start the timer. Until your time is up, don't stop. After that, you can take a break, and repeat.
Regardless of what time it is, pay attention to working and getting your tasks done. By so doing, instead of finding excuses to postpone things till the following day, you will be pushed to work.
Until your interval is done, don't do anything else While your time seems to be for a specific task, don't do anything else. Just sit still and think about the task until your time is up if it is something that requires inspiration (such as writing), and it feels like you can't find your way.
If you can't seem to get started on the task at hand, don't be tempted to do something else. Before you know it, you will get the needed inspiration. You will be surprised at how effectively a few minutes of silence can help usher in your master craft.
Don't stop
Just pick up and start again if you fall off the wagon. You don't have a reason to give up. All you have to do is just to check what and where you went wrong, correct it, and keep going. Always learn from your mistake and move on to the next interval or task.
Remember: You can only become perfect by practicing.
Shutdown and reboot
Sometimes, you have to give yourself a break from your tasks and to-do lists and enjoy yourself. Keep your schedule free and avoid committing to anything. The time is meant for you to relax, and nothing more. You can use the time to go on a vacation and have fun with your loved ones.
The purpose of this free time is to help you empty your mental cache. Avoid squeezing in anything else during this period. You will feel motivated and energized to get back to your work after the break.
Make it interesting
Whatever task you have to do you can make it interesting for yourself. We all have a playful inner self, embrace it! You can employ your imagination to explore and ensure that you make the task fun. You will be surprised that even what you find mundane could be entertaining.
Imagine that someone is watching you and commending how awesome you have performed when you are working on a task. Or you can imagine that you are attempting to break your record or set a new record. You can converse with yourself as you work. Can you picture that?
The results you will get at the end of the day are determined by where you choose to put your energy and focus. You, therefore, have to do what gives you the best result in the way you enjoy it the most. There is no turning back once you get going and keep going because things will get easier and you can start maximizing more of your mental power.
Other Details
- 1 Ebook (PDF, DOCX), 77 Pages
- 2 Graphics (PNG)
- 1 Salespage (HTML)
- 1 Promotional Ad Material (Emails)
- Checklist, Mind Map, Landing Page, Lead Magnet, VSL
- Year Released/Circulated: 2021
- File Size: 40,874 KB
License Details:
[YES] Can be packaged
[YES] You Can Use This Product Yourself
[YES] Can be sold as it is not less than $7 price tag!
[YES] Can pass on the Resell Rights privilege to your customers
[YES] Can Add This Product to a Membership Site or Bundled Within a Product Package as a Bonus
[YES] Can be used to create audio/webinar/video products
[YES] Can Give Away The Product (NOT Source Code Files) To Your Subscribers, Members or Customers as a Bonus or Gift
[YES] Can change sales page and/or graphics
[YES] Can be added to paid memberships
[YES] Can sell master resale rights
[NO] Add to a free membership sites
[NO] You can't just pass away the product to anyone
[NO] Contents of the product can be edited, modified or altered