Salespage Snapshot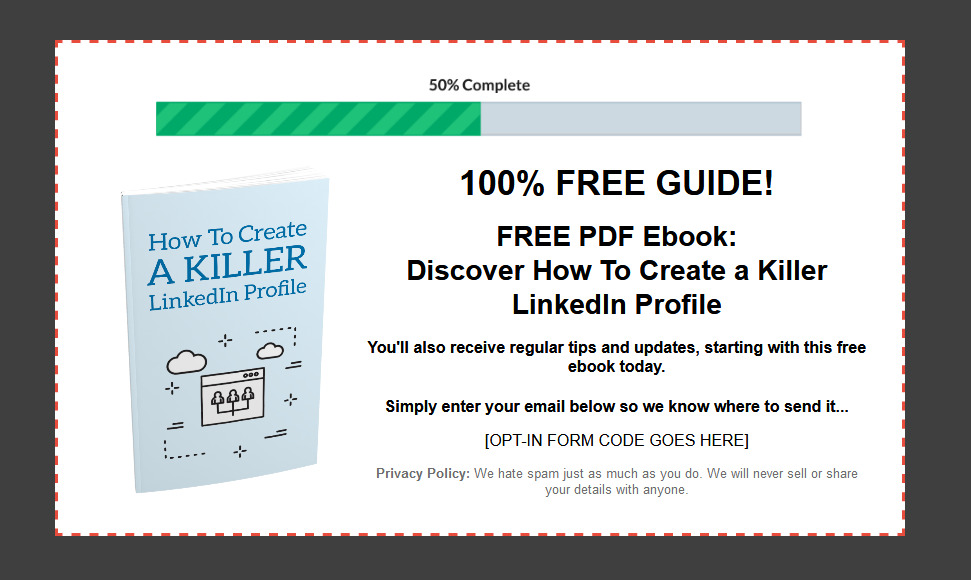 >> Click Here To View Sales Page...
Sample Content Preview
Ultimately, it's your profile, and short of using anything illegal or abusive, you can use any form of address that you wish. However, it is essential for you to remember that people buy from those that they know, trust, and like. So, you have to make sure you think about what you do here, just don't include your degrees or qualifications, and never include emojis or favicons. Just make sure that what you put is searchable, and that it represents who you are in the best possible light.
Optimize Your Headline
LinkedIn gives you 120 characters to convey a message about who you are and what you do, and how you can solve your target audience's problems. Your headline is where you get to begin telling your story and should be in sync with the story that you share with your network.
LinkedIn will automatically default to the title of your current role. This is usually pretty bland and conveys very little about who you are. Remember, LinkedIn is searchable so you should be using this opportunity not only to tell your story, but include as many keywords that you can that are relevant to your industry. Don't be boring. You may be tempted to use your headline to show off your qualifications, but this says very little about what you can do to solve the real issues of your prospective clients. Use your headline to create interest and demand a reaction from your words.
Create a Professional and SEO Focused Summary
One of the most critical areas on LinkedIn is the summary area of your company profile. Your summary is your opportunity to create a great first impression and get your target audience to want to know more about what you can do to help them. It is the very first section that they will see on your profile, and is where you can showcase your expertise in the field. It needs to be as good as you can make it.
You only get the first 220 characters of your summary to make a good impression. This is all that is seen before your audience has to click on the 'see more' option. It is vital that you accentuate these first few lines and words to ensure that you provide a clear idea of what you do, your skills, and what value you can add. Make sure you effectively use the relevant keywords for your industry. Also, make sure that your summary is written in the first person. When you write in the third person, it gives the impression that you are unapproachable and might make you seem like you are distant. Your summary is your story, so be as authentic and real as you can and remember this is your real estate, so make the most of it.
Include Skills and Endorsements
Many people wonder whether this section has any real value for their LinkedIn profiles. The answer is Yes. Firstly, it will show off the skills that you have and secondly, it lets people who you've done business with to endorse those skills. Finally, the most important reason why you need to include skills and endorsements in your profile is that they use keywords.
Now, you may still be feeling differently about adding your skills and endorsements because you've had people who you don't know endorse you for skills that you don't have, which can be frustrating. However, a recent study conducted by LinkedIn in 2017, showed that people who include five or more skills in their profile receive 17 times more profile views.
Rather than hiding your skills away, ask your connections to endorse you for specific skills, which they know you have. You can send a simple message through the messaging function or send your contacts an email. The aim is to get a score of 99+ in all of the skills that you want to be endorsed for, and if someone recommends you for a skill you don't have, merely remove it.
Get Recommendations
Recommendations and word-of-mouth advertising are often the backbone of a successful business. While your summary and skills sections are an opportunity for you to tell your story, recommendations are an opportunity for those who have done business with you to add to your story through their perspective. Recommendations provide you and the work you do with credibility. Try to get as many as you can because each one will add a layer to your story and who you are.
Some friends and colleagues may ask that you write their recommendation for them. Don't do this. You want their opinion, in their words. This is where the weight of the recommendations come from. If this happens, don't ask them to write a recommendation again, just move on to the next person.
Gaining Relevant Connections
Ultimately the reason to join LinkedIn is to grow your network, so everything that you do on the platform should be geared toward developing that network. For you to build a successful network for your business, you need to develop the right kinds of connections. This means you have to have a clear understanding of your overall LinkedIn strategy, as well as knowing your target audience.
By understanding these factors, you will position yourself to be able to find the relevant people with whom you can start to build a relationship. Your initial target for quality connections should be 500, but the more extensive your list of connections, the more chances you will have a developing a network in which you will gain significant levels of influence and business.
Get Publishing
Publishing long-form posts on LinkedIn is an excellent way to showcase your understanding of your industry and add value to your profile and network. It is also a way that you can develop influence in your market and become a thought-leader in your specific area of expertise. To demonstrate your passion and article, aim to write articles that are detailed and in depth. According to LinkedIn statistics, you want to aim for a piece that is between 1900 and 2000 words. To make your article more interesting and easier to read, make sure to include appropriate photos, questions, SlideShare and videos.
Other Details
- 10 Articles (TXT, DOC)
- 1 Ebook (PDF, DOC), 10 Pages
- 1 Audio (MP3)
- 4 Graphics (PNG)
- 1 Salespage (HTML)
- Year Released/Circulated: 2020
- File Size: 8,907 KB
License Details:
You may add this product to your PAID membership site
You may giveaway the product as a bonus when people buy through your affiliate link
You may edit the included opt-in / squeeze / landing page
You may giveaway the eBook for Lead Generation purpose
No, you may NOT edit the contents of the eBook
No, this product does NOT include private label rights. You are granted Master Resell Rights only