Squeeze Page Preview: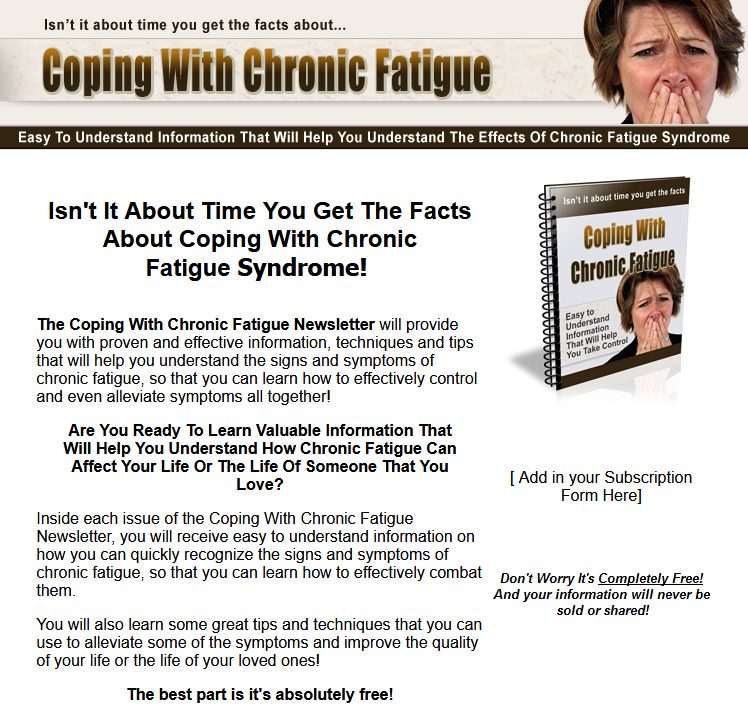 >>> Click Here To View Full Squeeze Page…
Features:
* 12 Issues Full Of Great Content
– Just add in your contact info and plug it in to your favorite auto responder. Each issue contains 500 words or more!
* One Ready To Go Squeeze Page
– Just add in your opt in form, upload to your server and your done!
* One Ready To Go Thank You Page
All ready to remind your subscribers to check their email and confirm their subscription. It even has built in revenue!
* 4 Researched Click Bank Products
These are top selling products on Click Bank that I've personally researched and chosen for each series.
* Extra Copy And Paste Article Content
You will get:
– Extra titles
– Extra opening paragraphs
– Extra closing paragraphs
– Extra fill in paragraphs
(these would make great tips that you add in to your follow ups system for more frequent contact with your readers)
Sample Content Preview
Hello "autoresponder code here",
In the last issue we talked about living with chronic fatigue
syndrome. In this issue we are going to go over some of the
available options for dealing with chronic fatigue syndrome.
People who suffer from chronic fatigue syndrome, or CFS, will
respond differently to a variety of available treatments. Many
people have good recovery rates after some radical changes
in their daily lifestyle, while others have better response to
treatment with prescription medications. These are some of the
most used treatment modalities that a lot of CFS sufferers are
treated with, and which a lot of them respond quite well to.
There are even some patients who are able to handle their own
self-care treatments. The way this is done is to monitor the amount
of activities the patient is engaging in to make sure that the person
is prevented from reaching extreme levels of exhaustion.
This could also be achieved by stopping the urge to take a quick
rest. Since is has been discovered CFS is not relieved in anyway
by taking a rest, regardless of how long they stop, most health
care professionals have stopped advising any prolonged rest for
CFS patients.
Of course, some type of physical activity must be done regularly.
Sometimes this may be from a doctor's recommendation. If you
are determined to manage all the symptoms that go with this
disorder by yourself, then remember to pace yourself, and work to
keep the level of the activities you engage in well under control. If
you choose otherwise, the symptoms can occur at a much more
debilitating rate than you realize.
Cognitive Behavioral Therapy, or CBT is considered a
psychological therapy that can often deliver relief for a lot of
symptoms, but not necessarily a complete cure. This sort of
discussion helps a lot people understand what they're dealing with
and therefore make better decisions as they form their personal
attitudes, beliefs and perceptions about the syndrome.
Many professionals believe that if the patient has a more
accurate picture of the condition, the patient is able to respond
better when symptoms occur and they are able to help lessen the
possibilities of a recurrence of their symptoms.
This type of therapy depends on introducing increasing changes in
the patient's daily levels of activity. While there is no concrete
evidence established yet, there still are lots of experts who believe
bringing in more daily activities is an important part of managing
this disease.
With this particular therapeutic approach, it would be up to the
patient to monitor daily activities and amount of exercise they
conduct. Then, as therapy progresses the patient moves to
greater levels of intensity until he or she has reached the previous
level of activities they had been actively participating in before the
onset of their health problems.
If the decision is made to manage conditions through drug
therapy, the treatments could involve the following medications:
Antidepressants are mainly chosen to manage mood swings as
well as secondary depression. On the other hand, low dosages
of antidepressants can be extremely helpful to manage sleep
disturbances and pain.
It has been found that autonomic nervous system stimulants can
be used to greatly improve a patient's ability to concentrate and
short-term memory, which are often affected by this disorder.
Non-Steroidal Anti-inflammatory Drugs or NSAIDs are often
prescribed to patients with CFS to help relieve joint and muscle
pains.
Anxiolyticagents are often used to offset anxiety symptoms.
Complementary and alternative medicines, such as dietary
supplements are a great help in managing chronic fatigue
syndrome, as well as stopping many of the symptoms of CFS.
Based on some of the pilot studies, supplements of Carnitine,
Magnesium, essential fatty acids, and poly nutrient supplements
have be able to show strong signs of reducing symptoms among
various patients.
Due to the fact the actual origins of chronic fatigue syndrome are
not yet completely understood, the treatment options are now
aimed more at managing the symptoms, rather than finding a cure
for the disorder.
The main goal or objective in being able to get relief from the
symptoms is to get back to the original conditions the person lived
with prior to the beginning of their health problems.
The result is the majority of sufferers do not ever recover
completely and if there is some recovery, it will be gradual. For
people who come at this with the expectation of a better
and faster recovery, most find themselves frustrated by the
difficulties they encounter, and that frustration can worsen their
condition.
That's why it's always recommended that the person suffering from
CFS undergo whatever treatment they are prescribed at a slow,
and carefully managed, pace.
Make sure you look for your next issue soon. We will be talking
about alleviating chronic fatigue symptoms with nutritional
supplements.
"your name here"
"your email address"
"your URL here"
Sample Extra Titles
What You Don't Know About Chronic Fatigue May Shock You
The Dirty Truth on Chronic Fatigue
The Chronic Fatigue Trap
The Low Down on Chronic Fatigue Exposed
Dirty Facts About Chronic Fatigue Revealed
The Undeniable Truth About Chronic Fatigue
What Everybody Else Does When It Comes To Chronic Fatigue And What You Should Do Different
The Idiot's Guide To Chronic Fatigue Explained
Unknown Facts About Chronic Fatigue Revealed By The Experts
The Hidden Truth on Chronic Fatigue Exposed
The Secret of Chronic Fatigue That No One is Talking About
The Unexposed Secret of Chronic Fatigue
The Chronic Fatigue Diaries
Chronic Fatigue – An Overview
And More…
Sample Extra Paragraphs
While it's not fully understood what causes chronic fatigue
syndrome. However, there are conditions which believed to trigger
chronic fatigue syndrome such as toxins and virus infection. In
some studies, the disease can be related to physical inactivity,
immune system problems, low blood pressure, hypoglycemia,
overwork, stress, hormonal imbalance, brucellosis, and colitis.
Regardless, chronic fatigue syndrome is not a simple health case
that can be ignored as it can provide major disturbance on the
patient's quality of life.
————————————
Depression treatment. Depression is treated with serotonin re-
uptake inhibitor and tricyclic anti-depressants. The anti-
depressant does not only help treat depression but it can also
relieve pain and improve sleep.
————————————
How is diagnosis made? Since there are no laboratory,
diagnostic and medical examinations and tests that are used in
the diagnosis of CFS, health care providers use the principle of
exclusion in determining the presence of the condition. Through
this method, all diseases, illnesses and conditions that are known
to have symptoms similar with CFS are ruled out. Diagnosis is
only made once the symptoms of the patients match with the case
definition.
————————————
Exercise has a number of benefits. Starting a regular exercise
routine leads to increased performance and strengthened
muscles. This, in turn results to a more optimistic outlook.
Research has also revealed that exercise helps combat anxiety
and depression. This may be the result of a combination of the
release of endorphins (the body's natural pain killers) and the
sense of fulfillment at being able to improve the body's functions.
Exercise also helps strengthen the cardiovascular system.
———————————-
Ligustrum – This herb can be used as a deep immune tonic to
strengthen the immune system and fight off the harmful effects of
overwork and stress. It is also used to nourish the liver and the
adrenal glands and as a treatment for nausea, low back pain and
palpitations. Ligustrum is even used in cancer treatments because
of its potency.
And More…
Other Details
- 12 Part Autoresponder Email Messages (TXT, DOC)
- Squeeze Page (HTML, PSD)
- Ecover (PSD, JPG)
- Affiliate Programs List
- File Size: 17,500 KB