Salespage Snapshot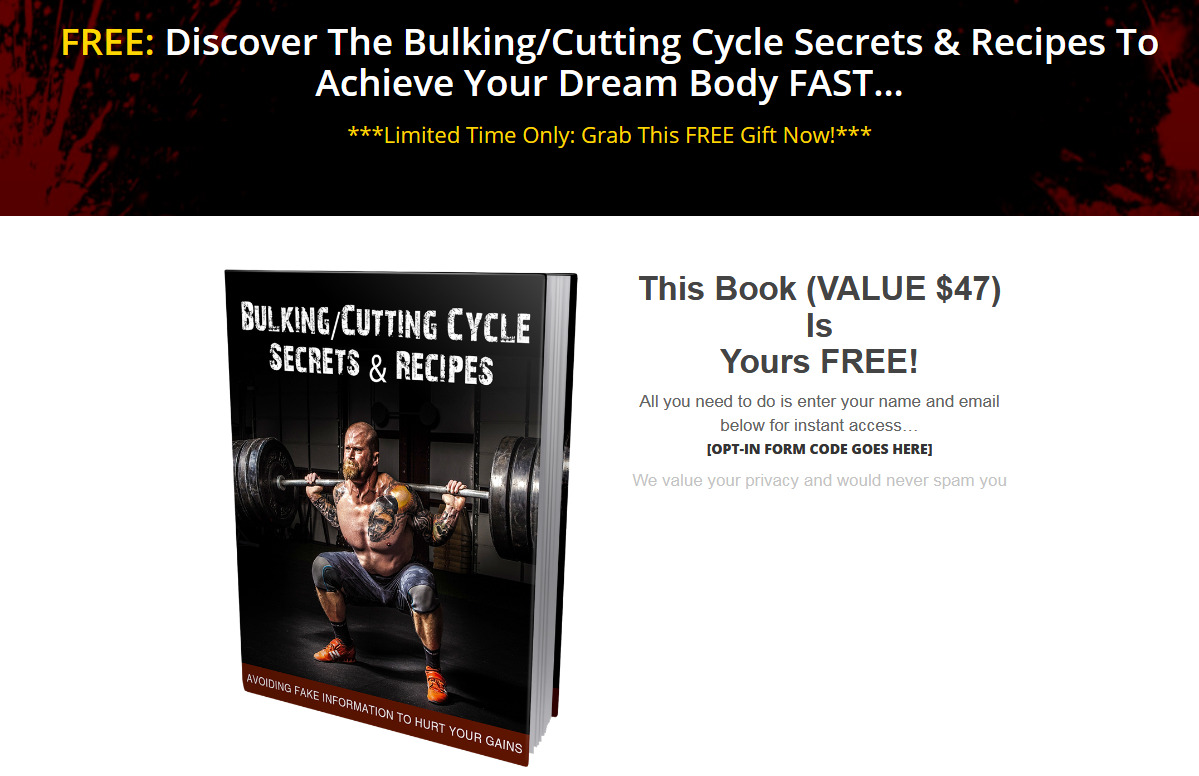 >> Click Here To View Sales Page...
Sample Content Preview
Carbohydrates are a great source of energy that gives you an instant boost of energy, great for post-workout session snacks. Simple carbohydrates are easier to digest before your post workout because they instantly shoot up your insulin level and drive the glycogen in your muscles.
For an instant boost of carbohydrates and proteins, fill yourself up with a glass of delicious protein shake. On the other hand, complex carbohydrates provide energy and complex carbohydrates, including sweet potatoes, oats, and brown rice.
Skipping Meals
This is a common mistake all hard gainers make when they are initially trying to gain weight. Skipping meals when you are not hungry or when you just don't 'feel' like it is a big mistake. If you are working out and trying to build muscles, your body needs a healthy source of protein every 3 hours or so.
When your body is low on amino acids, guess where it attacks: your muscles. So, if you do want all those precious muscles go to waste, you need to keep bulking up. When you are not hungry, opt for filling yourself up with liquids, it's easy to consume and rich in calories.
No Cardio
Most people avoid doing cardio because they think it will speed up their weight loss. Understand that incorporating cardio in your workout routine will not only improve your cardiovascular system, but it will also boost your appetite that will do wonders for your bulking cycle. If you want to achieve your desired body shape, cardio is a great place to start.
Too Much Cardio
While cardio is good, too much cardio can get in the way of bulking. Too much cardio causes your body to spend a lot of energy. This may come in the way of body shaping and achieving your desired body size. Stick to a moderate cardio program that consists of an easy 20-minute workout session a week. Doing moderate amount of cardio will boost up your metabolism and will keep your heart beating faster.
Not Getting Enough Rest
Some people do everything. They eat right, go to the gym, and work out for hours and hours, but they forget they need to give their muscles a rest. It is important you get ample rest and give your body enough recovery time. Without adequate rest and recovery time, your muscle tissues will start breaking down. Not only will you start feeling sore but you can also injure yourself.
How to Cut the Right Way in 30 Days
During your cutting cycle, your main goal is not to lose body weight. It is to lose body fat while still maintaining all your hard-earned muscle and body strength. Lower your calorie intake but only to lose body fat. Cardio is optional, but it is an easy way to create the required deficit. With healthy meal plan and some great exercise, you will be able to lose fat with ease.
What you should be concerned about is maintaining your muscle. Follow a high protein diet that will help you stay ripped. Proteins help you curb hunger. This prevents you from overeating and consuming unhealthy junk food. Additionally, protein also has a high thermic value. This means a lot of proteins are lost as heat in the digestion process. The more proteins you consume, the more calories you will burn.
Also note that cutting is for people who actually have a very high body mass, if you are still skinny and scrawny then there is no need for you to pay too much attention to cutting as long as you continue to exercise and eat healthy.
Best Foods to Incorporate In Your Diet in Your Cutting Cycle
If you want to lose body fat but are worried about losing your hard-earned muscle, include these foods in your diet:
Salmon
If you want to prevent muscle loss, you need to keep your protein intake high. Salmon is one of the best sources of protein. It is also low in saturated fats while providing your body with enough Omega-3 fats.
White Kidney Beans
Meet the healthiest of the legumes. White kidney beans carry countless health benefits and also contain 25000 anti-amylase units per serving. White kidney beans help reduce carbohydrate absorption, which means that fewer carbohydrates are absorbed, and as a result less fat is stored. White kidney beans take a longer time to digest which means you stay full for longer periods of time and are not tempted to overeat.
Brewer's Yeast
Brewer's yeast is a super food you need to include in your diet if you want to lose fat. Brewer's yeast contains ample nutrients that aid in fat loss and is also rich in proteins. It is also rich in minerals such as chromium. Chromium helps regulate your insulin levels, which prevents you from eating excess carbohydrates.
Apples
Apples are rated among the most satisfying foods around the world because it helps to fill you up for longer periods of time, preventing you from overeating. Apples are also high in fiber and contain ample amounts of nutrients that will keep you nourished and active throughout the day.
Green Tea
2 to 3 cups of green tea daily have been known to significantly help the process of fat loss. Make sure you make your own green tea at home rather than consuming the store bought teabags as they can be extremely harmful to your health in the long run. Green tea is rich in antioxidants, such as Polyphenols and Catechins, which help keep the negative effects of free radicals at bay. This prepares your body for heavy training.
Leafy Green Vegetables
Green leafy vegetables contain a significant amount of fiber that slows down the absorption of food in your body. It is better to eat large portions of vegetables in your cutting cycle as it will keep you full but will not cause excess fat gain. In addition, green vegetables are rich in phytonutrients that offer an array of health benefits.
Other Details
- 1 Ebook (PDF, DOC), 35 Pages
- 5 Part Autoresponder Email Messages (TXT)
- 1 Audio (MP3)
- 2 Graphics (PNG)
- 1 Salespage (HTML)
- Year Released/Circulated: 2020
- File Size: 9,191 KB
License Details:
You may add this product to your PAID membership site
You may giveaway the product as a bonus when people buy through your affiliate link
You may edit the included opt-in / squeeze / landing page
You may giveaway the eBook for Lead Generation purpose
No, you may NOT edit the contents of the eBook
No, this product does NOT include private label rights. You are granted Master Resell Rights only