Salespage Snapshot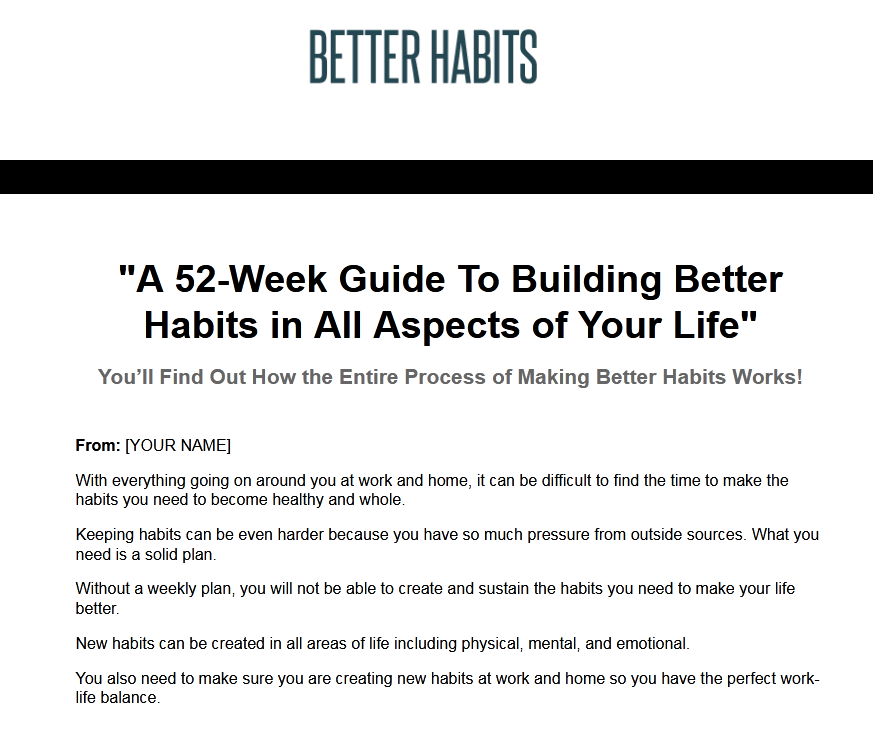 >> Click Here To View Sales Page...
Table of Contents
Introduction 7
Part 1: Understanding the importance of habits 9
Week 1: How habits shape your life 9
Week 2: How habits shape your identity 10
Week 3: How habits shape your future 11
Part 2: Understanding what makes habits stick 13
Week 4: Make habits obvious 13
Week 5: Make habits attractive 14
Week 6: Make habits easy 15
Week 7: Make habits satisfying 15
Part 2: Planning 18
Week 8: Figure out your goals 18
Week 9: Observe your current habits 18
Week 10: Make a log of your habits 19
Week 11: Recognize the downsides of good habit building 20
Part 3: Personal Habits 22
Week 12: Wake up and go to sleep at the same time 22
Week 13: Create a morning routine 22
Week 14: Create a weekly routine 23
Week 15: Create a monthly routine 24
Part 4: Physical health 26
Week 16: Log your diet 26
Week 17: Change your diet 26
Week 18: Log your exercises 27
Week 19: Create an exercise routine 28
Part 5: Mental health 30
Week 20: Evaluate your current mental health practices 30
Week 21: Learn how to change your inner thoughts 31
Week 22: Limit social media usage 31
Week 23: Create a social routine 32
Week 24: Create a relaxation schedule 33
Week 25: Track feelings and mental health 33
Part 6: Work 35
Week 26: Enhance timing 35
Week 27: Organize your desk 35
Week 28: Eat the frog 36
Week 29: Know when to say no 37
Week 30: Leave work at work 37
Week 31: Use technology strategically 38
Part 7: Relationships 40
Week 32: Focus one-on-one time with your significant other 40
Week 33: Create a date routine with your significant other 40
Week 34: Create a routine for your children 41
Week 35: Make it a habit to speak to your extended family members 42
Week 36: Prioritize friendships 42
Week 37: Learn to recognize when you need alone time 43
Part 8: Hobbies 45
Week 38: Have a hobby that brings you peace 45
Week 39: Have a hobby that makes you social 45
Week 40: Have a hobby that makes you money 46
Week 41: Have a hobby that gets you moving 46
Week 42: Create a balance between being active and getting the rest you need 47
Part 9: Putting it together 49
Week 43: Be consistent 49
Week 43: Work daily 49
Week 45: Do not try to change too much too fast 50
Week 46: Get a friend to get help 51
Part 10: Looking to the future 53
Week 47: Habits should always be changing 53
Week 48: Track progress to continue growing 54
Week 49: Read to develop more ideas 54
Week 50: Be content with yourself 55
Week 51: Take it one day at a time 55
Week 52: Patience is a habit 56
Conclusion 59
Sample Content Preview
Part 2: Understanding what makes habits stick
One of the most difficult parts about building habits is getting them to stay. Changing your lifestyle can put you out of your comfort zone and be a very difficult process that takes some time. To get your habits to stick, you must be firm and consistent with yourself.
Week 4: Make habits obvious
There are a few different ways that you can choose to make your habits obvious to yourself and others. One way to make habits obvious is by replacing former habits with new ones. For example, you could replace an unhealthy snack with a healthy snack but still eat that snack during the normal times you would. Another way to make habits obvious to yourself is by setting a specific time and place to conduct your habits. An example could be adding a step to your wake-up routine before going to work.
The more noticeable you make your habits, the more likely you are to recognize changes that result from these habits. On the other hand, if your habits are so discreet and difficult to recognize, it can be really easy to let them slip. You can also make your habits obvious by sharing your habit changes with others so that other people can hold you accountable for your lifestyle changes.
Week 5: Make habits attractive
You will not want to stick with something you hate doing. So when building new habits for yourself, you need to make them appealing. Suppose the new habit you are building, for example, is eating healthier. In that case, you need to make that healthy food attractive by cooking it in a way you prefer or adding flavors to it that you enjoy without compromising its health benefits. For example, it is common to be put off by the idea of eating a plain unseasoned raw piece of broccoli. However, you can make adding broccoli to your daily diet appealing by cooking it away that you like and seasoning it.
No matter what you do, you must make yourself want to perform these habits. Whether these habits are work-related, fitness-related, or socially related, if you do not want to make the habits, then you are not going to. People make changes based on rewards and immediate gratification. So give yourself immediate gratification after performing habits you are not inclined to do.
Week 6: Make habits easy
Habits that you perform every day are not supposed to be hard. You will not want to stick with something hard to do every day or even every week. for example, if you want to add exercise to your daily routine, you will want to start light. If you set yourself up to run a mile every morning before you go to work, you are less likely to follow through with this habit than you would be to set yourself up for ten jumping jacks when you first wake up. You will get more payoff from exercise if you make it a regular thing. This theory applies to any habit you want to build, do not make your habits too hard right off the bat.
The easier your habits are to perform, the more likely you will stick with them. You can start with habits that seem minimal and easy for now and work your way up to habits that will significantly impact your life. However, it would be best if you took habits one day at a time so that you do not overwhelm yourself with change.
Week 7: Make habits satisfying
People are wired to seek immediate gratification whenever they perform a new task. Therefore, you must look forward to performing your daily habits. A great way to make habits satisfying is by giving yourself a little reward after performing the habit. This could be taking a 10-minute break for yourself or enjoying a little snack, depending on what kind of habits you are building. Another way you can make habits satisfying is by performing an activity you like after you perform the habit. Some habits will be satisfying immediately on their own, but in some habits, you will need to add extra motivation to get them to stick.
When you make your habit satisfying, you make yourself happy to perform good things for yourself. Without this satisfaction, you are unlikely to continue engaging in healthy habits. There is nothing wrong with taking enjoyment from something that makes you live a better lifestyle.
Other Details
- 1 Ebook (PDF), 59 Pages
- 2 Graphics (JPG, GIF, PNG)
- 1 Salespage (HTML)
- Checklist, Resource Cheat Sheet, Mindmap, Optin Page, Social Media Images, Email Swipes
- Year Released/Circulated: 2022
- File Size: 47,053 KB
License Details:
You're granted master resell rights, resell rights or to resell with personal use rights.
Price for resell is strictly $7.00 minimum (videos $17)
You may add this product to your PAID membership site
You may giveaway the product as a bonus when people buy through your affiliate link
You may edit the included sales page and opt-in page
No, you may NOT edit the contents of the eBook(s) & videos
No, this product does NOT include private label rights. You are granted Master Resell Rights only
No, you may NOT giveaway the eBook(s) & videos for free. Must be sold for at least $7.00 (videos $17)