Salespage Snapshot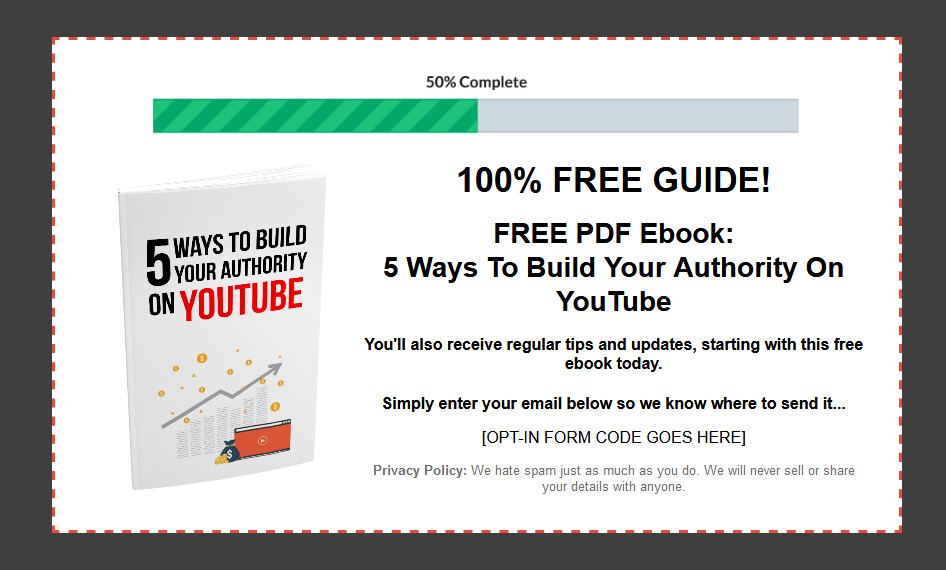 >> Click Here To View Sales Page...
Sample Content Preview
The more detailed you can get about who your target audience is, the more you can be sure that you've chosen the right approach with the videos that you are producing. If you want to build your authority on YouTube, then you have to make sure that you are providing the right kind of content to attract your target audience and encourage them to subscribe to your channel. You need to make sure that you take the time to clearly define your target audience before you spend the effort in creating videos for your YouTube channel.
2. Make Compelling Videos
It's the same for blogging, as it is for Facebook, as it is for Twitter, as it is for YouTube, content is king. In fact, it is even more accurate when it comes to the videos that you create. The only way that you will be able to increase your following on YouTube and build your authority is if you have high-quality videos that spread across other social media platforms is by creating content that is worth sharing. This is where understanding your demographics becomes key.
So, what kind of content is worth sharing? As you probably already know, the most shareable content are the kinds of videos that are either extremely funny or that appeal on an emotional level in some way. While it can be controversial, these kinds of videos don't bring in the positive results in the say way as the heart-warming stories would. The last thing that you want to create is a boring video where you are standing in front of the camera with a potted plant and filing cabinet in the background, spouting out what makes your product better than all the others in a monotonous tone. No one is going to find that scenario exciting or funny, and they won't share the video which means that you won't be able to attract new followers or build your authority on YouTube.
Instead, you need to try and illustrate just how great your product is in a series of videos and make sure they are entertaining. You'll need to find the style of videos that will work for your business, which means you'll have to experiment with your videos until you find what works. Just make sure that the final style that you land on will either present your content in a funny or entertaining way, but ideally, you want to try to incorporate both into your videos.
3. Brand Your Channel Page
When it comes to building authority on YouTube, an easy way to do this is by making sure that your branding is consistent with your company website and across all social media platforms, including YouTube. You can customize your YouTube channel to be consistent with your business branding material by making sure that you are using the same colors, the same tone, and the same style on all your online marketing platforms. You also want to add your company logo to your page; you can either use it as your channel profile photo or include it in your channel banner. Either way, you want to make sure that your target audience can quickly identify your brand when they visit your channel.
An important thing for you to remember is that you will not be able to change the name of your channel once you have set it up on the platform. This means that you need to make sure that you choose the right name that will attract the right audience to your page. You can do this in the content planning stage before you even sign up for a YouTube business channel.
Like with any of the other social media platforms, it is incredibly important that you complete your channel profile and include as much detail about your business and brand as possible. Including relevant keywords in your company description can help your channel rank higher on the search engines, which will make your videos more discoverable by your target audience. Another way to ensure that your videos rank high in the search results is by making sure you correctly tag your videos every time you upload them to your channel.
4. Create Different Types of Content
To build your authority on YouTube, you need to create videos that get a lot of views, and you need to increase your number of subscribers. This means that you need to produce the kind of videos that will garner a lot of attention. While we discussed creating funny and entertaining videos earlier in this piece, there are other kinds of video formats that have been proven successful on YouTube. To be a smart brand marketer, you need to know which types of videos are most popular and understand how you can develop your videos around these trends. Creating different kinds of videos around your product or service will keep your viewers interested and coming back for more. Here are some of the most popular types of content that you can create for your YouTube channel to help build your authority on the platform.
– Product Reviews
– How-to-videos
– Video blogs or vlogs
– Comedy or Skit videos
– Educational videos
– Q&A videos
– Behind the scenes videos
– Webinars
To build your authority, you'll need to venture out of your comfort zone and try different content styles. While not all of these types of video formats will work for your business, you want to experiment early on to determine which videos work best and attract the most viewers. Narrow down your selection to three or four different content styles and make sure you rotate them often to keep your audience interested in what you have to say.
Other Details
- 10 Articles (TXT, DOC)
- 1 Ebook (PDF, DOC), 9 Pages
- 1 Audio (MP3)
- 4 Graphics (PNG)
- 1 Salespage (HTML)
- Year Released/Circulated: 2020
- File Size: 8,815 KB
License Details:
You may add this product to your PAID membership site
You may giveaway the product as a bonus when people buy through your affiliate link
You may edit the included opt-in / squeeze / landing page
You may giveaway the eBook for Lead Generation purpose
No, you may NOT edit the contents of the eBook
No, this product does NOT include private label rights. You are granted Master Resell Rights only