Salespage Snapshot: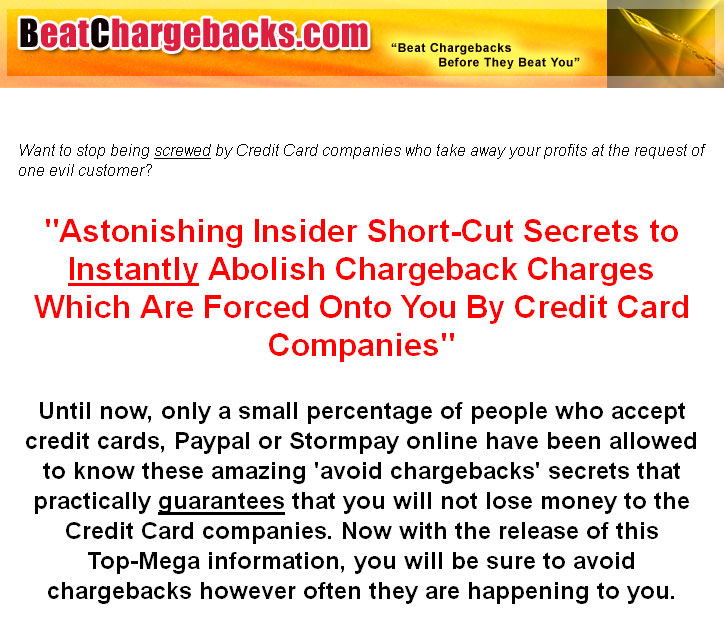 >>> Click Here To View Full Sales Page…
Table Of Contents
-Introduction
-What is a Chargeback?
-What is the Chargeback Process?
-The Costs of Chargebacks to Merchants
The Immediate Costs of Chargebacks
Merchant Account Fees and Problems
Chargeback Inevitability
-Preventing Chargebacks Prior to Sale
Offer a Quality Product
Offer a Clear Product Description
Offer an Anti-Fraud Statement
Obtain a Good Merchant Account
Create a System for Handling Chargebacks
Maintain Records Properly
Provide a Telephone Number
Scrutinize Sales
Beware of Free Email Accounts
Beware of Some International Orders
Beware of Unusual Orders
Follow-up on Scrutinized Orders
-Preventing Chargebacks at the Point of Sale
Tell Customers Who will do the Billing
Provide a Good Receipt
Collect CVV2 Codes
Collect Customer Telephone Numbers
Use an AVS System
-Preventing Chargebacks After the Sale
Provide Status Updates
Handle Customer Interactions with Chargebacks in Mind
Act quickly
Refund when Necessary
-Other Chargeback Solutions
SET and Similar Offerings
Signature Collection Services
Chargeback Advocates
-Other Causes of Chargebacks
Information Requests
Cardholder Disputes Placing Order
Transaction was Processed Repeatedly
Failure to Render Services
Refund not Processed
Invalid Account Number
Transaction not Processed Timely
-Simple Billing Error
-Conclusion
Sample Content Preview
Introduction
John Acme is an online merchant. Through his websites he sells widgets to the public. With a merchant account and a credit card processor, John is able to offer potential customers an easy way by which they can order his widgets. His business is new, but he is seeing a regular profit that allows him to meet his living expenses.
One day, John opens his mail and finds a letter labeled "Retrieval Notice" from the provider of his merchant account. The notice references a specific transaction and requests a copy of the sales documentation. Acme finds this odd, as the transaction had seemed to go off without a hitch when it was processed weeks before.
John Acme may not yet realize it, but he is looking at a potentially costly situation. He has already sent the widgets to his buyer and has already accepted the payment he received. His response to the retrieval notice will determine whether or not he will be allowed to "keep" the sale at all. If he fails to provide the proper documentation, he may receive a chargeback. The money he earned will be deducted from his merchant account and he may very well never see the widgets he already shipped again.
If John is able to provide important information, he may be able to prevail. However, the proverbial deck is stacked against him. Merchants are assumed to be "in the wrong" whenever a customer requests a chargeback. If John's efforts fall short of what is required, he will lose the chargeback argument and find himself charged additional fees on top of losing the sale.
What does John need to show the merchant account provider in order to protect himself? What kinds of information are valuable in these circumstances? What kind of things can online merchants like John do in order to prevent situations like this from happening again and again?
This report attempts to provide answers to these questions. Chargebacks are a potentially devastating force for any online merchant and must be treated seriously. Chargebacks and the fraud that is often their precursor are regular events in the world of online sales and they pose a huge risk to merchants of all types.
Other Details
- 4 Ebooks (PDF), 31 Pages
- 1 Salespage (HTML)
- Year Released/Circulated: 2008
- File Size: 2,209 KB