Salespage Snapshot: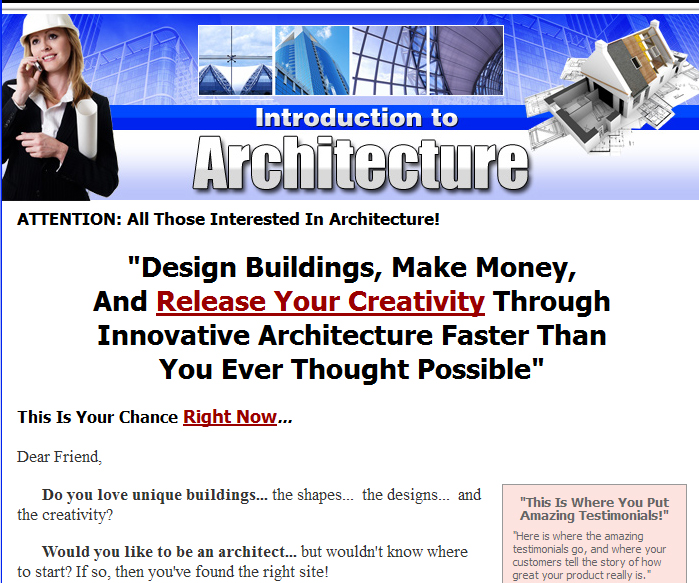 >>> Click Here To View Full Sales Page…
Table of Contents
Introduction.
Chapter 1
What is Architecture?
Benefits of the Architectural Profession.
Becoming an Architect.
Preparing for an Architectural Career in High School
Necessary Skills for an Architectural Career
Chapter 2
Paths to Becoming an Architect.
Pre-Professional Architecture Degree
Professional Architecture Degree.
Post-professional Architecture Degree.
Non-professional Graduate Architecture Degree
2-year Undergraduate Associate of Applied Science Degree.
Paths to Obtaining the Professional Degree
Understanding Accredited Degrees.
Chapter 3
Choosing a School of Architecture.
Gaining Admission to a School of Architecture
How to Choose the Right Architectural Program
Options for Practicing as an Architect
Interior Design
Landscape Architecture
Chapter 4
Architectural Coursework.
Chapter 5
Internship and Experience.
Getting Hired as an Intern
Creating a Portfolio
Layout/Design/Graphics.
The Architect Registration Examination (ARE)
How to Prepare for the Exam.
Chapter 6
Maintaining Licensure
Professional Registration.
Page 4
Employment as an Architect.
School of Architecture Programs.
Conclusion
Sample Content Preview
Chapter 1
What is Architecture?
Architecture is a blend of both science and art, used in the design of structures and buildings. In a much wider scope, architecture includes the design of a complete environment, from landscape architecture to the complete planning of a town. Decision making, problem solving, team leadership and creativity are all extremely important in the process of taking a design idea and developing it into a physical reality. Architects are responsible for the design of buildings. Part of that activity includes the creation of drawings, scale models, writing specifications, letters and other documents. Architects may also manage or supervise architectural projects as well.
Generally, architects do not have a role in the construction of the buildings they design. That task is typically handled by construction contractors. In some cases architects may perform construction if they are employed in a design-build company. Architects may also develop projects on their own or sometimes in conjunction with real estate developers or other professionals.
While architects are commonly associated with the design of buildings, in reality they do much more than this. Some architects may act as consultants in the fields of relocation planning, business planning, interior design, space-use planning, human resources, facility maintenance programming and much more.
Numerous other professions also work with architects on building projects, including civil engineers, structural engineers, mechanical engineers, landscape architects, acoustical specialists, cost experts, interior designers, lighting designers, photographers, artists, facility managers, city planners, land developers, regional planners, sociologists, real estate firms and many more.
In most cases, architects respond to requests for proposals that are published by public and private clients. This is one way in which clients can advise professionals that a project is pending so they can join the selection process.
In other instances, architects may be invited to present their qualifications for a pending project. This may be followed up by interviews as well as a presentation of prior work through the architect's portfolio.
Also, some architects choose to participate in design competitions. They may then be hired to handle a project with a group of people that has been gathered by the client to evaluate architects, known as a jury, likes their preliminary design and selects that architect.
In addition, architects may also make what are known as 'cold calls' to potential clients as they seek out work. They may also choose to initiate projects on their own.
Other Details
- 30 Articles (TXT)
- 2 Ebook (PDF, RTF), 43 Pages
- 7 Part Autoresponder Email Messages (TXT)
- 1 Salespage (HTML, RTF)
- 3 Ecovers (JPG)
- File Size: 1,406 KB