Salespage Snapshot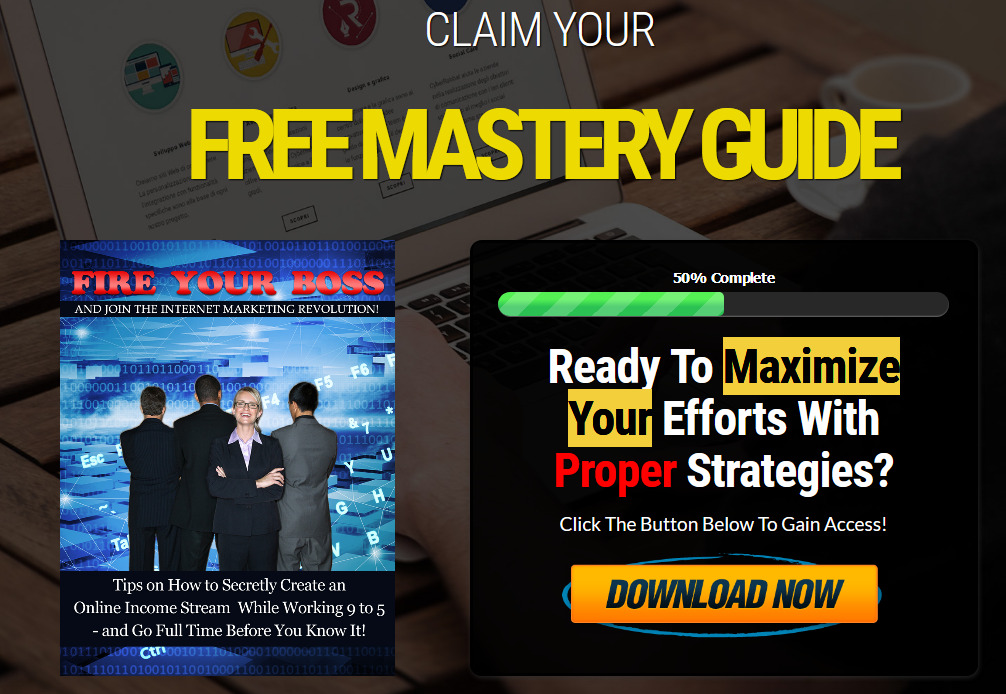 >> Click Here To View Sales Page...
Table of Contents
Chapter 1: Introduction..6
Chapter 2: Key Concepts Behind This Book8
Working Part Time With A Full Time Mentality..9
The Art Of Building Assets Online…10
Investing Into Your Assets Through Outsourcing11
Chapter 3: Monetizing Your Core Competencies…13
Monetizing Your Writing Skills.13
Monetizing Your Graphics Designing Skills.14
Monetizing Your Graphics Designing Skills.15
Analyzing Statistics.16
Programming…16
Networking..16
Chapter 4: Choosing The Right Models..18
Blogging..18
Affiliate Marketing19
Online Network Marketing…20
Niche Marketing..21
Freelance Services..22
Internet Marketing…22
Chapter 5: Work 4 Hours A Day And Retire In 6 Months…24
Think long term24
Build your business around your interests…25
Invest your salary into your business..25
Putting up with negative people…26
Chapter 6: Summary.31
To your success!.31
Sample Content Preview
Monetizing Your Writing Skills
A writer is always in demand amongst Internet marketing circles. You will be able to monetize in the areas of ghostwriting, copywriting, blogging, article writing, newsletter publishing and content creation.
Contrary to what some people may assume, creating a written product is one of the most daunting tasks a person can undertake. Unless you have a flair for writing, nobody in their right mind will mass produce E-books (unless they are willing to make huge sacrifices for their financial goals).
Writers are also a great asset when it comes to product launches in Internet marketing. You will be able to find joint venture partners easily if you are willing to contribute your writing skills to the areas of writing sales letters, E-courses, and promo E-mails.
Recommended Resources
Monetizing Your Graphics Designing Skills
Graphic designers are also very important within the Internet marketing niche. A graphic designer can easily earn a hundred dollars for good quality E-covers, blog banners and site graphics.
You can even sell the Photoshop PSD file by giving away the rights for someone to rebrand them on their own sites.
One of the reasons why a graphic designer (or artist) is always in demand is because graphics tend to sell themselves.
People DO judge a book by its cover and it is very important to tap into this psychological factor. It can make the difference between getting a sale and NOT getting a sale.
Recommended Resources
Analyzing Statistics
As surprising as it may sound, making money online is all about analysing statistics. You can learn a lot from analysing data such as your click through rates (how many people click on your links or your ads), your impressions (how times you page or ads are loaded) and your conversion rates – how much money you make each time someone visits your website!
You will be able to track your statistics properly using the following tools – Google Analytics and Statcounter . Sign up here for a free account and instructions on how to use these tools.
Programming
If you are not afraid of programming, you will be able to excel when it comes to installing scripts like 3rd generation JV Manager now named Delavo and many others that requires a bit of technical skills.
HTML and PHP skills also come in handy when it comes to blogging and other web based software.
Networking
This skill is quite valuable when it comes to finding JV partners and outsourcing. Just like in the real world, networking is also equally important when it comes to building friendships and getting people to promote your products.
If you want to excel in Internet marketing, you must not sit in front of your computer without talking to anyone. A person who is good at networking offline is also able to do the same online – it is just that the medium that is used is different (using for example Facebook, Twitter & Skype).
You can also attend Internet marketing seminars to touch base with other marketers and speakers… You can EVEN find online versions to avoid the cost of air plane tickets, hotel room etc..
One Of The Most Popular Forum On The Internet When It Comes To Internet Marketing. Get To Know Lots Of People And Build Networks/Relationships at The Warrior Forum!
Chapter 4: Choosing the Right Models
(Diagram Of SWOT Analysis – Strengths, Weaknesses, Opportunities, Threats) Here are some tips on what opportunities may be suitable for you and how you can strategize your way to build your income online so that you will be able to quit your job.
Blogging
Blogging is one of the easiest models that someone can attempt. Almost anyone can become a blogger. Even those who can't write (picture blogs).
Strengths: You can blog about anything you want! Focus on your passion and share your thoughts with the world. If you have great content, people will come to your blog and you can monetize through advertising or affiliate programs. The startup cost is less than $12 and it costs about $5 a month to maintain this business model (You only pay for the domain name and monthly hosting respectively.) You can even register some blogs for free!
Weaknesses: It may take a long time to build up traffic – an average person who blogs regularly but slowly may quit his or her job within one to two years. If you want to achieve freedom in half the time, you have to blog and network with other bloggers more aggressively.
Opportunities: You may not be able to see yourself making money at the start, but to offset that, you can blog for others (for a fee) or even sign up for PAY PER POST and get paid for blogging!
Threats: There is a blog born or created every TWO SECONDS. So you can imagine how much competition you are going up against!
Suggested Course Of Action: Register a personal domain name now! This is very important because the most important person in the world is YOU and getting a domain after your own name is the most important thing you must do. Then you can start blogging about yourself.
Affiliate Marketing
Affiliate marketing is one of the most lucrative models on the Internet. You can promote other people's product and get commissions for your efforts without seeing a single customer or talking to anyone.
Strengths: You don't even need a domain name or a website in some cases. You can earn huge commissions from up to 50% to even 100% commissions! You don't need to focus on creating products – just drive traffic to the merchant site and watch your income roll in (if you do it right of course).
Weaknesses: You will need to search for a good affiliate program and build up traffic in order to see results.
Opportunities: There are unlimited opportunities because there are always new products coming out each day and affiliates are needed everywhere! Threats: You are competing against THOUSANDS of affiliates out there and those affiliates are your competitors. Some programs even offer two-tier programs and established affiliates probably have dozens of affiliates under them as well. Suggested Course Of Action: Register as an affiliate at JVZoo , Commission Junction , Clickbank or Amazon . Find good products to promote – especially those with good 'gravity'.
Other Details
- 1 Ebook (PDF), 18 Pages
- 1 Squeeze Page (HTML)
- 3 Ecovers (JPG)
- Source Doc, Source PSDS
- Year Released/Circulated: 2018
- File Size: 128,715 KB
License Details:
[YES]Can be sold
[YES]Can offer Resell Rights
[YES]Can offer Master Resell Rights
[YES]Can resell Private Label Rights
[YES]Can be edited
[YES]Can put your name as the author
[YES]Can be broken down into articles
[YES]Can be used as web or e-zine content
[YES]Can be added into membership sites
[YES]Can be sold in any format
[YES]Can be packaged
[YES]Can be offered as a bonus
[YES]Can be sold on auction sites
[YES]Can be published offline
[YES]Can be given away (in any format)