Squeeze Page Preview: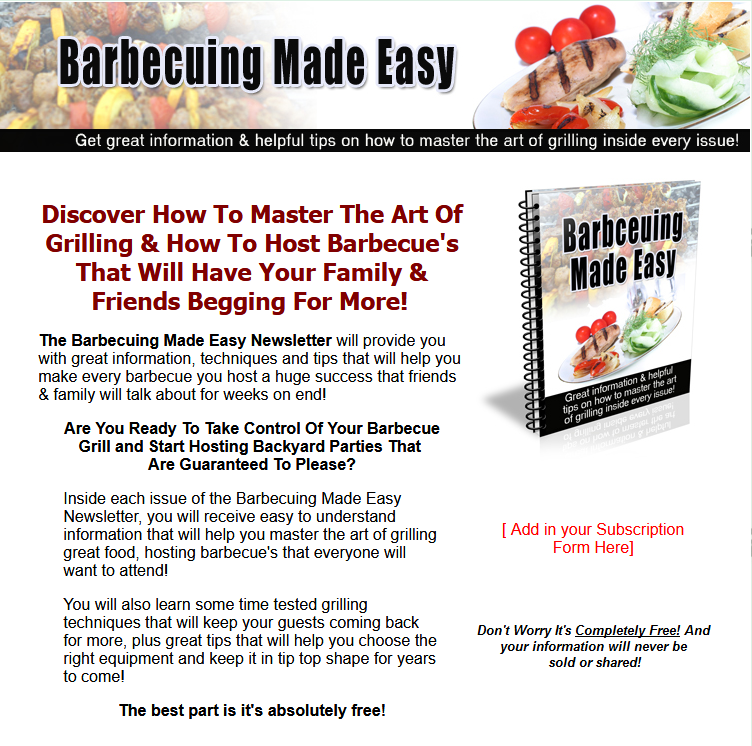 >>> Click Here To View Full Squeeze Page…
Features:
* 12 Issues Full Of Great Content
– Just add in your contact info and plug it in to your favorite auto responder. Each issue contains 500 words or more!
* One Ready To Go Squeeze Page
– Just add in your opt in form, upload to your server and your done!
* One Ready To Go Thank You Page
All ready to remind your subscribers to check their email and confirm their subscription. It even has built in revenue!
* 4 Researched Click Bank Products
These are top selling products on Click Bank that I've personally researched and chosen for each series.
* Extra Copy And Paste Article Content
You will get:
– Extra titles
– Extra opening paragraphs
– Extra closing paragraphs
– Extra fill in paragraphs
(these would make great tips that you add in to your follow ups system for more frequent contact with your readers)
Sample Content Preview
Hello "autoresponder code here",
In the last issue we talked about buying and using a charcoal grill.
In this issue we are going to talk about grilling veggies for your
vegetarian guests.
Whether you're expecting vegetarian guests, you've newly transitioned
to vegetarianism yourself, or you'd just like to incorporate more
meatless recipes to give some variety to your cookout menu, there are
all kind of ways to prepare meatless options.
Before beginning, remember that most vegetarian foods are more
fragile than meat, and do not contain as much fat. Therefore, clean and
well-lubricated grill is essential to successfully grilling vegetables. It
would be a shame for those beautifully grilled peppers to stick to the
grill!
Traditionally, vegetables have been considered a side dish in most
meals, but at a cookout they can take center stage as the entree.
Almost any kind of vegetable is great for grilling. Complement your
meal by serving them over pasta, rice or polenta.
The intense dry heat of the grill caramelizes plant sugars, brings out the
unique taste of vegetables and this makes them taste very sweet.
Veggies like corn, form a sweet outer shell. While onions, soften to a
buttery texture and bell peppers soak in the smoke and become almost
meaty.
Keep in mind that grilling vegetables takes much less time than meat.
Be sure to start with fresh produce because when vegetables age, they
become dehydrated and end up tasting dry after they come off the grill.
Don't be afraid to experiment by using a lot of color when grilling. Mix
peppers, such as, red, green, orange, and yellow.
You can grill just about any vegetable including; tomatoes, artichokes
and zucchini. All you have to do is sprinkle some olive oil and salt,
pepper some herbs and maybe some vinegar before you grill.
TIP: When grilling tomatoes use high heat and only turn them once then
remove from the heat.
You can also make them into extraordinary sandwiches with a soy-
based cheese and some freshly baked rolls or bread. Cut the
vegetables lengthwise into thin slices in the case of zucchini and
eggplant, or into thick rings, in the case of onions, tomatoes and
peppers. If you'd rather have your veggies in handy bite-size pieces for
serving with pasta and the like, try using a special pan for the grill with
small holes that keep the veggies from falling through the grill and being
lost. And probably the easiest way to grill vegetables on the grill is
shish-ka-bob style!
Tip: Soak wood skewers in water for an hour before use. They
are best used for foods that can be cooked quickly, like vegetables and
fruits.
Don't forget to balance out those grilled vegetables with some fresh
fruit salads, perfectly chilled and juicy. Watermelon, strawberries,
grapes, and citrus fruits all complement one another well in a delightful
fruit salad prepared with non-dairy whipped cream. Also use fruits to
experiment with some fun smoothies and slushies for the kids – they're
fun and better for them than sugary sodas.
Make sure you look for your next issue soon. We will be talking about
searing and why it is the secret to the perfect steak.
Until then,
"your name here"
"your email address"
"your URL here"
Sample Extra Titles
The Secret To Barbecuing
5 Essential Elements For Barbecuing
Ideas, Formulas And Shortcuts For Barbecuing
All About Barbecuing
New Step by Step Roadmap For Great Barbecuing
Simple Safety Facts About Barbecuing Revealed
What Everybody Else Does When It Comes To Barbecuing And What You Should Do Different
The Idiot's Guide To Barbecuing Explained
Unknown Facts About Barbecuing Revealed By The Experts
The Hidden Truth on Barbecuing Exposed
The Secret To Barbecuing
5 Essential Elements For Barbecuing
Ideas, Formulas And Shortcuts For Barbecuing
All About Barbecuing
The Secret of Barbecuing That No One is Talking About
The Unexposed Secret of Barbecuing
The Barbecuing Diaries
Barbecuing – An Overview
The Ugly Side of Barbecuing
An Unbiased View of Barbecuing
What's Really Happening With Barbecuing
The Ultimate Guide To Barbecuin
And More…
Sample Extra Paragraphs
Gas grills literally come in all shapes and sizes. The type of grill you get
should really depend on what you plan on using the grill for. If you
foresee camping trips, barbeques at the beach or tailgate parties, you
may want to consider getting a smaller gas grill. Smaller gas grills can
range from anywhere from 10 to 40 pounds. Portable gas containers
are also available for these types of grills. If your plans are move
focused on home cooking, then larger grills should suit you fine.
————————————
BTU is the measure of the amount of cooking power the barbeque grill
as. Simple math will be needed in determining the amount of heat that
your grill produces. Take the amount of space available for cooking
(typically measured by square inch) and divide it by the total amount of
BTU's. Ideally you will want at least 95 to 100 BTU's per square inch of
cooking space. So for example, if you have a grill with 50,000 BTU's
and 450 square inches of cooking space, then you will be receiving
about 111 BTU's of cooking power per square inch. Anything less, and
you may want to consider a different grill.
————————————
Perhaps one of the most important things you should consider is the
fuel type. Charcoal grills are one of the most used types of grills.
Charcoal grills utilize charcoal and lighter fluid to heat up and cook your
food. Charcoal grills come in all shapes and sizes, and vary in cost.
Charcoal requires you to buy charcoal and lighter fluid each time you
cook with it. It must also be cleaned out each time. Charcoal grills come
in small sizes, which are ideal for apartment dwellers or people with
small homes. Once you have used your charcoal grill, you can clean it,
and store it away.
————————————
Once you have the meat purchased, you will then want to consider what
type of sides dished you will serve. If you want a completely tradition
barbeque, you may want to stick with traditions sides. Traditional
barbeque sides include potatoes, potato salad, baked beans, and
coleslaw. Your traditional condiment bar should include pickles, relish,
and onions. These foods are typically severed at barbeques because
they are easy to prepare and store until the event happens. You may
want to cook other items, but any barbeque is complete with just the
items listed above. Once again, if children will be present, you may
want to consider sides for them as well.
————————————
The first thing that should always be done to your grill is a routine
brushing. Using your brass wire grill brush (or other brush suitable to
your type of grill) you should brush off all the surfaces. By routinely
brushing your barbeque grill, you will prevent any type of buildup. If
buildup from food is left to long, it can become increasingly difficult to
remove, and can end up causing problems such as rust.
And More…
Other Details
- 12 Part Autoresponder Email Messages (TXT, DOC)
- Squeeze Page (HTML, PSD)
- Ecover (PSD, JPG)
- Affiliate Programs List
- File Size: 59,100 KB