Salespage Snapshot: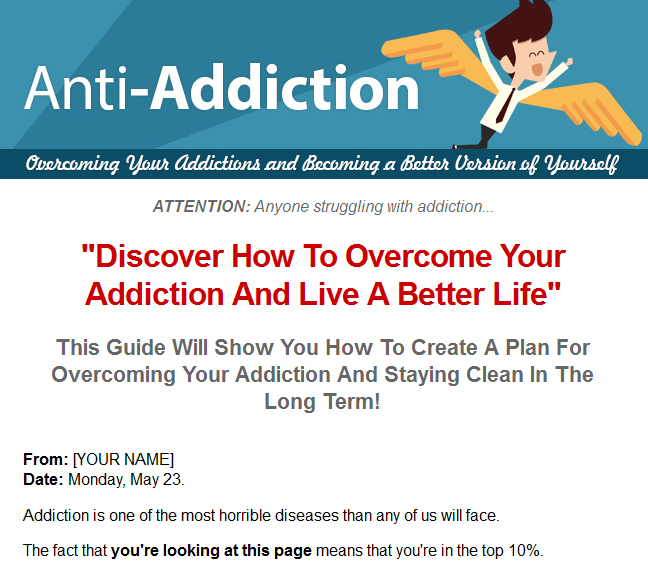 >>> Click Here To View Full Sales Page…
Table of Contents
Introduction: What this Book Has to Offer . 5
You Can Beat Addiction If You Try …. 6
Chapter One: What is Addiction? …. 8
Chapter Two: The Addiction Cycle 11
Chapter Three: Reasons People Fail at Overcoming Addiction . 14
Chapter Four: Make a Commitment to Quit.. 17
Define Your Commitment . 17
Chapter Five: Your Pros & Cons … 20
The Pros . 20
The Cons 21
Chapter Six: Identify Your Triggers …. 22
How to Identify Your Triggers 23
Chapter Seven: Make a Quitting Plan 24
How to Make the Quitting Plan … 25
Chapter Eight: Prep Your Environment … 26
Chapter Nine: Seek Professional Help …. 28
Where to Find Professional Help 28
Chapter Ten: Surround Yourself with Support … 31
Find Friends Who Know How to Support You 32
Chapter Eleven: Handling Withdrawal Symptoms .. 33
Chapter Twelve: Celebrate Your Success … 36
Setting Milestones .. 36
Setting up Rewards 37
Chapter Thirteen: Track Your Progress .. 38
Your Daily Diary 38
Conclusion: Your Road to Recovery .. 40
Summary of the Material .. 40
Sample Content Preview
Introduction: What this Book Has to Offer
When you are suffering from an addiction, it can feel like your entire life is out of control and you have no power to stop yourself from using again and again. When you are addicted to something, it can also feel like you're completely alone and have nowhere to turn. These are all common mindsets for someone who has an addiction to any substance, whether that is food, cigarettes or other tobacco products, alcohol, prescription or illegal drugs and even sex. But neither are you alone in your addiction nor do you have to be a slave to addiction for the rest of your life. That's exactly why this book exists.
You Are Not Alone
It is very easy to feel like you are the only one who is experiencing your particular addiction – or the level of addiction you're experiencing – but the truth is, there are millions of others who experience exactly the same things that you do. That's because addiction affects more than 10% of the United States population. That means if you were to get on a typical city bus there are probably two or three people on that bus – besides yourself – that are suffering from some kind of addiction. Don't fool yourself either; having a food addiction or being unable to quit drinking alcohol is the same as an addiction to a drug or any other substance. Addiction is addiction, no matter what the substances.
You Can Beat Addiction If You Try
You have probably heard this in some form or another before and you probably don't believe a word of it. That's because you know that in the past you have tried to get over your addiction yourself and have failed – and you know that it was a sincere effort and that you were actually doing your best.
No one here is disputing that. But what you need to understand is that every single person who is ever been addicted to anything – in the entire world, throughout thousands of years of human history – has had to make an effort several times – sometimes thousands of times – before they finally succeeded. Just because you have tried in the past and haven't succeeded doesn't mean that your future efforts are doomed to failure. In fact, the more times you tried in the past, the better the chances are that you will be successful this time.
Don't Lose Hope
Use the tools in this book to give yourself another chance to get over the addiction that is affecting your life. You actually are in a minor percentage of people who are trying to get help with their addiction. Although 1 out of every 10 people is addicted to something, less than 10% of those addicts actually try to seek treatment. You obviously want to succeed and that makes a great deal of difference.
Other Details
- 10 Articles (TXT)
- 1 Ebook (PDF), 42 Pages
- 1 Salespage (HTML)
- Year Released/Circulated: 2016
- File Size: 1,551 KB
License Details:
yes you may giveaway this ebook.
yes you may resell this product. suggested retail price
yes you may resell this product.
yes you may edit the squeeze/salespage.
your customers only get personal use rights only. they may not resell this product.
you may not sell or giveaway private lable rights.
you may not re-title or edit the contents of this product.
you agree to handle any own customer support issues related to this product.