Salespage Snapshot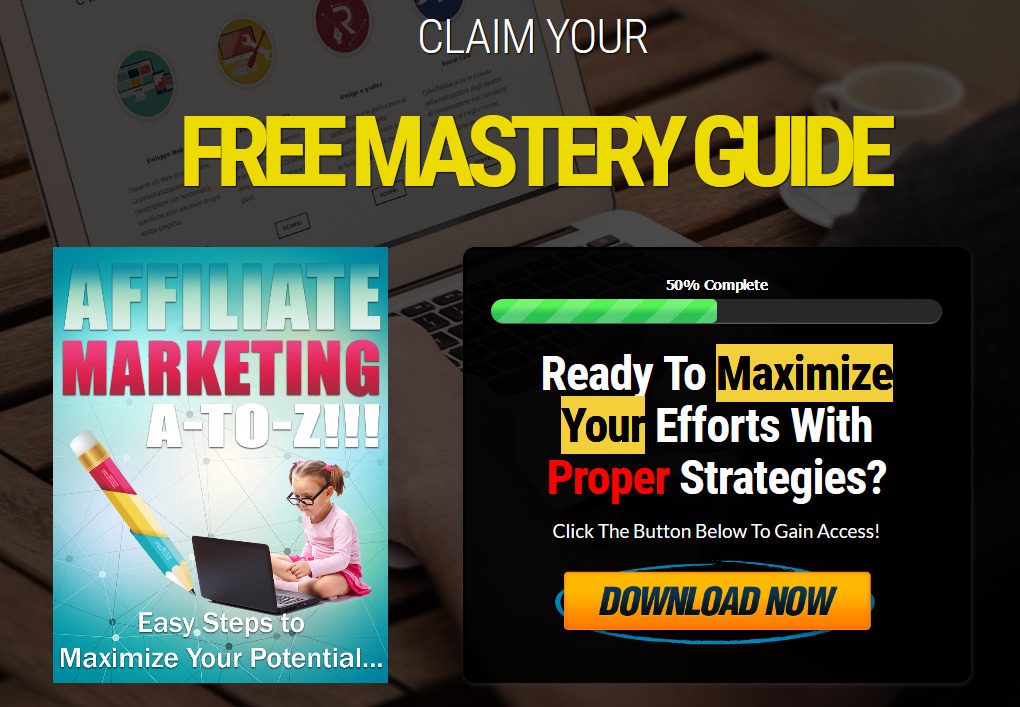 >> Click Here To View Sales Page...
Table of Contents
Introduction .. 3
3 Things All Affiliate Marketers Need To Survive Online … 6
Top 3 Ways To Boost Your Affiliate Commissions Overnight .. 8
Which Affiliate Networks To Look Out For When Promoting .. 12
So Many Affiliate Programs! Which One Do I Choose? .. 16
Here's How To Avoid The 3 Most Common Affiliate Mistakes 19
Mistake number 1: Choosing the wrong affiliate. .. 19
Mistake number 2: Joining too many affiliate programs. …. 20
Mistake number 3: Not buying the product or using the service. 20
Using Product Recommendations To Increase Your Bottom Line 21
Easy Profits Using PPC In Your Affiliate Marketing Business 25
Using Camtasia Can Increase Your Affiliate Checks …… 28
How To Become A Super Affiliate In Niche Markets . 31
Sample Content Preview
3 Things All Affiliate Marketers Need To Survive Online
Every affiliate marketer is always looking for the successful market that gives the biggest paycheck. Sometimes they think it is a magic formula that is readily available for them. Actually, it is more complicated than that. It is just good marketing practices that have been proven over years of hard work and dedication. There are tactics that have worked before with online marketing and is continuing to work in the online affiliate marketing world of today. With these top three marketing tips, you will be able to able to increase your sales and survive in the affiliate marketing online.
What are these three tactics?
1. Using unique web pages to promote each separate product you are marketing. Do not lump all of it together just to save some money on web hosting. It is best to have a site focusing on each and every product and nothing more.
Always include product reviews on the website so visitors will have an initial understanding on what the product can do to those who buys them. Also include testimonials from users who have already tried the product.
Be sure that these customers are more than willing to allow you to use their names and photos on the site of the specific product you are marketing.
You can also write articles highlighting the uses of the product and include them on the website as an additional page. Make the pages attractive compelling and include calls to act on the information. Each headline should attract the readers to try and read more, even contact you. Highlight your special points. This will help your readers to learn what the page is about and will want to find out more.
2. Offer free reports to your readers. If possible position them at the very top side of your page so it they simply cannot be missed. Try to create autoresponder messages that will be mailed to those who input their personal information into your sign up box. According to research, a sale is closed usually on the seventh contact with a prospect.
Only two things can possibly happen with the web page alone: closed sale or the prospect leaving the page and never return again. By placing useful information into their inboxes at certain specified period, you will remind them of the product they thought they want later and will find out that the sale is closed. Be sure that the content is directed toward specific reasons to buy the product. Do not make it sound like a sales pitch.
Focus on important points like how your product can make life and things easier and more enjoyable. Include compelling subject lines in the email. As much as possible, avoid using the word "free" because there are still older spam filters that dumps those kind of contents into the junk before even anyone reading them first. Convince those who signed up for your free reports that they will be missing something big if they do not avail of your products and services.
3. Get the kind of traffic that is targeted to your product. Just think, if the person who visited your website has no interest whatsoever in what you are offering, they will be among those who move on and never come back. Write articles for publication in e-zines and e-reports. This way you can locate publications that is focusing on your target customers and what you have put up might just grab their interest.
Try to write a minimum of 2 articles per week, with at least 300-600 words in length.
By continuously writing and maintaining these articles you can generate as many as 100 targeted readers to your site in a day.
Always remember that only 1 out of 100 people are likely to buy your product or get your services. If you can generate as much as 1,000 targeted hits for your website in a day, that means you can made 10 sales based on the average statistic. The tactics given above does not really sound very difficult to do, if you think about it. It just requires a little time and an action plan on your part.
Try to use these tips for several affiliate marketing programs. You can end maintaining a good source of income and surviving in this business that not all marketers can do.
Besides, think of the huge paychecks you will be receiving…
Top 3 Ways To Boost Your Affiliate Commissions Overnight
The ideal world of affiliate marketing does not require having your won website, dealing with customers, refunds, product development and maintenance. This is one of the easiest ways of launching into an online business and earning more profits.
Assuming you are already into an affiliate program, what would be the next thing you would want to do? Double, or even triple, your commissions, right? How do you do that?
Here are some powerful tips on how to boost your affiliate program commissions overnight.
1. Know the best program and products to promote. Obviously, you would want to promote a program that will enable you to achieve the greatest profits in the shortest possible time.
There are several factors to consider in selecting such a program. Choose the ones that have a generous commission structure. Have products that fit in with your target audience. And that has a solid track record of paying their affiliate easily and on time. If you cannot seem to increase your investments, dump that program and keep looking for better ones.
There are thousands of affiliate programs online which gives you the reason to be picky. You may want to select the best to avoid losing your advertising dollars.
Write free reports or short ebooks to distribute from your site. There is a great possibility that you are competing with other affiliates that are promoting the same program. If you start writing short report related to the product you are promoting, you will be able to distinguish yourself from the other affiliates.
In the reports, provide some valuable information for free. If possible, add some recommendations about the products. With ebooks, you get credibility. Customers will see that in you and they will be enticed to try out what you are offering.
2. Collect and save the email addresses of those who download your free ebooks. It is a known fact that people do not make a purchase on the first solicitation. You may want to send out your message more than six times to make a sale.
This is the simple reason why you should collect the contact information of those who downloaded your reports and ebooks. You can make follow-ups on these contacts to remind them to make a purchase from you.
Get the contact information of a prospect before sending them to the vendor's website. Keep in mind that you are providing free advertisement for the product owners. You get paid only when you make a sale. If you send prospects directly to the vendors, chances are they would be lost to you forever.
But when you get their names, you can always send other marketing messages to them to be able to earn an ongoing commission instead of a one-time sale only.
Publish an online newsletter or Ezine. It is always best to recommend a product to someone you know than to sell to a stranger. This is the purpose behind publishing your own newsletter. This also allows you to develop a relationship based on trust with your subscribers.
This strategy is a delicate balance between providing useful information with a sales pitch. If you continue to write informative editorials you will be able to build a sense of reciprocity in your readers that may lead them to support you by buying your products.
3. Ask for higher than normal commission from merchants. If you are already successful with a particular promotion, you should try and approach the merchant and negotiate a percentage commission for your sales.
Other Details
- 1 Ebook (PDF), 32 Pages
- 1 Squeeze Page (HTML)
- 3 Ecovers (JPG)
- Source DOC, Source PSDS
- Year Released/Circulated: 2018
- File Size: 95,547 KB
License Details:
[YES]Can be sold
[YES]Can offer Resell Rights
[YES]Can offer Master Resell Rights
[YES]Can resell Private Label Rights
[YES]Can be edited
[YES]Can put your name as the author
[YES]Can be broken down into articles
[YES]Can be used as web or e-zine content
[YES]Can be added into membership sites
[YES]Can be sold in any format
[YES]Can be packaged
[YES]Can be offered as a bonus
[YES]Can be sold on auction sites
[YES]Can be published offline
[YES]Can be given away (in any format)