Salespage Snapshot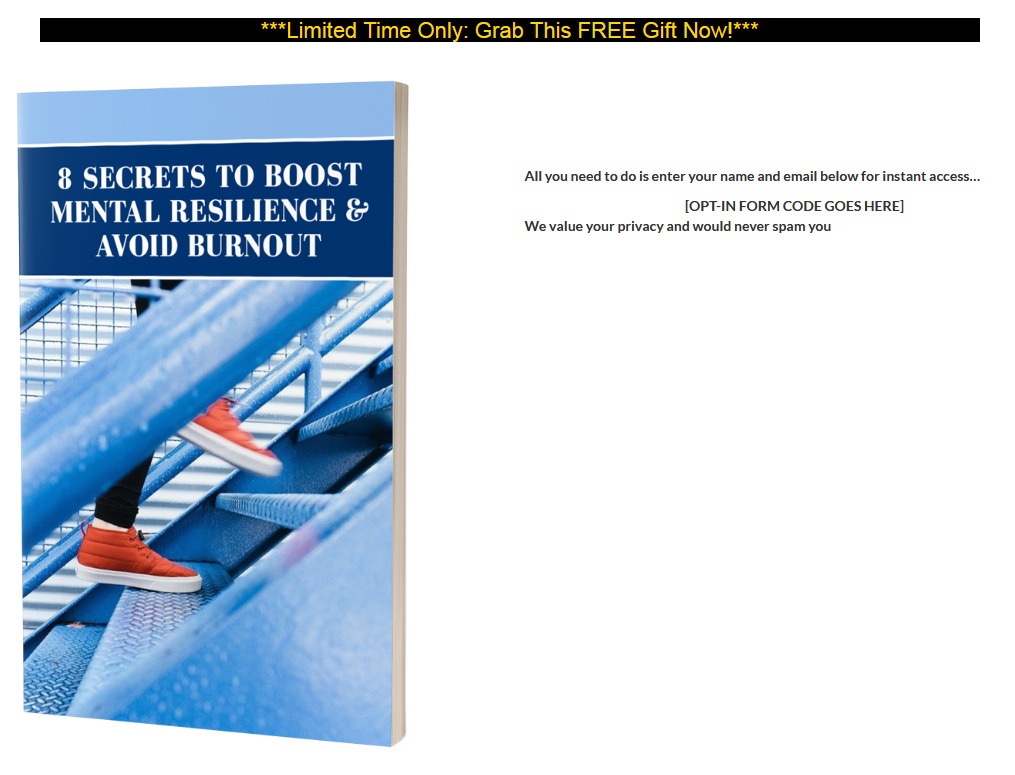 >> Click Here To View Sales Page...
Sample Content Preview
Identify the areas in your life where you are emotionally in control. For example, your level of self-confidence and self-belief, your ability to articulate and communicate with others, your anger triggers, and how well you manage anger.
Knowing where you are on the control scale means assessing how in control you are of your sense of purpose and how easily you get distracted or frustrated.
More importantly, honestly assess how in control you feel when things get chaotic. Do you panic? Do you get angry or blame others? Do you look for the easiest way out? Do you avoid confronting issues until things get even worse?
Again, this requires some honest self-reflection to identify these "problem areas" and understand why you need to eliminate them.
3. Challenge
Reflect on how you deal with challenges or setbacks. Do you see them as failures or hurdles? What types of challenges excite and motivate you? What challenges frustrate you and make you feel helpless?
How well do you adapt to change? Do changes or challenges sidetrack you or make you give up? Do you consider adversity as an opportunity or a threat?
Would you consider yourself flexible? Do you avoid challenging situations because you are afraid to fail?
All of these are crucial questions that need to be answered in order to confront your negative mindset and behaviors and further understand how they are holding you back.
4. Confidence
This is the extent to which you believe in your skills, capabilities and creative talents. It is your belief in your ability to complete tasks, set goals and achieve them. It's your confidence in your ability to influence others and express yourself articulately.
The questions you need to ask yourself here are: is your confidence usually shaken by setbacks or unexpected changes? Do you have the confidence to seek out new opportunities and think out of the box? In what area do you feel you need to have more self-confidence?
The bottom line: The 4 C's of mental toughness should be an eye-opener if your self-reflection is totally honest. Already, you have begun to see where you fall short on the mental toughness scale. and where your weaknesses and strengths lie. Based on this, you will be able to identify which of the 8 techniques you should focus more on.
Keeping these findings in mind will help you tremendously as you begin your journey. t Now, it's time to change your life!
The 8 Secrets to Developing Mental Resilience and Avoiding Burnout
Secret #1: Make Connections
Human relationships are vital for our emotional health and wellbeing. They are even more vital for building mental resilience. Living in emotional isolation and thinking you can do it all on your own is a very lonely place to be. We all need human interaction to function well and lead balanced lives.
Strong relationships are your buffer against the outside world, which can often be cruel and inconsistent. A mentally tough person will typically have a strong network of family, friends, colleagues, and mentors who are loving and supportive.
Your first step is to strengthen your connections to the important people in your life. This means expressing your appreciation and love for them consistently and never betraying their trust in you. It means always being there for them just as you expect them to be there for you. When you put your heart and soul into these relationships, you can be sure that you will receive tenfold what you give.
Who should these people be? Family, friends, colleagues and even your community, when you become active at your local church or volunteer at a charity or other community organization.
Foster these healthy relationships with people who care about you and will generously give their time to listen and offer sympathy and support. These are the people who see your unique qualities and special talents – as well as your flaws and totally accept you for who you are.
These are the people who will support you through difficult times and give you hope and reassurance. They care enough about you to show you "tough love" when you need it. They point out your mistakes and hold you accountable. They rejoice in your successes and are generous with sympathy end encouragement during times of adversity. Making these strong connections will foster your mental resilience dramatically. You know that if you lost everything tomorrow, you would still have these wonderful people in your life who will cheer you on to pick yourself up and start over. And you will do so because you want to make them proud.
Secret #2: Controlled Exposure
This is a powerful technique that builds mental toughness by forcing you out of your comfort zone. Controlled exposure means gradually putting yourself in uncomfortable situations that cause you anxiety and forcing yourself to react calmly.
Research has shown that practicing controlled exposure strengthens mental resilience especially when it comes to decision-making and goal setting, as it decreases the fear of failure.
One exercise to consider is public speaking. The average individual has a fear of speaking in public. Even professional speakers probably get the jitters every now and then when there's a particularly large audience.
Other Details
- 1 Ebook (PDF, DOC), 31 Pages
- 5 Part Autoresponder Email Messages (TXT)
- 1 Audio (MP3)
- 2 Graphics (PNG)
- 1 Squeeze Page (HTML)
- Year Released/Circulated: 2022
- File Size: 15,863 KB
License Details:
You're granted master resell rights, resell rights or to resell with personal use rights.
You may add this product to your PAID membership site
You may giveaway the product as a bonus when people buy through your affiliate link
You may edit the included opt-in / squeeze / landing page
You may giveaway the eBook for Lead Generation purpose
No, you may NOT edit the contents of the eBook
No, this product does NOT include private label rights. You are granted Master Resell Rights only