Salespage Snapshot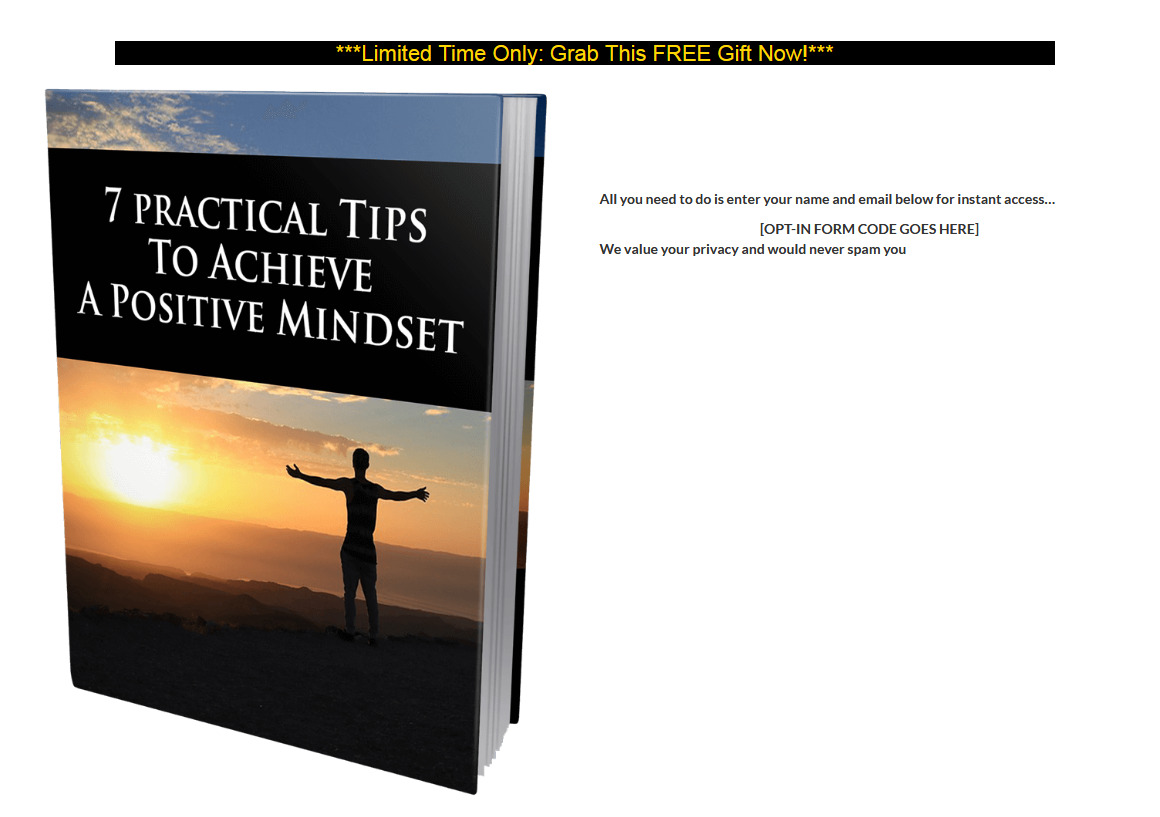 >> Click Here To View Sales Page...
Sample Content Preview
Chapter 2: Focus on The Good Things
Focusing on good things might seem easy, but is it? The media is awash with all sorts of negative news. Every day comes with its own set of challenges. A forced smile has become commonplace. Having a real laugh has become a mirage.
It is easy to get lost in the negatives, but remember the words of John Milton, "The mind is its own place and in itself, can make a Heaven of Hell, a Hell of Heaven." This quote is geared at ensuring you focus on the good things around you.
Count The Good Things
As small as they might be, they are tangible. Remembering only the things that go wrong will only get you worked up and stressed. Your health will suffer for it. Even in times of darkness, there are numerous aspects of life to be thankful for. Remembering all the good in your life will help you not to be consumed by any negatives and leave you with a much more positive mindset.
One of the ways to ensure you focus on the good things is to identify your sweet spots – those things that make you happy. It is that simple. If it is family, have videos of those family moments on your mobile device and indulge yourself in such whenever things look gloomy.
Unsure about what makes you happy? Well, everyone has something or someone that makes them happy. You will just have to do some soul-searching to find yours and when you do, make it a habit to keep yourself happy. Fortunately or unfortunately, life isn't a video game, so just be happy while you have the chance.
Meditate More
Focusing on good things can be difficult with the negative vibes coming from the world around us. One way to block out these negative vibes and energy around you is through meditation.
Meditation is akin to wiping the slate of your mind clean. This could be great considering the toxicity in the world right now. Like a blank check, your refreshed mind after a meditation exercise gives you a unique opportunity to fill your mind with only the good things.
Meditation helps you understand how your mind works and you can use that to your advantage in seeing only the good in everything.
Perspective Is Everything
Different events highlight the importance of perspective in your general well-being.
The long debate of a half-empty, half-full glass might have raged on long enough, but what side of the divide will always weigh on what you see around you? Changing such a perspective, if negative, might not be easy, but you just have to take the first step and acknowledge your position.
It is said that good things come to those who wait, but that is probably flawed. There is enough good around us, if we only open our eyes to see them. Maybe then we wouldn't keep waiting for something that is already before us.
Chapter 3: Start the day in a Positive Mood
Mornings bring the joy of another day in your life. The way you start your day determines the rest of it and on a larger scale the outlook towards life. If you are not a morning person and wake up exhausted, you can end up not seeing the good things that can happen throughout a day.
Have A Positive Thought
This is so because you are overlooking small details and aspects for which you can be grateful in life. Your happy mornings don't necessarily have to be a complicated routine, it can involve simple things as a small positive thought.
All you have to do is to give it a try. Every day comes with new opportunities you only have to seize the day and take a moment to appreciate little happenings. All small actions in the morning can brighten up your whole day.
On waking up the first thing to do is simply think about your positive attribute that makes you or people around you happy; the things that you do best. It will urge you to step out of your bed in a happy mood and you can make the best out of it. A study reveals that people showing gratitude not only are optimistic about their
life but also possess physical fitness because of their positive attitude.
Stretching in the bed for few minutes can improve your mood and boost your energy as it releases dopamine. It is reputed as a feel-good hormone. It enables you to concentrate on your work throughout the day and to stay motivated. Removing the curtains to enable the view of sunlight, the sound of chirping of birds and fresh air can have a refreshing impact on you.
Don't Skimp On Sleep
A night of good sleep is required for a good morning. People who hit the bed early wake up with a calm mind. When you have enough sleep you get ample time in the morning to do something that gives you pleasure such as a small walk, taking caring of yourself or carrying out your hobby.
You will not have to push yourself to start a practical day. This is how your day can also progress in a positive direction by starting with content mood and peace of mind. Being late for work or missing something you wanted to do is a terrible way to start a day.
A positive day needs a to-do list. Whether you have a big assignment to present or a small gesture of kindness all you need is to plan it. The things done with the clarity of mind are executed efficiently. People who run their errands haphazardly often fail to get the desired outcomes. Your planning helps you to prioritize the things and prepare you to take on the day.
Another thing to keep you propelled throughout your day is how you would like to sign off your day. Think of some ways how you want to treat yourself and to look forward to something enjoyable will put a smile on your face the entire day. Anticipating something pleasurable can bring delight as much as the event itself.
Other Details
- 1 Ebook (PDF, DOC), 34 Pages
- 5 Part Autoresponder Email Messages (TXT)
- 1 Audio (MP3)
- 2 Graphics (PNG)
- 1 Salespage (HTML)
- Year Released/Circulated: 2020
- File Size: 8,058 KB
License Details:
You're granted master resell rights, resell rights or to resell with personal use rights.
You may add this product to your PAID membership site
You may giveaway the product as a bonus when people buy through your affiliate link
You may edit the included opt-in / squeeze / landing page
You may giveaway the eBook for Lead Generation purpose
No, you may NOT edit the contents of the eBook
No, this product does NOT include private label rights. You are granted Master Resell Rights only