Salespage Snapshot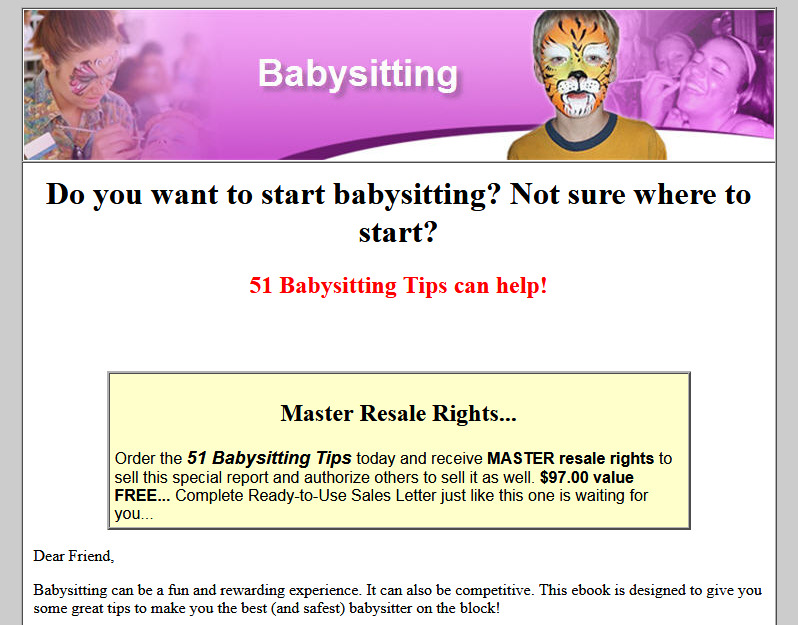 >> Click Here To View Sales Page...
Table of Contents
17. Allergies or Medical Conditions
Make sure you know any allergies or medical conditions that the children that you're babysitting may have. An unexpected allergy attack can be very harmful. If any of the kids experience unexplained swelling or rashes, call 911 or Poison Control immediately.
18. Schedule
Ask the parents about the children's schedule. Make sure and write down any special instructions, even if you're sure you can remember them. It will make the parents have more confidence in you as well.
19. Meals
Be sure that you know if you're expected to prepare any meals for the children that you'll be tending. Ask them if it's ok to use the oven or stove, and to give you a few ideas for snacks.
20. When Parents Are Expected Home
Ask the parents when they're expected home. Be ready for them, and have all of your responsibilities done. Parents want to come home to calm, not chaos.
21. Playtime
Find out when playtime is, and play hard! This is when you do all the projects that you've planned with them. Make sure and plan time for clean-up.
22. Rules and Discipline
Find out from the parents what the rules are, and how to discipline the children if they're not following them. NEVER yell at or hit a child.
23. First Aid Kits
Ask the parents where their first aid kit is. If someone gets hurt, try and assess quickly whether they just need a band-aid and a kiss, or if it's something more serious.
POSITIVE DISCIPLINE
Sometimes the kids that you babysit won't be perfect little angels. This next set of tips will give you some ideas on how to help the kids listen to you.
24. Be Clear
From the time their parents leave, be very clear about what you expect of the children. It's not fair to punish them if they don't know what the rules are.
25. Be Firm
Kids are smart, and will try to push you around if you let them. But they also need limits. The sooner they find them with you, the better. Once they know their boundaries, you all will have a great experience.
26. Be an Example
It's important to be an example to the kids that you babysit. For example, if it's a rule that they don't eat in the living room, you don't eat there either.
27. Be Creative
Creativity is a must for babysitters. If you have a child who doesn't want to do something that you've asked him to do, find a way to make it fun. For example, play a game like, "make the veggies disappear," or have a race to clean up the toys.
28. Change the Subject
Never argue with the kids. If a child is upset, try changing the subject, or getting him interested in something else. Remember that kids have short attention spans and will get frustrated if they're expected to do an activity for too long.
29. Time Outs
Using time outs are a great way to calm a child down. Find a place for him away from other children or stimuli, and sit him down. Not for long, though. A good rule of thumb, is time outs shouldn't be longer (in minutes) than their age. For example, a 4 year old gets a time out no longer than 4 minutes, etc.
30. Separate
Sometimes siblings just don't get along. You may need to get them doing different activities, maybe even in different rooms.
BABYSITTING KITS
It's a good idea to have a babysitting kit that you can bring to all of your jobs. This next set of tips will give you a list of things that you can put in your kit.
31. Notebook
Carrying a notebook to your babysitting jobs is smart. This way, you can write down all the emergency numbers and special instructions from the parents. It's also smart to keep all this organized, so that when you babysit for that family again, you'll have it.
Other Details
- 1 Ebook (PDF), 15 Pages
- 1 Audio (MP3)
- 1 Salespage (HTML)
- Year Released/Circulated: 2020
- File Size: 2,960 KB
License Details:
[YES] Can be sold
[YES] Can be used for personal use
[YES] Can convey and sell Personal Use Rights
[YES] Can convey and sell Resale Rights
[YES] Can convey and sell Master Resale Rights
[YES] Can modify/change the sales page
[YES] Can be packaged with other products
[YES] Can be added into paid membership websites
[YES] Can be offered as a bonus for buying another product
[YES] Can be used to build a list (giveaway eBook then upsell Audio MRR)