Salespage Snapshot: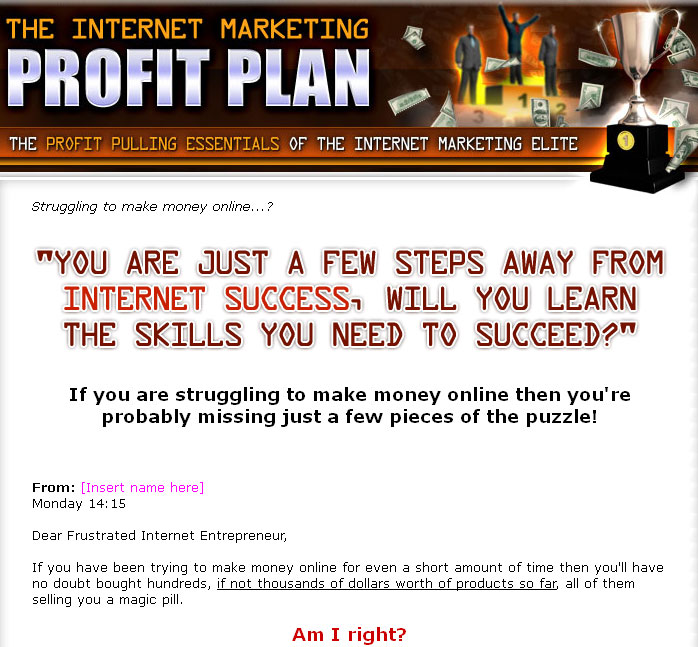 >>> Click Here To View Full Sales Page…
Table Of Contents
Introduction 3
Developing the Right Mindset 4
– Avoiding the IM Quicksand 4
– Accelerated Learning 6
– Learning to be Productive 6
– Dealing With Problems 8
– Winning in the Long Term 8
Essential Tools of the Internet Marketing Elite 10
– Writing 10
– Websites/Hosting 11
– Web 2.0 Sites 12
– Blogs 13
– Autoresponder 14
– Payment Processors/Affiliate Networks 15
– Relationships 17
Making Money 18
– Adsense/Selling Advertising 18
– Affiliate Marketing 19
– Product Creation 20
– Using Leverage 21
Ways to Get Traffic 22
– Articles 22
– Web 2.0 Sites 26
– PPC 27
– SEO 28
Conclusion/Next Steps 31
Sample Content Preview
Introduction
Because of the boom of the internet then internet marketing has really taken off in recent years. Billions of dollars are being spent online now and internet marketers are out there in the digital trenches directing that money to where they want it to go.
Anyone can now start to market on the internet, but few actually make it into a serious business. Due to the amount of get-rich-quick schemes out there are snakeoil salesmen then lots of people have their dreams (and bank balances) squashed before they get far enough to see the light at the end of the internet! I have heard figures bounced round that only 5% of people trying to make money online will ever go full-time and make a business out of it, I fear it may be more like 1%.
So what can you do to dramatically increase your chances of making money online?
Learn the essentials of the internet marketing elite! The difference between you now and someone making 7 figures a year online is just some experience, a lot of hard work and a head start. Someone making 7 figures is doing the same as someone making 4 figures a year, they are driving traffic to targeted offers, just on a larger scale!
So if you can learn the essentials, the activities that you need to master and do on a daily basis to make money, then you are already ahead of 99% of the rest who are chasing their own tales looking for a magic pill.
Let's get started, first we'll talk more about the mindset you need (and the mindset you don't) to start to make progress online, I'll dispel some common myths and then we'll get started on the skills you need and the tools you will use to start to make real money from the internet.
Section One: Developing the Right Mindset of a Successful Internet Marketer
Your mindset can have a huge difference on how things turn out. Someone with a negative mindset may either quit too early, stop looking for solutions when problems occur, or even not get started in the first place. Whereas someone with less skill but a better mindset will carry on and start to piece things together and make a huge success out of their business.
Mindset is crucial to success – skip this chapter at your peril!
Avoiding the IM Quicksand
There is a ring of quicksand around a successful IM business, let's have a quick diagram to explain:
You can see that unless you enter from the left side then there is a huge amount of quicksand to get past to get to success, most people give up way before they get halfway across.
Some people start on the left by accident/luck or sometimes because of previous training or life experience they have had. My objective now is to get you moving round to that side so you have much less quicksand to move through.
So what is this 'quicksand'?
Well it is a mixture of too much information (if you have too many options you won't take any), the wrong information, and a constant barrage of emails offering you the world on a plate.
Other Details
- Ebook (PDF), 32 Pages
- 1 Part Autoresponder Email Message (DOC)
- Salespage (HTML)
- Ecover (JPG)
- Banners (GIF)
- Year Released/Circulated: 2009
- File Size: 1,264 KB
License Details:
Yes - Can sell Master Resale Rights
Yes - Can sell Resale Rights
Yes - Can sell personal use rights
Yes - Can be packaged
Yes - Can be added to a PAID membership
Yes - Can be offered as a bonus
No - Can be given away
No - Can be added to a FREE membership