Salespage Snapshot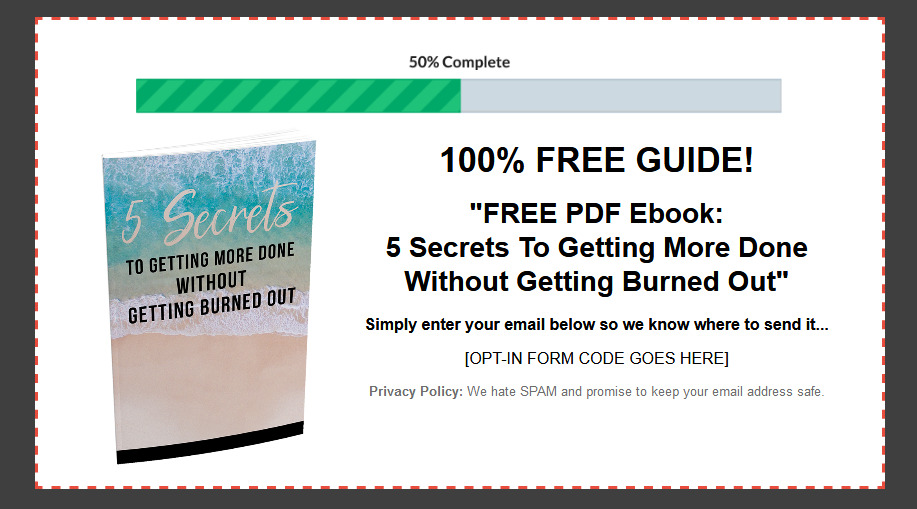 >> Click Here To View Sales Page...
Sample Content Preview
Choose Work That Boosts Your Energy
One of the easiest ways to avoid burning out is to choose work that boosts your energy, instead of taxing it. The difference between working yourself into a grave and making your life fuller is to select projects that boost your morale.
If you wake up every day and dread having to go to work, it's a sure sign that you are working yourself into an early grave. When you commit your time to completing activities that make you tired rather than excited, and still do it compulsively, you're a workaholic that has probably already experienced burnout at least once in their life. If the prospect of going to work brings a smile to your face, then you've found a job that enhances your quality of life, and it's much easier to continue working on things that make you happy.
You need to consider whether or not your job is a source of energy and happiness, as well as being a source of money. If it's not, you have to ask yourself what you can do to change that. Can you try to leverage your current position into something that will be more meaningful for you? Are there any related positions within your present company or elsewhere that would leave you with more energy at the end of the day? It is crucial for you to do what is needed to find happiness in your work.
To increase your quality of life, even more, be sure to add activities to your free time that invigorate you. Work to cut out those activities that drain you emotionally, like scrolling through Facebook, or binge-watching your favorite television show. Try to replace these with activities that energize you, like playing sports or working out.
Having creative outlets, outside of your job can help to keep you engaged and motivated in your daily tasks. If you're not able to flex your creative muscles at your position, it is essential to find something outside of work that will allow you the opportunity to include things you love in your daily life.
Have a Plan
One of the most valuable aspects of having a schedule is that it establishes a routine while allowing you the flexibility regarding what work is being done. However, to get more done without burning out, you need to have a more detailed plan. This is where creating a daily to-do-list can be invaluable to getting more done.
At the end of every day, you should sit down and develop a plan and establish the priorities for the following day. Creating this list at the end of the day allows you to hit the ground running when you get to your office the next morning.
While having a to-do list is important for getting more done throughout the day, it is also essential to have a framework in place to evaluate what's worth your time and what isn't. Too often you might find yourself being pulled in a million different directions and 'fighting fires' all day, only to go home and feel like you didn't accomplish anything meaningful or worthwhile.
When creating your to-do list, you need to ask yourself if what you have on your list is something that has to get done. Is it something that can wait or be scheduled to be completed later? You also need to determine if you can delegate anything on your list to someone else. Not everything that you write down is something that you have to do, look and your list and ask for help to complete specific tasks.
When it comes to planning for meetings and other time-sensitive tasks, take advantage of an electronic calendar. The moment you learn about a new meeting or time-sensitive task, schedule it on your calendar. Set alarms in advance to make sure that you have enough of a reminder, so you don't miss those important events.
The planning process should become a part of your routine. Start the habit of writing down your priorities in advance. The power of planning in advance is that you never have to worry about whether you're working on the right thing or if you're going to miss a meeting.
Take Small Breaks Throughout the Day
To help keep your productivity high and your stress level low, take small breaks throughout the day. Taking short, purposeful breaks throughout your day can help you re-orient yourself, allowing you to stay focused on the task at hand. Taking time to review your priorities and check your progress toward meeting each of your goals, and orienting yourself with the next set of tasks you need to complete, can make you more efficient and effective at your job.
Along with it being important for your recovery, taking small breaks throughout the day facilitates productivity. It is impossible to sustain working 80 hours per week over an extended period. When you work at that level of intensity, you will be working yourself into an early grave, regardless of whether or not you are doing work that you love. It is vital for your mental well-being and your health to spend time every week to do absolutely no work.
It is essential for you to start making a habit of pausing periodically throughout the day to evaluate your work and assess whether you are meeting your goals, and to figure out the reasons you are or are not meeting them. Take the time to decompress and forget about the challenges you are facing at work once a week to help you avoid burning out.
Have a Daily Routine
Having a routine in the morning before work is a great way to keep yourself on time. Creating a daily routine, that includes the tasks, you must complete throughout the day can set you up for getting more done throughout your day. When you are working, break down your time into chunks, giving yourself more flexibility in the evenings to relax and tackle any lingering activities you may currently be working on.
Your daily routine should reflect the priorities in your life and at your job, and it should incorporate those priorities into important parts of your day. The power of having a routine is not having to think about what you have to do next to complete your tasks. You don't have to waste your time deciding what the most important thing to do is and you don't have to spend time thinking about what makes the most sense because you've already done it. Once you've developed your routine, do your best to follow it daily.
You can't always control every minute of your day. You have to have flexibility in your routine to tackle emergencies and tasks that you weren't expecting. The challenge is not allowing your entire routine to become derailed when unexpected things happen. If you do find that you've deviated from your routine, step back from what you are doing and take proactive steps toward getting back on track.
Other Details
- 10 Articles (TXT, DOC)
- 1 Ebook (PDF, DOC), 10 Pages
- 1 Audio (MP3)
- 4 Graphics (PNG)
- 1 Salespage (HTML)
- Year Released/Circulated: 2021
- File Size: 17,067 KB
License Details:
You're granted master resell rights, resell rights or to resell with personal use rights.
You may add this product to your PAID membership site
You may giveaway the product as a bonus when people buy through your affiliate link
You may edit the included opt-in / squeeze / landing page
You may giveaway the eBook for Lead Generation purpose
No, you may NOT edit the contents of the eBook
No, this product does NOT include private label rights. You are granted Master Resell Rights only