Salespage Snapshot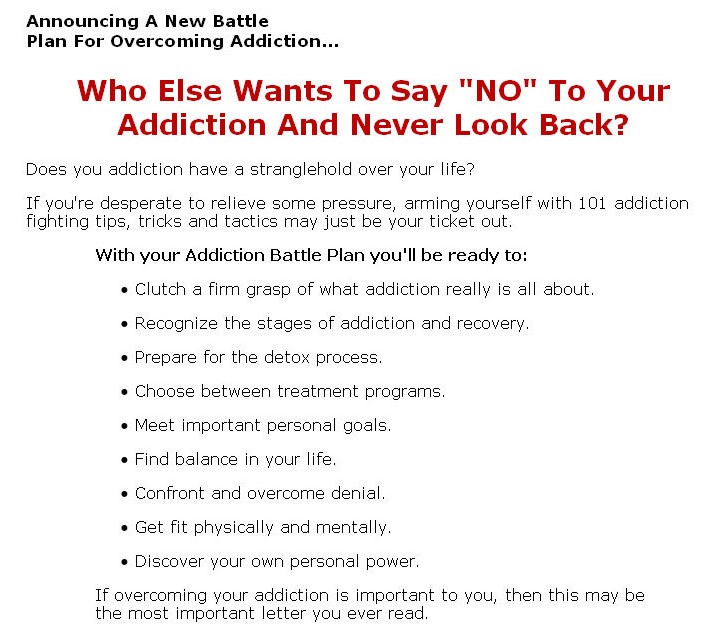 >> Click Here To View Sales Page...
PLR Ebook Sample Content Preview
Introduction:  Dealing with Addiction
Addiction is an issue affects people from all walks of life.  Not only is the addict affected, those people close to the addict will feel the destruction of addictive behavior.  The following tips have been compiled to give you information about different addictions and how you can begin your recovery.
Some of the tips included in this book include:
•    The importance of understanding what addiction is all about.
•    Understanding the stages of addiction and the stages of recovery.
•    Information about the detox process.
•    Information about treatment programs.
•    How you can get the most out of treatment programs.
•    The importance of personal goals.
•    The importance of finding balance in your life.
•    Dealing with denial.
•    Getting fit both physically and mentally.
•    The importance of finding your own personal power.
Tip #1:  Understand Addictions
Addictions eventually catch up with you and change your life in such a way that you will have to face the fact that you need help.  Recovering from addictions usually happens once you have hit the bottom and finally realize that you need help from outside sources so that you can lead a life that is addiction free.  There are many types of addictions that will have a devastating affect on your life.
Addictions, and recovery from them, require that you actively seek help from a source other than yourself.  You may want to start by consulting with your family doctor or with an addictions counselor.  This is a good place to start since it will be important to access both your emotional and your physical behavior as they are related to your addictions and your substance abuse.  You and your doctor will need to decide what is going to work best for you in order that you stop using your drug of choice.  It won't matter what your type of addiction is since all addictions require the same amount of professional help and support.
There are several different types of addictions that you may or may not already be aware of.  Addictions include:
•    alcohol abuse
•    opiates
•    food addictions
•    marijuana abuse
•    relationship addictions
•    sex addictions
•    gambling addictions
There are also many other recovery programs that you can choose from that do not follow the 12-Step program.  These non–12-Step programs include Rational Recovery, SMART, and Women for Sobriety.  You will need to decide what type of recovery program is going to work best for you.  The important thing is that you are determined to beat all your addictions.
Other Details* Sales Page:
Included, HTML
* File Format:
MS Word Doc, PDF, RTF
* Number of Pages:
56
* Download File Size:
255 KB