Salespage Snapshot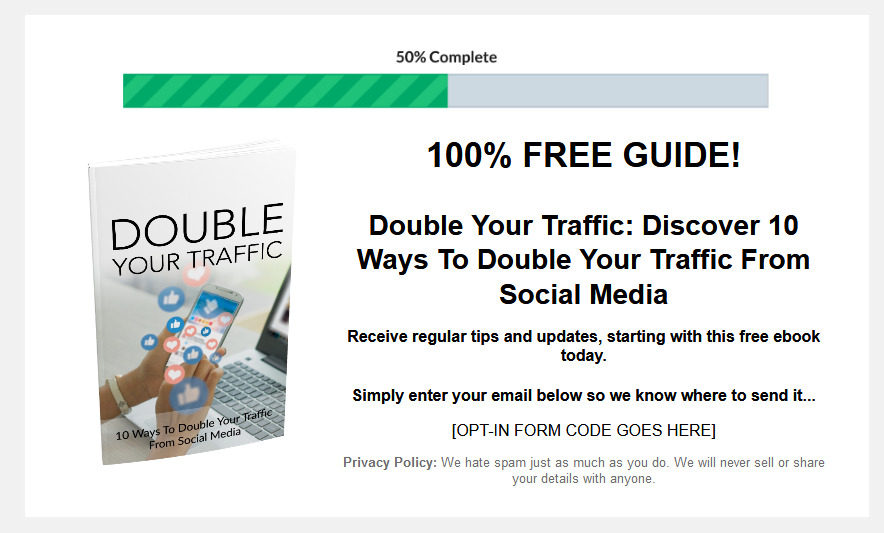 >> Click Here To View Sales Page...
Sample Content Preview
But if you can't find a way to meet them in person, how do you get the biggest players to respond?
Answer: you don't! At least not to start with.
Instead, you focus on the smaller influencers. Ideally, you focus on the influencers that have a similar number of followers to you.
Number 6: Make a Name in Existing Communities
Another tip that is less well-known is to make a name for yourself in other communities. No matter what niche you chose, there is most likely a forum somewhere filled with people who are fascinated by that topic. If you can find that forum, post extremely regularly, and demonstrate your generosity and broad knowledge, then people will trust you AND want you to succeed.
If you have ever seen a YouTube channel or a website explode out of nowhere, this is very likely how that happened!
Let's say you want to become big in the world of calisthenics. You could then head over to the calisthenics Reddit page and spend some time there posting videos of your skills, answering questions that other people have, and making thoughtful contributions to the community. Maybe you might become a moderator!
Do this enough, and you'll start to become known in your niche and those circles. This in turn means that people will begin to trust what you have to say. When they hear that you're creating a brand, they'll want to check it out for their own sake, and because they'll want to repay you for all the advice and information you've given them over the years.
In short, you can come out of the gate with a gigantic amount of support already behind you!
Number 7: Write a Book
If you have something to say, get an agent and seek out a publisher. A book will give you huge exposure AND massive credibility. Just look at Tim Ferriss or any of the countless other authors that have become massive online influencers.
Books can also lead to other impressive opportunities that further your growth. For example, the author Ross Edgely who wrote "The World's Fittest Book" now has a social media account with over a million followers AND makes regular appearances on the cover of Men's Health and numerous high profile TV shows.
Imagine what that kind of exposure could do for you as an influencer, for your brand, and for your website traffic!
Number 8: Get Qualified
Another strategy is to get qualified. That means becoming an expert in your chosen field, which will immediately mean that people take you more seriously. You'll find that people are more likely to listen to your advice AND that other brands and creators are happier to endorse you and to recommend your advice.
This is something that a lot of people never even consider when it comes to driving more traffic through social media, but it actually makes a big difference. It creates opportunities too: when someone is looking for an expert to reference or cite, those credentials in your Instagram bio can make you the right choice. That in turn means free exposure AND a big boost in your apparent authority and leadership in your given niche.
What's more, is that it makes a big difference in terms of your longevity. This is something else that is seldom considered in internet marketing: we are often highly vulnerable to attack from other creators.
Let's say you're a fitness blogger. How long until you give some bad advice? How long until another creator calls you out as a charlatan because they are jealous of your success? Having qualifications will not only provide you with some defence (you have done your due diligence), but prevents you from making those mistakes in the first place.
Number 9: Get Media Coverage
Another excellent strategy for getting your name out there is to look for media coverage. You do this by doing something noteworthy – that the media would want to share with its readers. That can amount to publicity stunts, but it can also mean giving interviews to share your vision and mission.
What could you do on social media that the press in your niche would want to write about? If you're a productivity guru, an example might be to live-stream an attempt to write 100,000 words in a single sitting.
Other Details
- 10 Articles (TXT, DOC)
- 1 Ebook (PDF, DOC), 10 Pages
- 1 Audio (MP3)
- 4 Graphics (PNG)
- 1 Squeeze Page (HTML)
- Year Released/Circulated: 2020
- File Size: 14,218 KB
License Details:
You're granted master resell rights, resell rights or to resell with personal use rights.
You may add this product to your PAID membership site
You may giveaway the product as a bonus when people buy through your affiliate link
You may edit the included opt-in / squeeze / landing page
You may giveaway the eBook for Lead Generation purpose
No, you may NOT edit the contents of the eBook
No, this product does NOT include private label rights. You are granted Master Resell Rights only