Salespage Snapshot: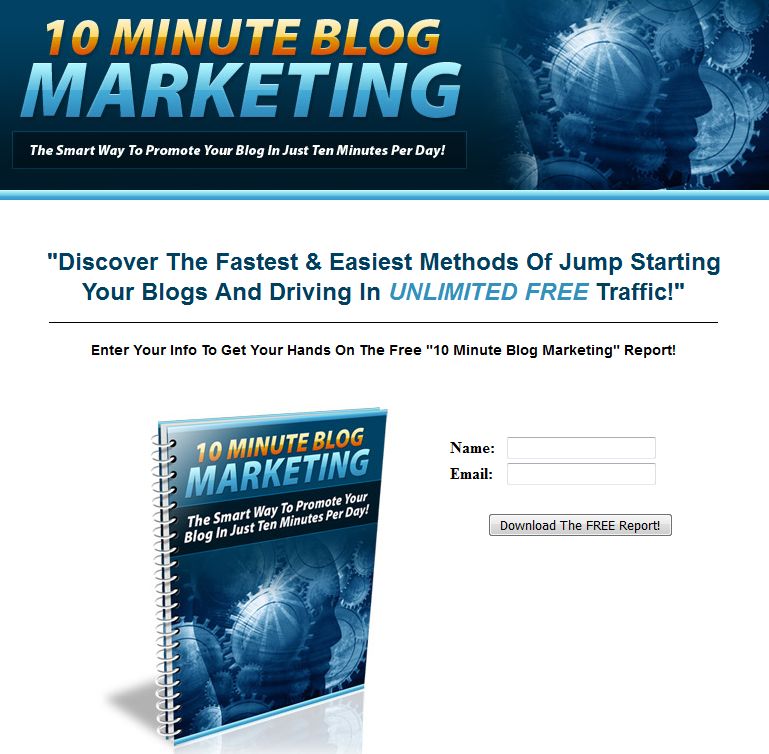 >>> Click Here To View Full Sales Page…
Table of Contents
Introduction 3
Blog Comments ….. 4
Forum Marketing … 5
Article Marketing … 6
Feeder Sites ……… 9
Social Marketing .. 10
Sample Content Preview
Forum Marketing
Forum marketing can be tricky. Many niche forums do not allow commercial links in signatures, and those that do can be meticulous about the content of the sites.
It's extremely important to read the rules before you post. There is no sense wasting time making a lot of posts if they're going to be deleted in a few hours or days. Read the rules first and you will make posts that will stick around for a long time. One of the major tricks to doing well with forum marketing is to blend in as part of the community. Place a link in your signature, but don't ever call attention to it! If you make thoughtful, intelligent posts, people will notice the link on their own.
Then just spend a minute or two each day posting a helpful thread or answering a question or two with a knowledgeable answer. The longer you hang around posting helpful advice, the more people will come to respect you. They will start to visit the link in your signature because they like you and they see you as an expert. This is exactly what you want!
Article Marketing
Article marketing takes a little more than ten minutes, but once you get the hang of writing articles quickly, you can easily write one in 10-20 minutes. Another 5-10 minutes to submit it to a couple of places and you have a fantastic source of blog traffic!
So what is article marketing, anyway?
Article marketing is the process of writing short articles of 300- 600 words and submitting them to article directories. It's quite simple, but a lot of people seem to misunderstand the purpose of article marketing.
Like blog commenting, article marketing has two main benefits:
1. It can improve SEO via backlinks.
2. It can get you direct traffic.
So many people focus only on the backlinks that they fail to optimize their articles for direct traffic. Don't underestimate the amount of traffic a well-written article can send!
When you create an article, you should follow a specific process:
1. Select a keyword phrase that has at least 1,000 monthly searches according to the Google Keyword Tool, and no more than 150,000 competing pages on Google when you search for it "in quotes".
2. Create an interesting, exciting title from that keyword phrase. Something like "5 Quick and Easy Ways to Make Money Online" is much more interesting than "Make Money Online" and will usually get more views.
3. Write an article between 300 and 600 words. Anything longer and readers will become bored and leave.
4. Craft a really enticing resource box. Make sure to give readers and incentive to click the link to visit your blog. Offer them a freebie or something really interesting! Submit to:
http://www.ezinearticles.com
http://www.goarticles.com
http://www.articlesbase.com
http://www.buzzle.com
http://www.articlecity.com
There are many other article directories out there. Just search Google for "top article directories" and you'll find plenty! I usually only submit to 5-10.
It may help you write your articles faster if you follow this format:
1. Write an introduction that is 3-4 sentences.
2. Write a numbered list of tips, steps, or points. Each number should have 2-3 sentences.
3. Write a good conclusion paragraph of 3-4 sentences. By using the list format, you can easily write a short article in just a few minutes!
Feeder Sites
Like blog commenting and article marketing, feeder sites have the power to boost your SEO and send you direct traffic. They also make it incredibly easy to put pages online!
Common feeder site hosts include:
http://www.squidoo.com
http://www.hubpages.com
http://www.weebly.com
All you have to do is make quick pages with a few paragraphs of content and link to your blog from within the site. A simple page can easily be created in 10 minutes, and it can give you valuable backlinks and traffic for a long time!
Just remember to read their rules carefully and follow them. There's no sense spending time making these pages only to have them deleted because you inadvertently broke a rule! Some of these sites are quite strict, so be careful!
Social Marketing
There are many different types of social sites you can submit your site to (or make use of) for marketing your blog. Social bookmarking sites are a great way to get quick backlinks, and if you have a great blog and people vote for it, you can get a lot of direct traffic to.
Try:
http://www.stumbleupon.com
http://del.icio.us
http://www.digg.com
Social networks and microblogs are tremendously popular and have millions of active users you can harness! By posting actively and making "friends" with people who are interested in your niche, you can get massive traffic!
Try:
http://www.twitter.com
http://www.facebook.com
Conclusion
Marketing your blog does take effort, but it does NOT take a lot of time. In just 5-10 minutes here and there whenever you have time, you can easily explode your blog's traffic like nothing you've ever seen!
Please don't think visitors will eventually find your blog without any additional effort. SEO and pinging alone are not effective anymore, and it is incredibly unlikely that you will get much traffic without working for it.
Trust me; if you spend just a few minutes each day pursuing the methods I've taught you in this report, you can greatly increase the traffic your blog receives. It is well worth the effort!
Other Details
- 1 Ebook (PDF, DOC), 11 Pages
- 7 Part Autoresponder Email Messages (TXT)
- 1 Squeeze Page (HTML, PSD)
- File Size: 9,756 KB