Salespage Snapshot: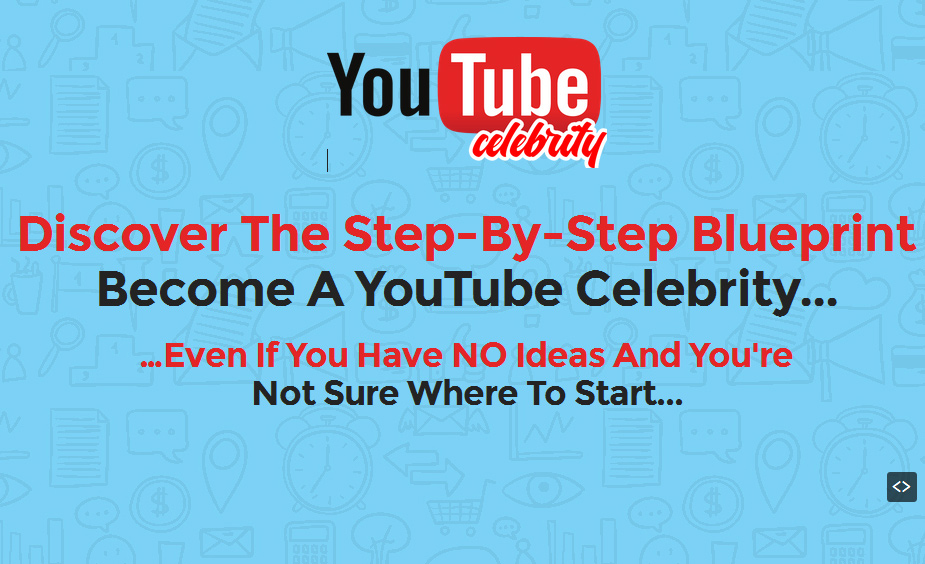 >>> Click Here To View Full Sales Page…
Table of Contents
Introduction: Why YouTube Stardom is the Perfect Way to Make it Big …… 3
Chapter 1: What Will Your Channel Be About? . 5
How to Find Your Niche……. 7
Chapter 2: How to Make Money on YouTube . 10
Advertising on YouTube …. 11
Other Ways to Monetize YouTube …… 12
Chapter 3: Equipment You Should Invest In …. 14
Hardware 15
Software and Materials ….. 19
Chapter 4: Your Workflow – Creating and Uploading Videos …. 21
Chapter 5: How to Make Videos Without Going In Front of the Camera …. 27
Chapter 6: Top Tips to Create Amazing Videos That Go BIG …… 31
Chapter 7: How to Help People Find Your Videos …. 34
Chapter 8: Top Tips for Growing Your Following ….. 40
Closing Comments ……. 44
Sample Content Preview
Chapter 2: How to Make Money on YouTube
But before you dive into your content creation with both feet, let's rewind for a second and assess exactly what this will involve and what it means to be a YouTuber. How does one go about making money on YouTube? How much can you expect to make?
It's important that you understand the business model here as that is of course going to affect the way that you approach your content creation and your general approach to making money online.
Advertising on YouTube
The main way in which you make money on YouTube then is via advertising. Google has its own advertising platform and it uses this to allow companies and brands to pay to show their adverts on your channel. This is a form of AdSense for those who know what that is, which means it's PPC. In plain English, this means that the advertising uses a 'Pay Per Click' system, although you can also get paid when you get a certain number of complete views.
In other words, you aren't getting paid a 'flat fee' for your advertising or getting paid per month. Rather, you are getting paid each time the advert is shown and each time someone clicks on it. Of course not everyone who comes to your channel is going to watch the adverts all the way through or is going to click on them – but you can generally assume by pure statistics that you will get a certain amount (which is called your 'CTR' or 'Click Through Rate'). This then means that for every thousand views on a video, you're likely to get paid a certain amount of average.
Now this isn't very much and to be honest you're probably going to need hundreds of thousands of views daily in order to make a decent amount of money and certainly if you hope to make a full time living from YouTube. But it can be done and you can get there, if you're willing to not only work hard… but also work smart!
Other Ways to Monetize YouTube
Advertising is just one option however and there are actually many more ways you can monetize YouTube if you want to.
One great example is just to promote a product of your own and to sell that. If you can create an ebook, a clothing line or anything else, then you can promote that using your channel and drive sales – and this will work very well if you can focus on that value proposition and promoting the lifestyle as we've discussed earlier.
Don't have a product? No problem. You can likewise promote products that other creators have made and earn a commission on the sales. This is called affiliate marketing and it pairs particularly well with YouTube, seeing as you can be very persuasive when people actually get to see you talking about the product in person – you can even demonstrate it right on the screen!
And finally, you can try and get sponsorship deals. This works very well if you're in a visual medium like fitness, where it's common to get sponsorship from clothes manufacturers, supplement producers and even companies that make training equipment. You can then demonstrate the products that you're promoting in your videos and that way get a lot of exposure for them. Often these companies will pay per video, while in other cases they might pay a monthly fee – which is up to you to work out with them.
Consider these factors and the type of monetization strategy you intend to use at the time of creating your channel idea. Different subjects will make it easier or harder to find sponsors and generally, a bit of pre-planning can go an awfully long way.
Chapter 3: Equipment You Should Invest In
The best way to make money on YouTube and become a 'massive YouTube Celebrity' is no doubt to actually get in front of the camera and speak to your audience in person. You want them to get to know you and you want to put your personality across in your videos. This will help to make you considerably more persuasive while simultaneously giving you many more options in terms of what you can create.
And if you're going to do that, then there's some crucial equipment and software that you're going to need to invest in. This can be somewhat expensive but if all goes to plan, then it will pay for itself over time and will be money well-spent.
Note: If you're not comfortable going in front of the camera you can still be very successful with a YouTube channel and this will reduce what you need to invest in. We'll discuss these alternative options in subsequent chapters, so you can skip most of this one for now if that is your intention!
Hardware
Camera
Of course the most basic hardware you're going to need is a camera. This is what you will use to capture your footage and that means that the quality of the camera is going to directly influence the quality of your videos.
There are numerous factors to consider in this case. One is the resolution and here you will need at least 1080p. For now, most people still do not have a 4K display meaning that you don't need a 4K camera (and 4K creates very large video files which are hard to move around and edit) but if you want to offer the upmost crispness and also futureproof your setup, then choosing 4K is a great option.
Another factor is your framerate. This will generally be either 30fps or 60fps and once again, 60fps is an optional advantage that will make your footage that much more attractive and give it an almost too-real sense of fluidity. It's entirely up to you if you want to push for this very highest level of quality but some discerning viewers will certainly appreciate it if you do.
Some features to look out for include an optical zoom if you're planning on filming outdoors (this lets you zoom in with no loss of quality) and options to alter the aperture etc. Good autofocus is very important if you'll be moving around a lot in front of the camera, while being able to use macros to blue out the background is also a nice option.
But what's more important really are the practical considerations for your camera. Having a mic jack for example is a very good idea because it will give you the ability to improve your sound quality. Likewise, a wide angle lens is a very good idea if you're going to be moving around a lot and capturing dynamic footage. Something that you should absolutely consider a requirement is a screen that can be rotated to face forward. This will allow you to make sure that you're in the shot before you start vlogging!
And of course there's no reason you can do all this using multiple cameras. Many people will use both a GoPro for capturing more action-packed and dynamic footage and then a regular camera for their vlogging.
If you want to go budget, then you can get by using an iPhone camera or a Samsung camera on your phone (as long as it is a newer model). But if you're serious, then you should at least invest in a basic camera along the lines of a Cannon G7.
Tripod and Tracking
Also important is to get a tripod. Is it possible to film without one? Sure, you can always balance your camera on a pile of books on top of an ironing board… but you'll find out that lining up good shots ends up taking a lot more time than you will be willing to go through on a regular basis if you take this approach.
A tripod will thus save you a huge amount of time while also getting better angles, thereby giving your channel a higher quantity and quality of video – which is obviously going to be a very good thing in terms of getting lots of views!
Another thing to look for potentially here is a tracking head from the likes of Manofrotto who also make tripods. This will allow you to attach your camera on top of your tripod and will then let you perform panning shots and slow zooms. This is what will give your footage a much higher level of professionalism and it's very important if you're planning on doing product reviews and want to feature slow pans of the items you're reviewing!
These work by providing friction on a rotating pivot and a handle. You then gently push on the handle with just a finger or a palm and the resistance will keep the motion slow and smooth as it gradually moves around the object in focus. It's important to use a manual focus during these shots rather than an automatic one.
Other Details
- 10 Articles (TXT, DOC)
- 1 Ebook (PDF), 44 Pages
- 6 Graphics (JPG, PNG)
- 1 Salespage (HTML)
- 10 Ecovers (PSD, PNG)
- 2 Promotional Ad Materials (Emails, Banners)
- Social Media Images, Mind Map, Cheat Sheet, Sales Video, Legal Page, Resource Report
- Year Released/Circulated: 2016
- File Size: 54,063 KB
License Details:
[YES] Can be sold
[YES] Can be used for personal use
[YES] Can be packaged with other products
[YES] Can modify/change the sales letter
[YES] Can be added into paid membership websites
[YES] Can put your name on the sales letter
[YES] Can be offered as a bonus
[YES] Can be used to build a list
[YES] Can print/publish offline
[YES] Can convey and sell Personal Use Rights
[YES] Can convey and sell Resale Rights
[YES] Can convey and sell Master Resale Rights
[NO] Can modify/change the main product
[NO] Can modify/change the graphics and ecover
[NO] Can be given away for free
[NO] Can be added to free membership websites
[NO] Can convey and sell Private Label Rights