Salespage Snapshot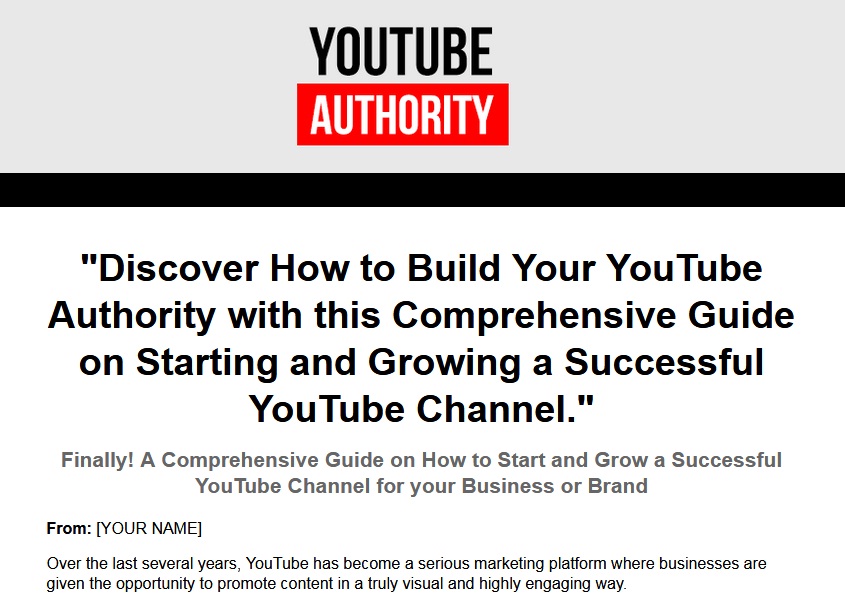 >> Click Here To View Sales Page...
Table of Contents
Introduction . 7
Chapter 1 – Getting Started … 10
Knowing the Reason Why You're Starting Your YouTube Channel .. 11
Determining Your Target Audience.. 12
Know Your Direct Competition …. 13
Scheduling Your Uploads.. 14
Equipment and Software You'll Need … 15
Allocating the Time to Create Your Videos 17
Chapter 2 – Choosing Your Niche… 19
Determining What You're Good At… 20
Selecting a Category…. 21
Researching Topics 22
Consider a "Desperate Niche" 23
Chapter 3 – How to Optimize Your YouTube Channel for Success …. 25
Choose a Memorable Channel Name… 27
Use an Attractive Channel Icon… 28
Create a Channel Trailer… 29
Integrate Social Media Links .. 30
Include Channel Art. 31
The About Section… 32
Chapter 4 – Developing Your Content Strategy. 33
Why Consistency is Important 34
Types of Videos You Can Create 34
Vlogs…. 35
Company Culture Videos… 36
Interviews.. 38
Webinars… 39
Events.. 39
Presentations. 40
Tutorials …. 40
Product Reviews. 41
Chapter 5 – Strategies for Building an Audience … 43
Comment on Similar Videos… 44
Use Social Media …. 45
Participate in Forums … 46
Collaborate with Others 46
Chapter 6 – Strategies for Increasing Your Customer Engagement… 48
Create Simple and Beautiful Thumbnails… 49
Add Annotations to Drive User Actions . 50
Keep Your Videos Short…. 51
Basic SEO Principles and Marketing Strategies Apply to YouTube… 51
Chapter 7 – How to Monetize Your YouTube Channel 53
YouTube Partner Program 54
Affiliate Products 54
Work with Outside YouTube Partners… 55
Sell Your Own Merchandise… 55
Drive Traffic to Your Website . 56
Chapter 8 – Mistakes to Avoid on Your YouTube Channel… 57
Purchasing Fake Reviews. 58
Doing a Video Dump …. 58
Ignoring Your Social Media Presence… 59
Inconsistent Video Uploads…. 59
Not Engaging With Your Audience… 59
Failing to Have a Plan .. 60
Trolling Other Channels and Begging for Views .. 60
Not Linking Your Channel to Your Social Media Accounts . 61
Conclusion 62
Sample Content Preview
Chapter 3 – How to Optimize Your YouTube Channel for Success
In order to make the most of your YouTube channel, there are a few things that you will need to utilize. Too many YouTubers make the mistake of neglecting their channel because they are too focused on making the videos.
You have to think of your channel as another landing page, just like your company website. If you want people to continue to come back to your channel, then you have to consider your channel page, as the experience is what entices viewers to come back to your channel and subscribe.
Like any other website, you will need to take the time to craft your channel's page to make it appear professional and entice viewers to return for more. Many of the elements are what drive the success and appeal behind your channel. The most successful channels commonly employ these elements because they work. To boost your exposure, you will need to spend some time to configure your YouTube channel properly. If you follow these tips, your channel will begin to generate a good amount of traffic.
Choose a Memorable Channel Name
Giving your channel an appropriate name will make all the difference in viewer memorability. If your channel name is short and catchy, people will have no trouble remembering your username and searching for you. However, if it is long and uses numbers, your username will not likely be remembered by your target audience. Your username should not only reflect who you are but also what your channel is about. For example, if you are creating a fitness channel, your name could include a fitness related term. If you intend to create a music channel, you might want to consider incorporating a musically related term for your channel name. However, you need to remember that different niches will call for different username styles. Invest some time into this step, as your name is going to represent who you are in the YouTube community.
Use an Attractive Channel Icon
The channel icon is your profile picture that appears next to your channel name, and you should upload a clear image that looks attractive at smaller resolutions. When visitors watch videos on your channel, your channel icon is one of the first things that they will see and could be what provokes them to visit your channel in the first place. If your icon is dull or relatively unattractive, it could turn viewers off and negatively impact your channel's traffic. Your channel icon is also what will help to establish the brand of your YouTube channel. By keeping this somewhat consistent with your channel header, it will help to reinforce your channel's branding.
Create a Channel Trailer
A great way to welcome an unsubscribed viewer is to create a video that showcases what your channel is all about. A channel trailer, when done correctly, can entice new viewers to check out more of your content. You want to try to hook your visitors as soon as they land on your page, and the best way to do this is with a channel trailer. This short video will tell your viewers who you are and show them what they can expect to find on your channel and can be used to convert viewers into subscribers.
Your channel trailer needs to be compelling and persuade viewers to see what else your channel has to offer.
Your channel trailer is basically a quick marketing medium for your channel and should last for no more than two minutes. Make sure that you have a way to invite the viewers to subscribe to your channel at the end of the trailer, since the viewers who watch until the end of the trailer or more likely to subscribe.
Integrate Social Media Links
YouTube provides you with the ability to add your social networking links to your channel header.
Every single successful channel on YouTube does this and is highly recommended because it will help you build your network. People who are curious enough to view your channel are likely going to be intrigued enough to interact with you via your social networking accounts, or at the very least follow you on social media. You can maximize your exposure by integrating your social media links on your YouTube channel.
By redirecting people from your channel to your social media, your social networking power will grow. Some of those who you originally brought from your channel will tell others about you and further expand the exposure for your brand.
Include Channel Art
The channel art is the header image at the top of your channel and is the ideal place for you to incorporate your logo. With channel art, anything goes, as long as you don't settle for one of YouTube's default backgrounds. First impressions matter, as the channel header is one of the first things that viewers will see.
Incorporating a custom header will give your channel a unique look and atmosphere. Having a generic header background will only indicate to the viewers that your channel isn't high quality, and they will most likely pass it by. When you create an appealing background header, can help potential subscribers see what else you have to offer. Take the time to design your channel art that will leave a lasting impression on your first-time viewers and will get people wanting to return to your channel time and again.
The About Section
It can never hurt to include a brief, concise description detailing what your channel is all about and who you are under the about section. Many favorite channels are in the habit of including their professional emails in the description for business inquiries and is something you should consider doing. You also want to include your social media links as well. If your viewers didn't click on them under channel heading, then they might do so upon a second appearance under your about section. It is also important to include relevant keywords in your about section to make your channel search friendly.
Optimizing your channel is an easy way to help your channel stand out from the crowd. Taking the time to ensure you have a unique YouTube channel can help you get more views, convert more subscribers, and grow a successful YouTube channel for your business.
Chapter 4 – Developing Your Content Strategy
If you want your YouTube channel to be successful, then you need to develop a content strategy that includes how often you are going to post, as well as what kind of content you're going to post. It's a good idea to have set days where you post new material because it creates a sense of anticipation for your subscribers. It can also help to keep you on track by providing you with a deadline for filming, editing, and posting new content.
Why Consistency is Important
The consistency of content is incredibly important if you want to grow a successful YouTube channel for your brand. While you won't be able to satisfy everyone, you must satisfy your target audience. Switching topics and focus will only confuse your viewers and result in fewer subscriptions to your channel. Only YouTubers who have a reality show style channel or you have gained credibility and respect over time can get away with producing videos on a range of topics.
If you have a fitness channel, you may decide to upload cooking videos showing viewers how to make healthy dishes on Mondays, training videos on Wednesdays, and update videos on Fridays. Whatever you choose to do, the important thing is to remain consistent.
Types of Videos You Can Create
One of the reasons why many businesses have yet to jump on the video marketing train is because they feel they lack creativity. Many smaller companies and entrepreneurs see articles and blog posts as the safe choice and much easier to manage. It may seem like it is much easier to write about a different topic each week, then it is to create a new and unique video every week. However, it doesn't have to be as hard as you think. There are a number of useful types of video content that your YouTube viewers will enjoy and that will help to separate you from the competition.
Other Details
- 20 Articles (TXT, DOC)
- 1 Ebook (PDF), 63 Pages
- 2 Graphics (JPG, GIF, PNG)
- 1 Salespage (HTML)
- Checklist, Resource Cheat Sheet, Mindmap, Optin Page, Social Media Images, Email Swipes
- Year Released/Circulated: 2019
- File Size: 36,909 KB
License Details:
[YES] Can be sold
[YES] Can be used for personal use
[YES] Can be packaged with other products
[YES] Can modify/change the sales letter
[YES] Can be added into paid membership websites
[YES] Can put your name on the sales letter
[YES] Can be offered as a bonus
[YES] Can be used to build a list
[YES] Can print/publish offline
[YES] Can convey and sell Personal Use Rights
[YES] Can convey and sell Resale Rights
[YES] Can convey and sell Master Resale Rights
[NO] Can modify/change the main product
[NO] Can modify/change the graphics and ecover
[NO] Can be given away for free
[NO] Can be added to free membership websites
[NO] Can convey and sell Private Label Rights