Salespage Snapshot: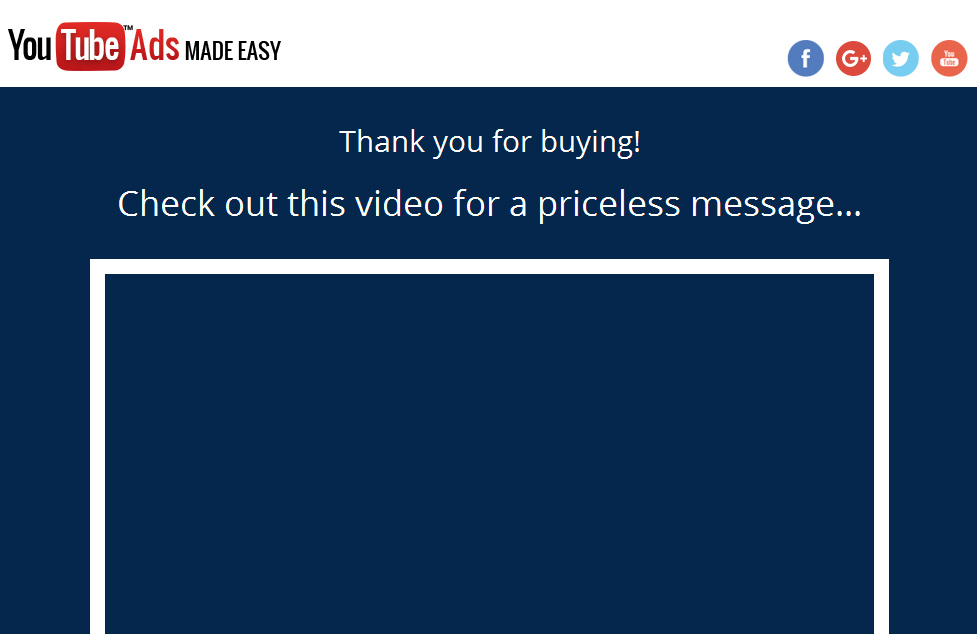 >>> Click Here To View Full Sales Page…
Table of Contents
Introduction 04
Section 1: YouTube Basics
Chapter 1: What is YouTube Advertising? 07
Chapter 2: Why you should use YouTube Ads for your Business 09
Section 2: Setting everything up before creating your Ads
Chapter 3: Knowing your Business 14
Chapter 4: Setting up YouTube for your Business 16
Chapter 5: Linking your YouTube Channel to your AdWords Account 18
Chapter 6: Creating your Video for Advertising with YouTube 19
Section 3: Creating and Managing Your Video Ad Campaigns
Chapter 7: Creating your Campaign 22
Chapter 8: Creating the Ad group and Ad 23
Chapter 9: Managing Your Video Ad Campaign 24
Section 4: Additional Tips to consider
Chapter 10: 10 do's you should consider for a successful YouTube Advertising venture 27
Chapter 11: 10 don'ts you should avoid for a successful YouTube Advertising venture 28
Chapter 12: Premium YouTube Advertising tools and Services 29
Chapter 13: Shocking YouTube Advertising Case Studies 30
Conclusion 31
Sample Content Preview
Chapter 1: What is YouTube Advertising?
YouTube is a website dedicated to free video sharing, allowing users to upload their own videos, view videos from other users, comment on videos and share them on other sites. YouTube has every type of video, and is the most used search engine, right after google.
In 2005, three employees of PayPal created YouTube, and it is now one of Google subsidiaries. YouTube allows users to interact with any type of video content, from music videos and movie trailers to original and educational videos, and videos from individuals to media corporations and brands.
What are video ads?
Video ads have advertising purposes, and are called ads because they provide information about products or companies. They have a purpose and a reason.
Any video on YouTube can be used as an ad. These ads appear in different ways: before a video, playing beside a video or in search results YouTube ads give you flexibility. As an individual or as a business, you can start to benefit from the YouTube platform.
What do ads cost?
With respect to cost, there are two types of ads that you can pick from, both for a price.
You'll have to pay when people see more than 30 seconds of your ad. This means that you'll only have to pay for those people who engage with your content, or are interested in the video.
You and only you decide how much you want to invest in your video ads, so you'll feel comfortable with the money you spend.
Who can I target?
Besides being flexible, YouTube ads give you a variety of tools to focus on the public. You can target by age, gender, location, interests and much more. You only have to choose where you want to reach.
You should look for what kind of people can easily become interested in you, so that your investment in YouTube will be productive and not a waste of time or money.
Choose the right public, because YouTube ads gives you what you need to target and make your video ads reach the places you want.
How do I measure the results?
With YouTube ads, you can see the analysis and results you get from your video ads. YouTube provides information like how many views your ad has, where it is viewed and what you paid for the views. You can measure the results with adjustments anytime you think you need to, so you can improve the development of your campaign.
Chapter 2: Why you should use YouTube Ads for your Business
YouTube is the leader in online video, and the premier destination to watch and share original videos worldwide throughout the web.
Without a doubt, this opens a huge opportunity to promote brands and businesses through video marketing, by providing you everything you need to profit in a simple, interactive and fun way.
What are its benefits?
The following benefits will tell you why you should use YouTube Ads for your Business.
A ton of traffic: You can lead your traffic to your website, product, or service with video ads. You can generate a ton of traffic, and you'll find less competition at a lower cost.
Pay per view: You only pay when people watch your video. You don't pay for views that are not being converted for your business, so you won't waste money.
Reach your ideal customers: You can reach people based on who they are, their locations and on what they're interested. You can reach them by topic, keyword or demographics.
Build a following: You can drive video views and new channel subscription opportunities, and convert them into revenue for your business.
Create a difference with competence: If your competence is limited to one platform (like image, webpage or even radio), video streaming and your use of it will earn you a whole new unlimited group of possible customers.
A low budget: It doesn't take too much from your own wallet to enter the video streaming platform. In fact, most indie youtubers began with nothing more than effort.
Responsive web designing: More than seventy percent of people are watching videos using smart devices. They are also spending their time on eCommerce websites to learn about the offers and latest updates from different stores. Marketers are targeting responsive web designing and following this trend to make their marketing videos compatible with mobile screens. This is the most important point that must be focused upon to grab customer attention.
Perfect for eCommerce: The description of products and services helps consumers, because they like to watch videos to learn more information about the products they are going to buy. This is an ongoing trend that every online retailer is following today.
Immense exposure: This is the key to driving revenue, notwithstanding the obvious fact that capitalizing on this is very important.
Other Details
- 1 Article (PDF)
- 1 Ebook (PDF), 34 Pages
- 18 Audios (MP3)
- 18 Videos (MP4)
- 1 Salespage (HTML)
- Cheat Sheet, Mind Map, Top Resource Report, Traning Guide,
- Year Released/Circulated: 2016
- File Size: 251,514 KB
License Details:
[YES] For personal use only
[NO] RESELL IN ANY WAY