Salespage Snapshot: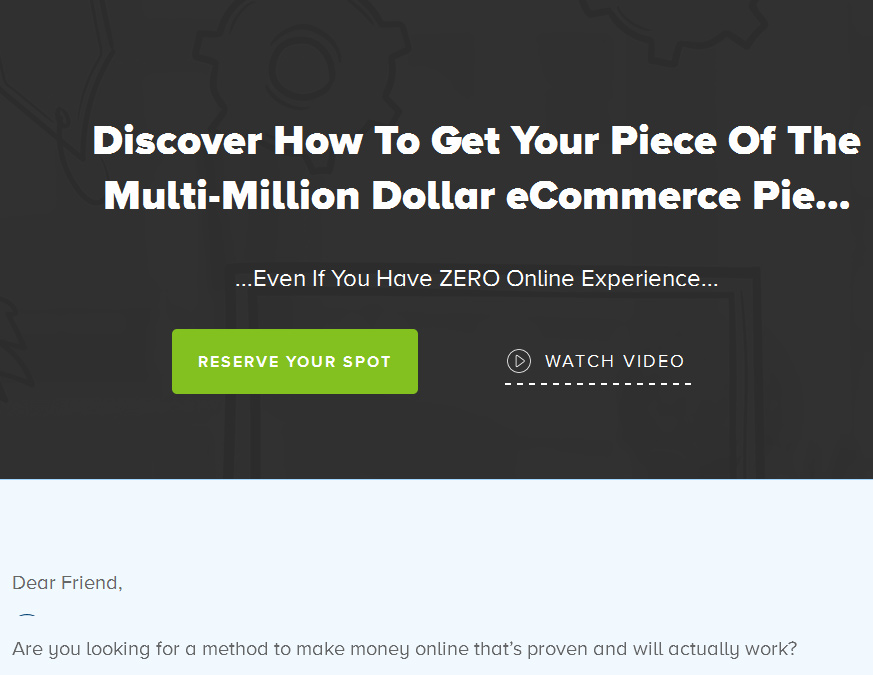 >>> Click Here To View Full Sales Page…
Table of Contents
Chapter 1: What is Ecommerce and Why You Should Take Notice .. 3
Why Ecommerce is the Future .. 4
What You'll Learn .. 8
Chapter 2: An Introduction to Ecommerce Business Models … 9
For High Street Stores . 10
As a Side Business … 11
For Bloggers and Marketers 12
Some Examples of Ecommerce Business Models … 12
Where to Find Products to Sell … 14
Chapter 3: Creating Your Online Store Part One – Your Website .. 16
An Introduction to WordPress 17
Setting Up 18
Installation .. 19
Themes and Set-Up . 20
Chapter 4: Creating Your Online Store Part Two – Your Ecommerce Store Platform 22
The Top Ecommerce Platforms to Choose From 23
Hosted Solutions . 23
Self-Hosted Solutions .. 25
Creating a Shopify Site 26
Creating a WooCommerce Store 29
Chapter 5: Designing a Store That Will Sell 31
Laying Out Your Store . 32
Chapter 6: More Ways to Generate More Sales With Pricing and Persuasive Writing .. 36
Pricing Strategies 37
Persuasive Writing .. 39
Split Testing . 40
Chapter 7: Marketing Your Ecommerce Store 41
SEO .. 42
Content Marketing .. 43
Social Media 44
PPC .. 45
Chapter 8: Conclusion – Starting Your Ecommerce Business . 47
Sample Content Preview
Now you know why ecommerce is such a big deal and what makes it such a fantastic tool for making money online.
But the next question you need to answer is how you're going to make this work for you. Having an ecommerce store is great in theory but it's what you do with it that really counts! And as it happens, there's no 'right way' to run an ecommerce store.
This book is aimed at everyone from small business owners, to hobbyists who just want to run a store as a side project. The way that both types of seller goes about creating and running their business will of course vary, so find the relevant heading here that applies to you and see how you can fit an ecommerce store into your existing business…
For High Street Stores
If you already have a highstreet store, then the good news is that you're already in the perfect position to start taking full advantage of ecommerce. You already have inventory, you already have a niche and you probably already have a website.
Adding ecommerce is simply the next logical sense. By creating an online store, you can give your customers the ability to order your products online which will increase your turnover and also give you a much bigger potential audience. What's more is that you can use your physical store to promote your ecommerce store and vice versa.
It's important you do this correctly though. You'll need an ecommerce store that will automatically synchronize with your physical store so that the inventory is updated when products are bought online or in store. Ideally, you'll want to find a solution that lets you use your EPOS (electronic point of sale) to automatically update the stock with no work on your part.
As a Side Business
If you are in work and you want to try setting up your own ecommerce store, then you'll be starting from scratch. The good news is that any income you add to your existing income will be 'extra' meaning that this can be a very 'small scale' business model and you won't need to worry about trying to run the business on a massive scale or making a fortune from day one.
With that in mind, you can identify a type of product you want to sell, create a website and a store and invest in a small amount of inventory. Or perhaps you even want to make your own products? Either way, you can then simply invest more money each time you sell off what you have while keeping a little extra for yourself.
You can also use an eBay store and social media to help your sales and possibly run a blog to handle content marketing.
For Bloggers and Marketers
If you're a blogger or marketer, then you might already have an audience and a platform from which to sell your products.
This is simply a matter of adding a store onto your existing business in that case and then promoting it to your email list, your visitors and anyone else that you can influence. This business will start with you identifying a type or product that fits into your niche and then choosing an ecommerce platform to suit your store. You might decide to also remove AdSense or affiliate products from your site in order to focus more attention on your own store for maximum profits.
Some Examples of Ecommerce Business Models
So those are some basic models for your ecommerce stores. The next question is how you might apply them in the real world. Here are some imaginary scenarios to help you visualize what this might look like…
Clothes Reseller
A very simple and easy business model if you're looking to make money from home as a side business, is to become a reseller. What this means is that you're buying stock and then simply reselling it for a little more.
To do that, you will normally be buying in wholesale. So let's say you choose to sell clothes from home, this might mean that you buy 100 shirts for $600 ($6 each) and then sell them off at $12 each. This is called 'keystone pricing' and it's a fairly standard pricing system for a lot of wholesalers and manufacturers. Even if you only sell half, you'll have broken even. Ideally though, you will aim to sell all of them, giving you $600 profit. You may choose to keep $400 of that and then reinvest $200 so that you can order $800 of stock next time for $1,600 turnover.
Over time your 'pot' will grow. This then allows you to invest some money into marketing (Google AdWords or Facebook Ads for instance) and to diversify your line with different types of shirt and other items of clothing.
But right from the word go you can start making money from your store by selling to friends and also by selling some of your stock on eBay. This is all much easier though if you also try to focus on a specific niche and give your store some kind of focus to set you apart. For example, you might sell shirts aimed at a particular demographic (plus sized women, entrepreneurs, gay men) or you might sell shirts that have all have something in common (they're easy to iron, they're light and cool, they're bright colors). With a something that sets you apart and helps you appeal to a particular audience, it's more likely your adverts, your social media posts and your listings will get noticed.
Blogger With Ebooks
As we'll see in more detail later in this book, you don't need to limit yourself to selling physical products. You can actually just as easily sell digital products like ebooks and even software through and ecommerce store.
So if you have a blog that is currently selling a single ebook from a sales page, you might consider branching out and selling multiple books from an online store. This way you'll look like a much bigger business and people will be able to browse what you have on offer at their leisure. This also means you can use things like special offers, deals and more to promote specific books and you can place adverts for your books around your site instead of using AdSense.
What's more is that you can even start using things like apps and plugins to sell your books in more inventive ways. You can embed your ecommerce store right into your Facebook page for example for more direct monetization of your social media efforts!
Where to Find Products to Sell
No matter what your business though, you're going to need something to sell. Here are some ways you can stock up a shop, even if you aren't fortunate enough to own your own manufacturing plant…
3D Printing
This is a surprisingly viable option these days. If you have a 3D printer, or if you're happy to use a website like Shaeways (www.shapeways.com) then you can sell plastic or metal objects with nothing more than a 3D model file. That might mean you sell phone cases, jewellery, ornaments or even toys!
Wholesale
As mentioned, you can sell products by finding wholesalers and buying in bulk. There are other ways you can be a reseller too – such as adding value yourself by packaging products nicely or just finding them very cheap somewhere.
Other Details
- 10 Articles (TXT)
- 10 Ebooks (PDF), 48 Pages
- 5 Graphics (JPG)
- 1 Salespage (HTML)
- 10 Ecovers (JPG)
- 10 Promotional Ad Materials (Emails, Banners)
- Mindmap, Resource Report, Cheat Sheet, Social Media Images Pack, Legal Page, Sales Video
- Year Released/Circulated: 2016
- File Size: 101,172 KB
License Details:
[YES] Can be packaged
[YES] You Can Use This Product Yourself
[YES] Can be sold as it is not less than $7 price tag!
[YES] Can pass on the Resell Rights privilege to your customers.
[YES] Can Add This Product to a Membership Site or Bundled Within a Product Package as a Bonus.
[YES] Can be used to create audio/webinar/video products
[YES] Can Give Away The Product (NOT The Source Code Files) To Your Subscribers, Members or Customers as a Bonus or Gift.
[YES] Can change sales page and/or graphics
[YES] Can be added to paid membership sites
[YES] Can sell master resale rights
[NO] Add to a free membership sites
[NO] You can't just pass away the product to anyone
[NO] Contents of the product can be edited, modified or altered.