Squeeze Page Preview: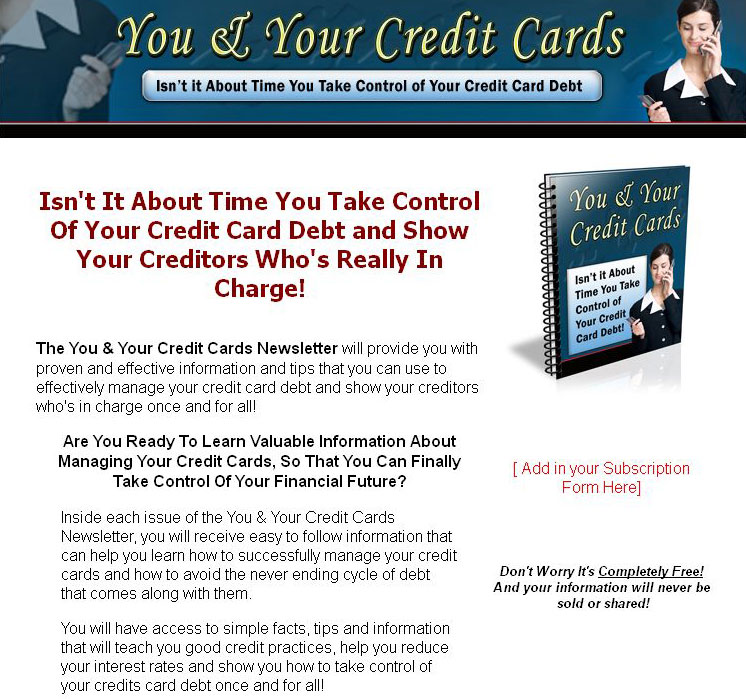 >>> Click Here To View Full Squeeze Page…
Features:
* 12 Issues Full Of Great Content
– Just add in your contact info and plug it in to your favorite auto responder. Each issue contains 500 words or more!
* One Ready To Go Squeeze Page
– Just add in your opt in form, upload to your server and your done!
* One Ready To Go Thank You Page
All ready to remind your subscribers to check their email and confirm their subscription. It even has built in revenue!
* 4 Researched Click Bank Products
These are top selling products on Click Bank that I've personally researched and chosen for each series.
* Extra Copy And Paste Article Content
You will get:
– Extra titles
– Extra opening paragraphs
– Extra closing paragraphs
– Extra fill in paragraphs
(these would make great tips that you add in to your follow ups system for more frequent contact with your readers)
Sample Content Preview
Message # 1
Subject line: Your First Issue of – You & Your Credit Cards
Hello "autoresponder code here",
Welcome to the first You & Your Credit Cards issue.
In each issue of You & Your Credit Cards you will learn valuable
information on how you can successfully manage your credit cards
and the debt that comes with them.
Let's start off by talking about how to avoid credit card debt before
it starts. let's face it in today's economy it has become a huge
challenge for everyday people like you and me to keep up, it's
easy to get into credit trouble when your credit card bills begin to
stack up. So if you are just start learning the ropes in the world of
credit cards, there are a lot of things you can do to avoid credit
card debt before it sneaks up on you.
This is an outstanding goal for you if you are just getting your first
credit cards. If you know or talk to anyone who is battling tens of
thousands of dollars of credit card debt, you know what a burden it
can be. Once credit card debt gets that high, the time it will take
even under the best of conditions to bring it down runs into the
years if not decades. And for all that time, thousands of dollars of
money goes down the drain to credit interest that doesn't buy you
any food, tickets to the movies or new clothes. It just goes away
with no value to you at all.
But if you are new to the world of credit, getting a credit card is a
good thing. But once you get one, keeping it under control should
be your main objective. You will find it amazingly easy to use a
credit card once you get it. In fact, the retail world makes it difficult
to conduct transactions any other way. You can pay for gas at the
pump that way and even charge your groceries at the grocery
store.
And while all of these great uses for credit are helpful, you
can end up with a whopper of a credit card bill at the end of the
month. And if you don't pay that bill off, that is the first step on a
lifelong battle with credit card debt.
So there are some guidelines you should follow to both use credit
responsibly and also keep building your credit rating which has a
real value to you. Remember that what the credit card companies
don't tell you is that making a charge on a credit card is a loan.
Even if you just charge ten bucks to go to the movies, you took out
an unsecured loan to finance that movie ticket.
Once you start using a credit card, keep in mind that you will be
paying back everything you charge on it. It's NOT free money. A
good practice is to save every receipt every month and keep a
running tally of what you have spent on your credit card. Now you
can you use that to cross check your credit card, it keeps you
honest because each time you add a charge to your credit card,
you can update your tally so you know for certain that you will be
able to pay it off when the bill comes.
Paying off the credit card each month is the number one best way
to keep your credit problems under control. Now it isn't a bad
idea to let a little bit of the debt drift from month to month. This
builds your credit history and credit rating which will serve you well
down the road when you want to qualify for a larger purchase like a
new car or a home loan. Staying on top of your credit and what you
are putting onto your card, will help you develop the kind of habits
that will lead to a lifetime of good!
Make sure you look for your next issue soon. We will be talking
about zero percent credit card offers and weather or not they are
for real?
Thank you again for joining,
"your name here"
"your email address"
"your URL here"
Other Details
- 12 Part Autoresponder Email Messages (TXT, DOC)
- Squeeze Page (HTML, PSD)
- Ecover (PSD, JPG)
- Affiliate Programs List
- File Size: 17,078 KB