Salespage Snapshot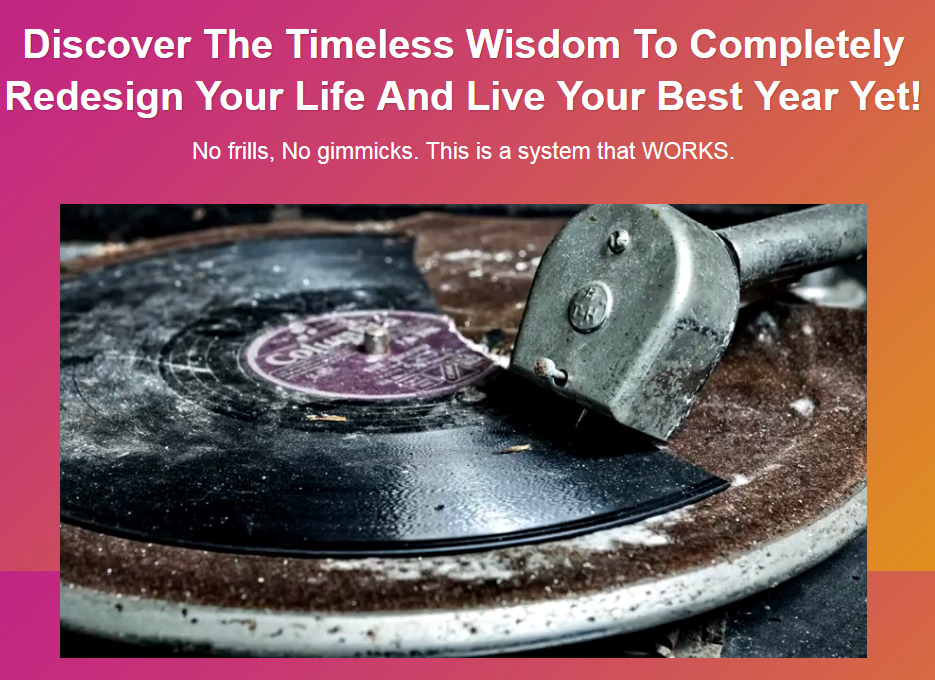 >> Click Here To View Sales Page...
Table of Contents
The Journey To You 2.0 . 1
Chapter 1: Defining Your 'Big Picture' In Life .. 3
Chapter 2: The Fundamentals of Goal-Setting. 25
Chapter 3: What Is Your Definition Of Success? . 50
Chapter 4: Why Do We Procrastinate? 80
Learning How To Overcome Self Sabotage 89
Sample Content Preview
Creating a vision board could not be simpler if you only know precisely what it is that you really want and are willing to make the effort.
It's now time for you to find pictures, words, affirmations, photographs or cartoons that represent to you & your goals. It is also important that you find photographs of yourself in which you are in positive, optimistic, happy states. You will be sticking these pictures etc. on to your vision board, which is like a kind of collage of your goals and aspirations.
It is important that you find these photographs of yourself because you will be placing yourself in the vision board hopefully doing the things that you really want to do, have, be and achieve.
There are two ways that you can actually make the board. One way is to use a huge board and paste your pictures on it or you can use PowerPoint, Photoshop or keynote and create a board that you can print out. This cannot only be inspiring; it can be fun and exciting, too.
Each time that you look at your vision board, and you activate your imagination to really see yourself achieving your goals, allow yourself to get into and enjoy the feelings of actually living out your goals in your mind, realistically, as if it is happening now and thinking about and imagining what is kinds of things you will be hearing on the outside, externally as well as the kinds of things you would be saying to yourself: i.e. positive self talk, you will be powerfully programming your subconscious mind to take you effortlessly to the full and complete realization of the goals that you set yourself.
It's important that you do not allow your vision board to sit around gathering dust. Rather, the daily study, the daily practice, the daily discipline of going back to your vision board, having it in a place where you will see it at least twice per day, for example, on your dressing table or above or beside your bathroom mirror, will help you to realize your goals much faster, with less effort and in positive, empowering ways.
Continue to pursue this daily exercise of using your imagination to help you and your unconscious mind to focus on the achievement of your goals.
In summary, make a list of your goals, go out and find magazine pictures, photographs — including of yourself — and design empowering affirmations, words or prayers that remind you in verbal format of what you are trying to achieve. Put yourself into a collage using what you have found and you have a vision board on your hands. The fun part and the part that is most left out of teaching about vision boards is the vision part or as the author has heard it said by wealth mentor Leslie Fieger, "Imagineering", because it encompasses not only visual imagining, but tricking the mind into believing that the goal you want to achieve is actually being achieved right now, in this moment.
This should be done daily and each time should feel terrific, as you experience yourself actually achieving your goals as a very "real" imaginary experience. So, allow yourself to have fun and enjoy the process of designing new life experiences that will enable you to have your dreams come true.
Getting the Big Picture
Visualization techniques
People who are successful often employ the visualization process. If there is something you truly want, you need to put that big brain of yours to work.
Imagine that what you want is right in front of you or create the path to get there in your mind. Dream about what you want and create pictures in your mind that show how it all develops. You need to be in the proper mindset to do this, which can be achieved using the following relaxation techniques.
Move to a quiet place where you can remain undisturbed for about a 30-minute period of time. Sit in a comfortable chair, back straight and feet on the floor. You also have the option of lying down, although it is important that you only do so if you can guarantee that you will not fall asleep during this period of relaxation.
Once you are comfortable, close your eyes and take a few deep, abdominal breaths. Breathe in through your nose, allowing your stomach to push out slightly. The goal here is to loosen up the diaphragm so that more air can enter the lungs. Hold your breath for the slightest of moments before allowing it to slowly escape through your mouth, bringing your stomach back to its normal position.
In order to ensure that the proper breathing technique is being used, place a hand on your stomach so that you can feel the movements. Taking the time to perfect your breathing will make your visualization process easier each and every time.
In your head, count backwards from twenty-five to one, breathing deeply as you do so. If you haven't reached a relaxed state by the time you get to one, try again, only this time start at fifty and count back. As you perfect the technique, you might find that you don't have to start with such a high number in order to become completely relaxed.
Once in this state, think of something that you already have, which could be anything from your car to your job, or even just the roof over your head. Pay attention to how your mind and body reacts to possessing something with such total certainty.
There will be no feelings of stress or anxiety when you think of these things, just the pure certainty of knowing. Allow yourself time to get used to this feeling and to fully embrace the serenity of it. Perform this process on a regular basis, as this will allow you to transfer those feelings of certainty and trust when you imagine the things you want during visualization.
When you have put in as much time as is required for you to visualize all the possibilities, you then need to switch to focus mode. In the moments before you perform the action that will deliver the outcome you hoped for, place the picture of what you are about to do front and center in your mind.
Visualization works, but you need to be comfortable, in a calm state, and free from worries.The whole process is like meditation in many ways, except that your mind is totally active. Visualization encourages you to use your mind and imagine all the possibilities that lie before you Meditation, on the other hand, requires you to basically cast all that aside and focus on a single thing.
Other Details
- 1 Ebook (PDF), 95 Pages
- 1 Salespage (HTML)
- Ecover (PNG)
- 4 Promotional Ad Materials (Emails)
- Landing Page, Report
- Year Released/Circulated: 2018
- File Size: 121,372 KB
License Details:
[YES] Can be sold
[YES] Can be used for personal use
[YES] Can be packaged with other products
[YES] Can modify/change the sales letter
[YES] Can be added into paid membership websites
[YES] Can put your name on the sales letter
[YES] Can be offered as a bonus
[YES] Can be used to build a list
[YES] Can print/publish offline
[YES] Can convey and sell Personal Use Rights
[YES] Can convey and sell Resale Rights
[NO] Can modify/change the main product
[NO] Can modify/change the graphics and ecover
[NO] Can be given away for free
[NO] Can be added to free membership websites
[NO] Can convey and sell Master Resale Rights
[NO] Can convey and sell Private Label Rights