Salespage Snapshot: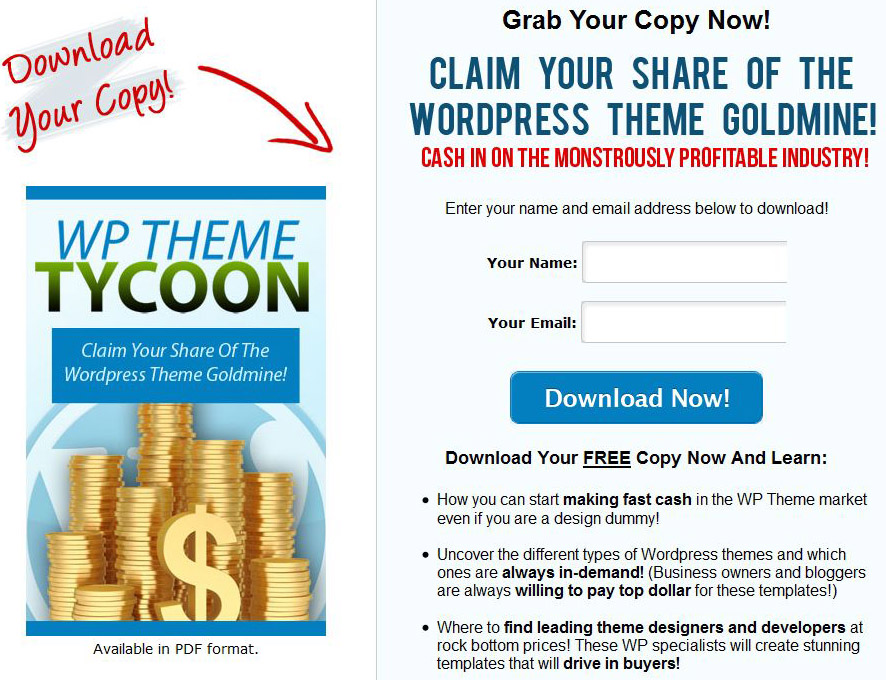 >>> Click Here To View Full Sales Page…
Table of Contents
Introduction ….. 4
Chapter One: Types of Themes …. 6
General Themes 6
Niche Themes … 7
Chapter Two: Researching the Market ….. 8
Chapter Three: Planning a Layout 9
Different Markets, Different Layouts …. 10
Not All Layouts Work for WordPress … 10
Chapter Four: Locating Theme Designers …. 11
Quality Assurance . 11
User Customization ….. 12
Chapter Five: Creating a Design . 13
Chapter Six: Packaging & Testing …. 14
Testing 14
Chapter Seven: The Art of Selling Themes … 16
Where to Sell Themes . 16
Promoting Themes 17
Maximizing Your Income … 18
Conclusion …. 21
Sample Content Preview
Niche Themes
The main advantage of niche themes is a lack of intense competition. You will have some competition in every niche that is profitable, but niche themes definitely have less overall competition than general themes.
Another great advantage of niche themes is that they don't require as many fancy bells and whistles as general themes. General themes require a lot of technical features to sell, because there is so much competition. People who buy general themes usually do so because they want specific functionality that they can't find in a niche theme, so they buy a general theme and customize it to fit their niche.
Obviously, the real disadvantage is that niche themes don't have as large a market as general themes, but you will find it much easier to get started making money if you start with niche themes.
As you can see, niche themes clearly win when you're just getting started. Once you have built a name for yourself and people are seeking your themes by your name, you can move into general themes and you'll find them quite profitable. However, niche themes will make you significant money while you build your business.
Chapter Two: Researching the Market
Before you start any type of business, it is crucial to research your market thoroughly. In big business, this would include all types of specific research and analyses, but for this type of business, such in-depth research isn't required. Still, the last thing you want to do is invest time and money into a venture that isn't going to make you a good profit.
Fortunately, it's relatively simple to do some preliminary research before you start building your first theme. You can use some of the popular theme selling websites to conduct your research, and it will only take you a relatively short period of time (perhaps a couple of hours) to complete your research.
There are two things you need to determine:
1. The types of features people are looking for in a theme, as evidenced by the number of themes sold with a particular feature.
2. The most popular categories of niche themes.
Make a list of the top-selling niche based themes you find. A list of 10-20 will be fine. You probably won't want to choose one of the top 3-5, because there will likely be too much competition. However, if you see that the bestselling themes in a particular niche aren't very impressive, you might find it easy to make a better theme and still compete.
Once you have your list and you choose a niche to start with, make a list of popular features to include. The more features you include, the more expensive it will be to have your theme built, so choose only the few most important features.
Chapter Three: Planning a Layout
Once you've decided on your theme and your features, it's time to plan your theme's layout. You can do this on paper, but it might be more effective and efficient to do it in Photoshop or any other graphics program you are proficient in. Even if you aren't graphically inclined, you don't need to worry about making anything fancy or elaborate. All you need is a basic layout of what you're looking for and what you want the theme to look like. This is just something you can give to your designer to show them what you're looking for. You can use placeholders and text to dictate most of the layout.
Here's an example:
As you can see, your layout graphic doesn't have to be fancy or elaborate. You don't even have to include any images – just label them however you want them added. Your designer will add them later.
Different Markets, Different Layouts
One thing you may notice is that different markets may have very different layouts. What works for the weight loss niche may not work so well in the recipe niche or the Internet marketing niche.
This is another important place to perform research. Find out what types of layouts are most popular in the niche you choose, especially among those that are selling well. Then tailor your theme to match these popular themes.
Not All Layouts Work for WordPress
Something you should keep in mind is that not all layouts will work well with WordPress. WordPress, like most content management systems, has its limitations. If the layout you create isn't compatible with WordPress, your designer should be able to tell you ahead of time. However, you might want to run it past your theme designer if you will be using two different people to create your theme. You may be using one designer to create the PSD, and a different person to cut up the PSD and turn it into the theme. In that case, show it to the one who will actually be creating the theme for their approval before the PSD designer gets started.
Chapter Four: Locating Theme Designers
As mentioned in the previous chapter, you may need more than one person to complete your theme. The first person you will need will be the Photoshop designer. This person will create the basic design of your theme. They may be able to cut the theme up for you as well, but some designers aren't proficient at this, which means you may need to hire a second person to cut up the PSD design provided by your designer and turn it into your completed theme. Here is one place to have your PSD design cut up and turned into a complete, functioning WordPress theme:
http://www.xhtmlchop.com/psd-towordpress.
html?gclid=CLmtgM2e5rUCFUvHtAodWGIAoA
The service starts at just $99, so it is very affordable. If you want added features and functionality you should expect to pay considerably more, but a theme that is complete with bells and whistles such as an image slider or built-in email collection box will sell much better and be much more profitable in the long run.
Quality Assurance
Before you hire any designer, ask to see examples of WordPress designs or themes they have created in the past. Find out what level of programming ability they have, and whether or not they will be able to add the features you need. This is the first step in assuring your theme is of the highest possible quality. Don't forget that the theme must be fully tested before you begin selling it. If possible, find some beta testers who are willing to help you test the theme 12 thoroughly before you put it on the market. If there are any bugs found after the theme is released for sale, make sure you respond and get it updated quickly. Otherwise your reputation will be harmed before it's even built.
User Customization
One important feature you will probably want to have your theme creator include is the ability for users to customize the theme on their own from within the WordPress admin area.
There are many different levels of theme customization. It can range from simple tweaks such as selecting where the sidebars are located, up to something much more complex such as changing the background image and even changing the entire layout for different pages of the site.
Chapter Five: Creating a Design
You must work very closely with your designer to build a theme you'll be happy with and that will sell well to users in the niche you've chosen. You will want to find a designer who is willing to make multiple changes when you aren't happy with certain elements of the theme.
In order to minimize changes (which will make your designer very happy) start out by giving the designer very clear instructions, along with a few examples of themes you really like. This will help the designer understand your personal taste and style so they'll be more likely to create something you like.
Don't forget to let the designer know about any special functionality you will be having built into the theme. Some of these functions may require additional graphics, so the designer will need to know in advance what types of extra graphics you'll need.
The design you receive will most likely be in PSD format for Photoshop. This file is not ready for use as a WordPress theme. It is only the base graphic file. If you happen to find a designer who can also do complete WordPress themes, you may get the entire theme delivered immediately. However, most designers will simply deliver the PSD file and you will have to go to someone else to have the design chopped and packaged.
In the next chapter, you'll learn more about that process.
Other Details
- 1 Ebook (PDF, DOC), 21 Pages
- 7 Part Autoresponder Email Messages (TXT)
- 1 Squeeze Page (HTML, PSD)
- File Size: 8,795 KB