Salespage Snapshot: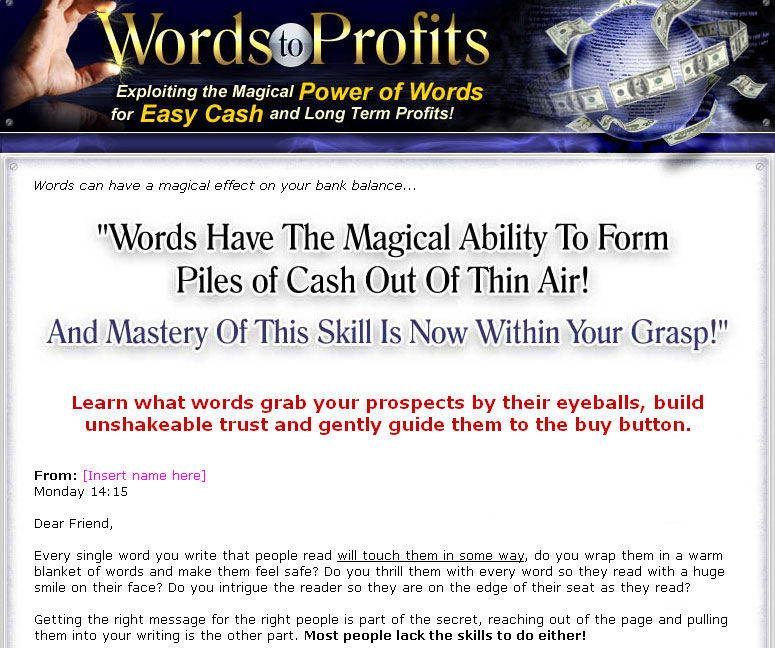 >>> Click Here To View Full Sales Page…
Table Of Contents
Introduction 3
How to Write Words That Sell 4
– Who Are You Talking To? 4
– Learning a New Language 6
– Write First, Edit Later 7
Psychological Triggers 8
How to Make Your Words Sparkle 14
Using Power Words to Grab Attention & Keep It! 18
Selling With Stories 19
How to Absorb Powerful Writing 22
How to Use This Knowledge Properly 23
How to Make Sure Your Words Are Hitting Home 27
Conclusion 28
Martin Luther King Jr's 'I have a dream' speech 29
Sample Content Preview
Introduction
Words, they're all around us, they assault us every day in every way possible, from talking with your friends to sitting down and having a quiet few minutes with a book, words are firmly entwined with every aspect of our lives.
But do you realize the true power of words?
They hold a huge sway over our actions and our emotions, they can make us happy, sad, angry, they can make us buy, make us jump for joy, sometimes even without us realizing they are doing it.
Think of some of the most powerful speeches ever made, they were all motivating, moving, packed full of imagery and inspiration, they all had the power to engage the listener and to move from where they were mentally, to where the speaker wanted them to be. That is just what your best sales messages should do! (You can find the complete transcription of Martin Luther King Jr's famous 'I have a dream' speech at the end of this report and we'll be analyzing parts of it as we go along).
So one of the most powerful tools in your sales arsenal is the skillful use of words to reach out and touch the person reading. Words have the ability to entice a prospect, hold the attention of the potential buyer, and ultimately build a rapport with them that should not only result in the sale but also secure future sales.
At the same time, words have the power to turn away potential buyers, to infuriate and insult people and cause irreparable damage to your reputation!
So the key to exploiting the power of words for easy cash is to write the best message you can to your ideal customer, then edit it ruthlessly to make sure it sparkles.
Section One: How to Write Words that Sell
Words are the most important part of any sales message, whether that is in a video, the sales copy for a website, an online press release, an article, even the wording on a banner ad will determine how effective it will be. There are several important points to keep in mind when writing the text for your advertising copy. Here are some of the most important things to keep in mind.
Who are you talking to?
Let's face it, as you go through your day then you talk differently to every person you meet. You do it consciously and unconsciously but you DO talk differently. If you know someone is a loud and lively, you might talk to them completely differently to how you talk to a quiet and reserved friend, different topics, different styles etc.
Staff members talk differently to their boss than they do each other, it is just human nature as you want to connect with them.
Sales is all about that connection, if you connect with someone they let their guard down and trust what you say more.
So who are you talking to?
Other Details
- Ebook (PDF), 32 Pages
- 1 Part Autoresponder Email Message (DOC)
- Salespage (HTML)
- Ecover (JPG)
- Banners (GIF)
- Year Released/Circulated: 2009
- File Size: 1,223 KB
License Details:
Yes - Can sell Master Resale Rights
Yes - Can sell Resale Rights
Yes - Can sell personal use rights
Yes - Can be packaged
Yes - Can be added to a PAID membership
Yes - Can be offered as a bonus
No - Can be given away
No - Can be added to a FREE membership