Salespage Snapshot: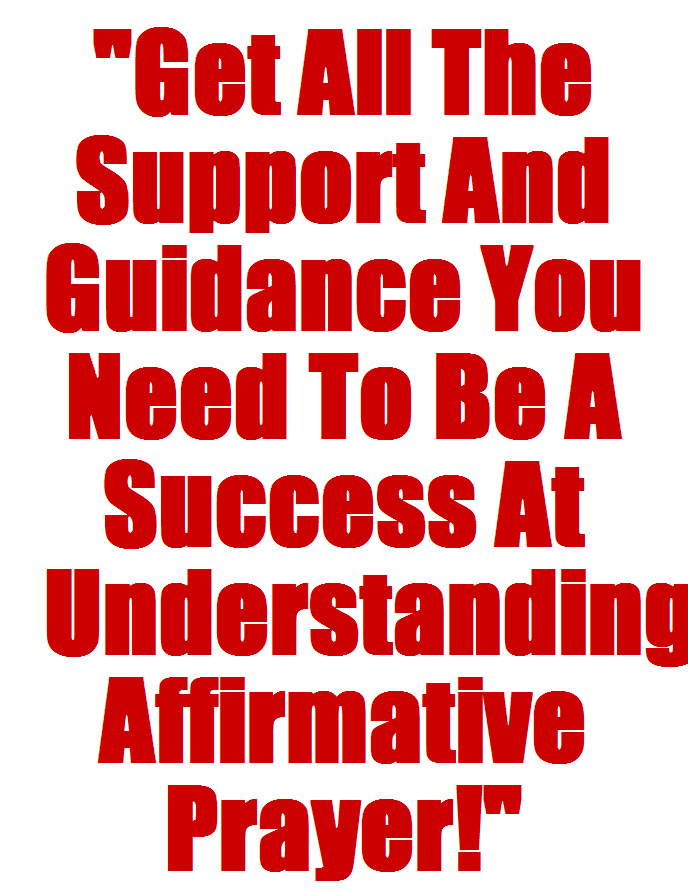 >>> Click Here To View Full Sales Page…
Table of Contents
Foreword
Chapter 1:
Intro
Chapter 2:
What Is Affirmative Prayer
Chapter 3:
Deciding What To Pray About
Chapter 4:
How Affirmative Prayer Works
Chapter 5:
Getting In The Right Mindset
Chapter 6:
Negative Mindset In Prayer
Chapter 7:
What If Doubts Arise
Chapter 8:
Affirmative Prayer Exercises
Chapter 9:
Advantages And Disadvantages
Chapter 10:
Conclusion
Sample Content Preview
Chapter 3: Deciding What To Pray About
Synopsis
We've all reached that point where we can't solve precisely what we truly wish to do with our lives. It may come when you're eighteen or if you're fifty, and it's always a hard process to work through. It's not hopeless, however! And this is important to know what to base your affirmative prayers on.
What You Want
Distinguishing what you truly wish in your life isn't a simple task for anybody, nor is it something that you may truly produce a step-by-step guide for.
That stated, when you're not truly sure what you wish to affirm or pray for, whether it's a job, a lifestyle, or anything else, some different exercises could help you pinpoint what it's you truly wish. Here are a couple of ideas to try to pinpoint what you should use affirmative prayer for.
The "where do you see yourself in 5 years?" question goes for everything from employment interviews to financial plans, and while it appears cliché, it's basic for a reason: it works. It's among those annoyingly hard questions to answer, and in many cases, it's pretty much impossible to answer in an absolute way. Thankfully, that's all right, and occasionally simply trying to answer the question is all you require.
Considering how common it is, the thought of seeing into the future and picturing where you will be in 5 years is a heck of a lot more difficult to do than you'd think. And, the chances you will actually wind up where you see yourself… who knows. That stated, the exercise of discussing where you see yourself in 5 years is useful. It doesn't matter where you think you will be in 5 years; however it's still crucial to consider it because it gives you the idea of what you wish to pursue.
What capabilities will you want to build in 5 years? For instance, "I can't say precisely what I'm going to be doing in 5 years; however I hope to have further formulated my skills as a XXX." This is a safe way to answer regardless of your age or stage in life. You're never done learning.
Most career issues stem from the fact that we're awful at picking jobs. We think we're selecting a great job and then it turns out to be an awful… This might be something you want to use affirmative prayer for.
Picking a lifestyle to pursue instead of an occupation title may help you focus in what you're truly interested in, and then use affirmative prayer for that.
The idea of a personal manifesto could sound a little silly on the surface. The idea is that if you may work out where you stand on particular ideas, you could be able to flesh out a potential career or lifestyle path. Silly or not, the notion of a personal manifesto is carried out by everybody from Google to Frank Lloyd Wright.
The point is to provide yourself a call to action to define how you wish to do things. It's simple to write your own manifesto, and while
you don't have to do it in a particular way, the following are a few suggestions for getting going:
Select your subjects: Pick a couple of topics to center on, and make them as particular as you can. Ideas like, "The hours I wish to work," or "How I wish to commute" are good for narrowing in on what sort of work you could be interested in.
Write down your principles: put down your beliefs and intentions. It likely sounds a little over-the-top, however if you've never truly put down and thought of your morals or beliefs then this is a goodness time to do so.
Utilize strong, affirmative language: It's simple to write a manifesto with words like "I wish" or "I should" however that's not helping you. Write it out with affirmative language like, "I will," or utilize the present tense with "I am."
The main purpose of the personal manifesto is to truly work out what you care about, how you perceive yourself, and how you wish to act moving forward. It's not all of the time a key to working out precisely what you wish to affirm, however it's a great starting point for at least working out how you wish to go about figuring out what to pray for. Grab a pen, some paper, and get to writing out what you believe.
Chapter 4: How Affirmative Prayer Works
Synopsis
Affirmative prayer is a prayer where you don't ask for anything; rather you make a statement as if what you want already exists. For example, rather than asking for a large financial income, your affirmation would be something like "I'm now making $100,000 each year, doing what I enjoy doing. I'm happy in the job I have, and I work with fantastic individuals."
How It Works
However why would we want to pray this way? Because it works! Yes, because the process is more gratifying. How gratifying is going to your boss at work and requesting something, like a raise? Most individuals would prefer to avoid it. The same feeling commonly arises when attempting to ask for something in prayer. You commonly feel as if you have to prove yourself, or give something in exchange for what you're asking.
But there's no need to give up anything in exchange for what you wish. Many religions have taught us that The Higher Power is just like a person, and has a lot of the same whims, temperaments, and moods that any human has.
This is just not so. The Higher Power is so far beyond our little emotional inconstancy that you could almost see The Higher Power as being another natural law in the Universe.
If you are alive, then you have access to this Power. In the Bible, there are a lot of references to the availability of this Power. Jesus Himself taught that as long as you trust that you'll receive what you ask for in prayer, that you'll indeed have it! His excellent example of prayer (The Lord's Prayer) doesn't ask for anything. It commands! "Give us this day…", not "might I please have….". The illustration is missed by most, who keep on asking, begging, and go without.
The Higher Power has created you in such a way that you are able to supply your own needs! All you have to do is tap into the Universal Power and command what you wish to come into being!
Naturally, this theory is all well and good, but the true question is precisely how do you go about doing this? It's easy really, although not necessarily simple. The opening move is to make contact with this great supply of Power.
This step is the one that most individuals will have the hardest time with.
At its simplest level, making contact with the spiritual source of Power is about having the intent to do so. Your inner mind handles the involved details of handling your connection to the spiritual realities. You have to communicate to your inner mind that you wish to open the gates to spiritual Power and you wish access to that Power today.
You may communicate this intent in many ways. You may affirm, "I'm opening my connection to spiritual Power, and this Power fills my being with excellent intensity!" This is a time-honored technique which has been utilized really effectively.
Other Details
- 1 Ebook (PDF), 38 Pages
- 1 Salespage (HTML)
- 1 Ecover (PNG)
- Year Released/Circulated: 2016
- File Size: 629 KB
License Details:
[YES] Can be used for your personal use
[YES] Can be given away
[YES] Can be sold
[YES] Can be packaged with other products
[YES] Can be offered as a bonus with other things you sell
[YES] Can be added to paid or free membership sites
[YES] Can be offered through auction sites
[YES] Can sell with Resale Rights
[YES] Can sell with Master Resale Rights
[NO] Can sell with Private Label Rights
[NO] Ebook can be modified in any way