Features:
* 52 Weeks Pre-written Newsletters
This isn't just ANY private label content. These newsletters are written to effectively promote best-selling affiliate products for an entire year. All the work is done for you.
* List of Top Affiliate Programs
Comes with high-paying, high conversion affiliate programs from Clickbank, Commission Junction, Shareasale, and others – just sign up! Once you've got your affliiate links, you put them into the content and bam – your newsletters are branded and ready to make you money!
* Opt-In Template For Each Niche
Pop in YOUR autoresponder information, and you're ready to upload this page to any domain and start collecting leads!
Opt-In Template Preview: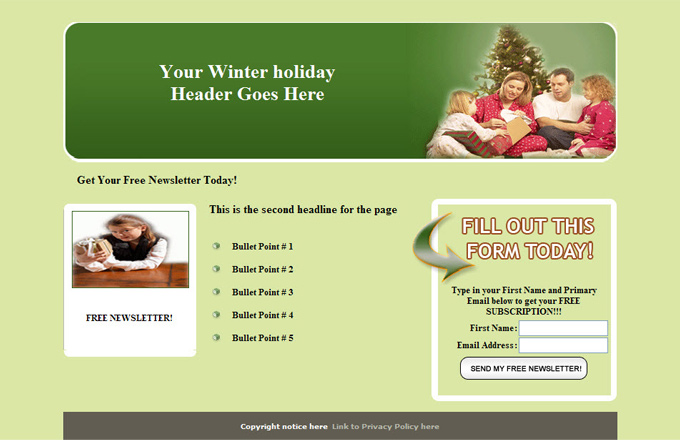 Autoresponder Message Titles:
– Boxing Day
– Winter Holiday Blues
– Imbolg — Candlemas — Groundhog Day
– Christmas Eve
– New Years' Superstitions
– Winter Holiday Food
– Healthy Winter Holidays
– Celebrating Thanksgiving
– Winter Holiday Traditions
– Winter In Poetry
– Christmas
– New Year's Eve
– Hanukkah
– Winter Holiday Food Banks
– New Year's Day
– Festivus
– Winter Holidays And Pet Care
– Christmas Office Parties
– Winter In Song
– Thanksgiving Dinner
– Holiday Quotations To Remember
– Advent
– Father Christmas
– The Twelve Days Of Christmas
– Winter Solstice
– Chrismukkah
– A Family Christmas
– Holiday Travel
– Black Friday
– Navratri
– Winter Holiday Depression
– Winter Holiday Cruises
– Christmas Trees
– Holiday Photographs
– Unexpected Snow Day
– White Christmas
– Holiday Sports
– Halloween Festivals
– Diwali
– Chinese New Year
– Christmas At The White House
– Saint Nicholas Day
– Samhain
– Winter Holiday Charities
– The Music Of Christmas
– Holiday Memories
– Holiday Shopping
– Bodhi Day
– Holiday Movies
– Valentine's Day
– Kwanzaa
– Groundhog Day
Sample Affiliate Program Preview:
The Gift Tree
The gift tree offers a wide variety of holiday gifts, including wine baskets, gourmet, holiday and gifts under $50.00. Commission of 12%. "Link to the premier flower/gift basket network. Share in GiftTree's success with our same day delivery, low prices and large selection." 30-day cookie.
Cheese & Wine Unlimited
"As an official Cheese & Wine Unlimited Affiliate Partner you'll earn 15% commission on every sale you generate through your Web site and/or email promotions! You can earn up to $71 from one purchase, depending on which gift baskets your referrals purchase. We also provide 365 return day cookies!"
Candy Crate
Candy Crate is the leading online destination for hard to find candy, retro candy, and unique gifts (and, of course, includes chocolate). Commission of 10%. Average sale is about $40.00; 120-day cookie.
zChocolates – French Chocolate Delivery
World Premier Chocolates — Worldwide Express Gift Deliveries. 20% commission; 45-day cookie. Internal affiliate program with a 3-tier structure: Make $1.31 for each new visitor that registers as a new member (which is free!) plus a 20% commission on the first order or a 8% ongoing commission on all present and future orders placed by the new member. And, for every $525.48 worth of commission you generate in a given calendar month, they ship you a complimentary Luna Ballotin.
Paper
Paper is the number one provider of holiday-related paper products, specializing in the online sale of party decorations, arts and crafts, games, books, scrapbooking, stationery, gifts and accessories. Two-tier program pays 15% commission on personal sales, 25% on 2nd tier; 30-day cookie; datafeed.
Amazing Clubs
Amazing Clubs is the first choice of thousands of consumers for great Gift of the Month clubs, including Wine, Beer, Chocolate, Coffee, Flowers, Cheesecake, Cookies, etc. Pays $10.00 commission with a 3- month EPC of $33.78.
Other Details* No Of Messages
: 52
* File Format
: TXT
* Included Graphics
: eCover [PSD, JPG]
* Extras:
Squeeze Page
* Extras:
Affiliate Programs [PDF]
* Download File Size:
1,396 KB