Salespage Snapshot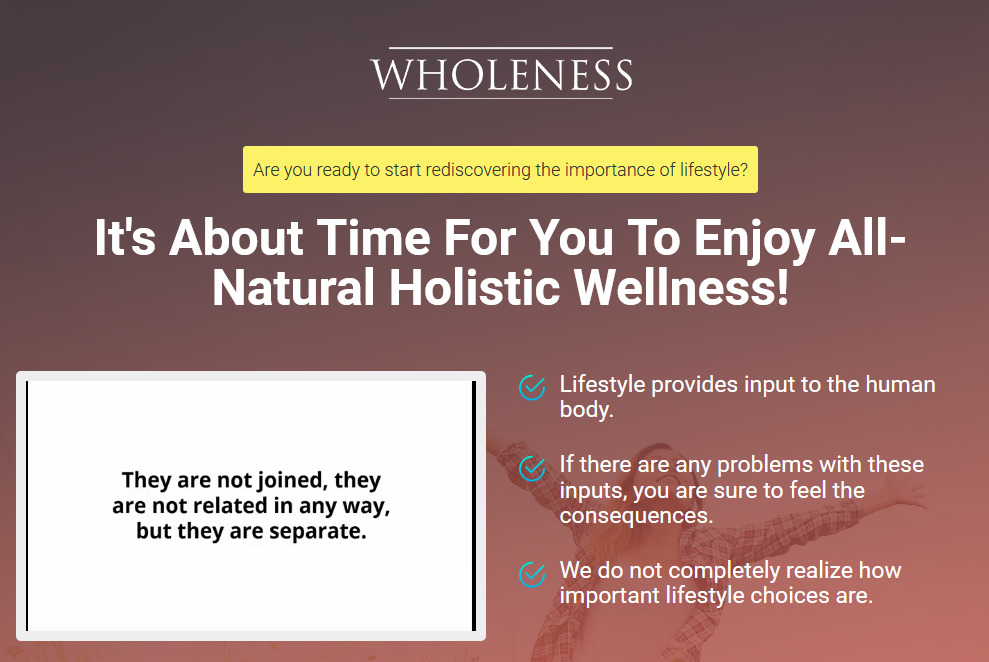 >> Click Here To View Sales Page...
Table of Contents
Introduction 04
Chapter 1: Rediscovering the Importance of Lifestyle 07
Chapter 2: Lifestyle is Always a Choice 21
Chapter 3: The 5 Key Benefits of a Holistic Focus on Wellness: The Power of Wholeness 27
Chapter 4: Overcoming 5 Common Myths that Lead to Disease and Dysfunction 33
Chapter 5: Begin with Your Most Powerful Bio-Organic Complex: Your Mind 41
Chapter 6: Understand the importance of relational wellness 52
Chapter 7: Explore physical wellness 67
Chapter 8: Traditional wellness is not up to the job 73
Chapter 9: Preventative Medical Wholeness 82
Chapter 10: Claiming Environmental Wholeness 93
Conclusion 99
Sample Content Preview
The same applies to vitamin D. A lot of people are thinking that vitamin D is a no-brainer. After all, most people have access to sunlight. Well, you have to expose yourself consciously to sunlight at a certain time range.
You can't just go out at any time and expect your vitamin D levels to be optimal. You actually have to be purposeful in calculating your exposure to sunlight; otherwise, your body is not going to synthesize optimal levels of vitamin D.
According to fairly recent research on this amazing vitamin, vitamin D actually has a wider impact than bone health. It impacts psychological states, moods. In fact, we're still learning the wide range of benefits people get from vitamin D.
Your overall lifestyle determines whether you ingest enough magnesium or you get enough sunlight to enjoy optimal levels of vitamin D. Sadly, a lot of people are experiencing symptoms of deficiencies in these and other vitamins and nutrients, and they have absolutely no clue. They just feel that they are anxious. They can't sleep well. They have mood imbalances.
Automatically, they think that they need chemicals like antidepressants or anti-anxiety medication. It is no surprise that Americans are overmedicated. It's like trying to kill ants by burning down your house.
I would think that you know that doesn't make any sense. However, this is precisely the problem that we have when we do not completely realize how important lifestyle choices are.
Similarly, you need social input. Did you know that when you connect with people by simply exchanging small talk and generally hanging out and being comfortable, certain chemicals are released through your system? This calms you down.
In fact, in a very interesting study of people from a town in Italy called Roseto in Foggia province, scientists concluded that even if people were to eat the same high-fat, high-cholesterol diet just like the modern American diet, they can still have great life outcomes.
The secret? Social connection. That's right. Your social inputs can stabilize what would otherwise be negative lifestyle inputs.
There is quite a bit of scientific research out there saying that if you eat a high-carb, high-fat, high-cholesterol diet, chances are your life expectancy is not going to be all that good. At the very least, you're going to run into serious health problems as you get older.
Well, it turned out that people from the town of Roseto did not suffer from these problems despite the fact that they enjoyed the typical modern American diet. They eat a lot of cream, fat, you name it.
The secret, however, is that people who come from this town hang out and socialize. This social input goes a long way in stabilizing the system, and I'm not just talking about the physical effects of socialization.
When you socialize, there's a tremendous emotional effect as well. It's very hard to be lonely. It's very hard to feel so disconnected that you want to kill yourself. That usually doesn't happen when you are in a social environment where people genuinely care about you. When you don't show up, people ask where you've been. People look after you. People are curious what you're up to.
In primate societies, social cohesion is maintained when chimps and monkeys groom each other. Well, we no longer do that on a large scale, but we have a substitute: we talk to each other. It doesn't have to be big.
You don't have to talk about the heavy, substantive issues of life. Even small talk is enough. Even smiling at each other produces a biochemical response that tends to stabilize mood. Never underestimate the power of social input when it comes to your general physical health.
Work Conditions
In the West, there is an ongoing obesity epidemic primarily because in the past thirty years, people are no longer walking around. In the span of a typical eight-hour work day, people are not normally spending a significant amount of time standing up or moving about.
Instead, most people sit down on a chair and look at a screen. While this has increased work productivity due to software automation and computing power, societies have paid a pretty steep price.
A sedentary lifestyle has a serious effect on your body's ability to heal itself and maintain proper balance. Not surprisingly, recent research studies indicate that failing to stand up for long-enough periods of time can actually lead to long-term, serious health risks. A lot of people got alarmed by those research papers for a good reason because, by and large, people are sitting down for work.
This has led to a movement in many workplaces throughout Western Europe and the United States and other places where office workers can choose to stand up while using a computer. These are called standing desks. These are definitely steps in the right direction because your work conditions do play a very big role in your physical wellness.
In terms of your emotional health, being put in charge of a project or being responsible for something with a higher level of accountability, does wonders for your psychological and emotional state. When people work at jobs where there's absolutely no accountability, they eventually feel like they really don't matter all that much.
At some point in time, they feel that the stuff they do doesn't really count, and it's not a surprise that people in such environments tend to be more susceptible to negative behaviors like alcoholism, drug addiction, overeating, smoking and other negative behaviors.
Stress Inputs
For the longest time, the conventional wisdom about stress is that it is bad across the board. Whenever the word "stress" comes up, people always assume the worst. Well, it turns out according to a fairly recent analysis that there is good stress and bad stress.
Good stress enables you to face your limits and overcome them. In other words, you are challenged enough to the point where you are given the opportunity to step up and push the boundaries of your comfort zone. You become a more competent and confident person. This is good stress.
On the other hand, there is stress that grinds you down. This often involves timelines, delivery dates and group projects. You feel less and less competent, and you are more likely to blame other people for your failings or run away from responsibility altogether by "hiding in the crowd". In other words, you let other people essentially take the heat for the work you should have been doing.
As you can well imagine, this is negative across the board. It doesn't make you look like a hero in front of other people, and you are not challenging yourself. You're not putting your skills to good use so they start to deteriorate. You become less and less effective.
The worst part to all of this is that your stress avoidance at work makes you even more mentally unprepared to handle stress. Your tolerance for it deteriorates over time the more successful you are in avoiding it.
Again, there is such a thing as healthy stress. It enables you toughen up and step up to take greater and greater levels of responsibility, not just at work but you take responsibility for your life in general.
Other Details
- 20 Articles (TXT, DOC)
- 1 Ebook (PDF), 87 Pages
- 5 Graphics (PNG)
- 1 Salespage (HTML)
- 11 Ecovers (JPG)
- 20 Promotional Ad Materials (Emails, Banners)
- Resource Report, Cheat Sheet, Mindmap, Social Media Images, Legal Page, Sales Video
- Year Released/Circulated: 2018
- File Size: 76,580 KB
License Details:
[YES] Can be packaged
[YES] You Can Use This Product Yourself
[YES] Can be sold as it is not less than $7 price tag!
[YES] Can pass on the Resell Rights privilege to your customers.
[YES] Can Add This Product to a Membership Site or Bundled Within a Product Package as a Bonus.
[YES] Can be used to create audio/webinar/video products
[YES] Can Give Away The Product (NOT The Source Code Files) To Your Subscribers, Members or Customers as a Bonus or Gift.
[YES] Can change sales page and/or graphics
[YES] Can be added to paid membership sites
[YES] Can sell master resale rights
[NO] Add to a free membership sites
[NO] You can't just pass away the product to anyone
[NO] Contents of the product can be edited, modified or altered.