Salespage Snapshot: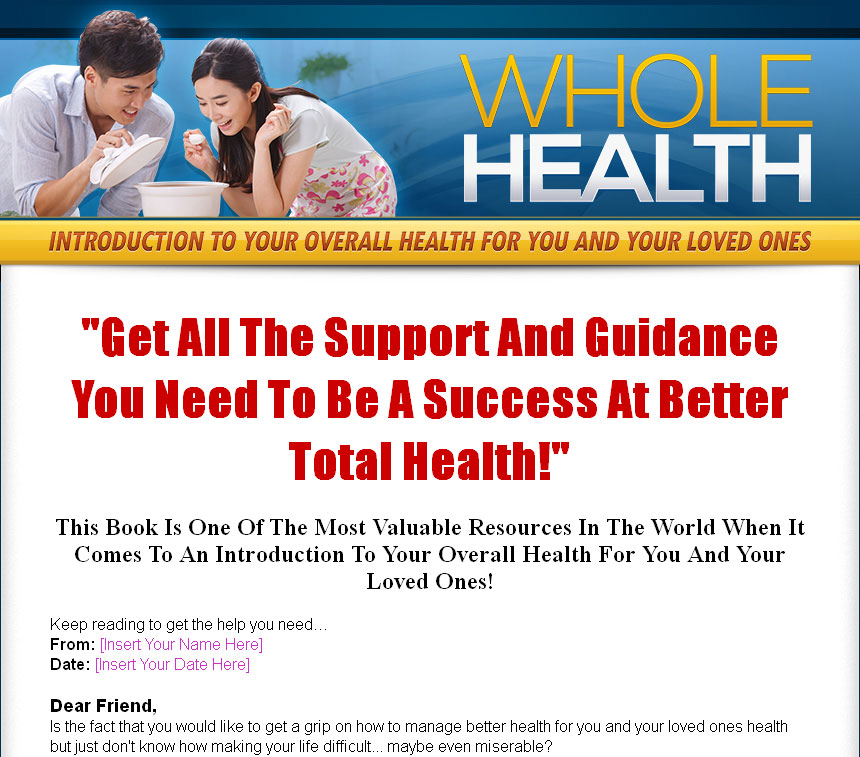 >>> Click Here To View Full Sales Page…
Table Of Contents
Foreword
Chapter 1: Introduction
Chapter 2: The Basics On Physical Health
Chapter 3: The Basics On Eating Right
Chapter 4: The Basics On Exercise
Chapter 5: The Basics On Mental Disorders
Chapter 6: The Basics On Stress
Chapter 7: The Basics On Mental Health
Chapter 8: The Basics On Spiritual Health
Chapter 9: The Basics On Inner Peace
Chapter 10: The Benefits Of Maintaining Overall Health
Wrapping Up
Discipline Necessary For Entrepreneur Breakthrough
Sample Content Preview
Chapter 2: The Basics On Physical Health
Synopsis
The act of reading this article demonstrates that you are ready to be physically healthy. However, the greatest challenge of staying fit is not the vigorous exercises or the preparation of a well-balanced food. It is the commitment that you have for yourself that makes all these things about staying fit become extremely difficult.
Create Good Physical Health
Most of us have the intention of staying healthy, but not all of us can sustain healthy living. This is the reason why a lot of self-help tools were made including this article as it can help you continue and eventually achieve your health goals.
To be able to carry on with this seemingly difficult task, it has to be perceived as something you do with no questions. We do these things because we believe that it is important and that we cannot live a day without doing it. The same concept applies when we decide to exercise every day. We need to have that mindset that exercising is the missing piece that will complete the process of staying physically fit and without it our other efforts will not suffice.
Learning the basics of physical health will help you understand what is it that you want to achieve and how it will benefit you. To begin with, there are four basic components of physical health.
1. Cardiovascular endurance – This can be taken care of with activities like swimming and running. Enhancing this component will improve the oxygen and nutrients supply in the body tissues and at the same time remove stored waste in the body.
2. Muscular strength – This can be improved with various weight lifting and stretching activities. Enhancing this component will help you to have stronger muscles that can respond quickly with less effort.
3. Muscular endurance – This can be enhanced through daily pushups as it can effectively strengthen the arms and shoulder muscles. Enhancing this component will improve the ability of the muscles to withstand repetitive contractions.
4. Flexibility – This can be improved with regular stretching as it can enhance the tractability of your muscles. Enhancing this component will improve your body's capability of moving your joints as well as using your muscles in their full range.
Having these fundamentals in mind, it is best that your exercise program must include activities that can take care of the four components in order for you to achieve optimum results. As a general guide, make sure that you start your workout with a good warm up and end it with a calming cool down. Also, try not to overwork your body, avoid doing hard exercises consecutively for the whole week.
Chapter 3: The Basics On Eating Right
Synopsis
Eating right means feeding your body with the right amount and types of food needed to survive each day. When you eat nutritional food you are letting your body absorb the energy that it needs to provide you with more stable energy and moods throughout the day.
Healthy Foods Healthy Life
As you live your daily life, you can plan out a diet that is healthy but also tasty. You don't need to starve yourself to be idealistically thin. You just need to eat right and exercise regularly to achieve a well-balanced healthy mind and body. The key is moderation.
In all cases, whether or not it is about health or career, strong decisions always play an important role. Once you decide and commit yourself to staying healthy and eating right you are bound to achieve it. The first step to do that is to have a successful mindset about what you are planning.
If you will believe that that you can achieve and maintain a well-balanced diet, it will happen. Just do it in small and gradual steps so that you will not feel that you are obligated to do it. When you are happy with what you are doing, things become easier and eventually it become part of your system.
The goal of healthy eating is for you to maintain a healthy diet that you can sustain for a lifetime. Therefore, after knowing which foods are best for your health, set a standard and food moderation. Remember, the goal is long term and not just achieving your ideal weight. Thus, make sure to set moderation in good balance of fat, carbohydrates, fiber, protein, vitamins and minerals for you to achieve a well-balanced and healthy body.
On the other hand, when you eat, take time to grind your food. It will not only let you savor the food, it will also improve digestion. Also, when you think that you have already consumed enough, stop eating! Normally it takes a few moments for your stomach to get a signal from your brain that you are already full.
Eating fruits and veggies in every meal will complete your healthy diet as they are rich in antioxidants, fiber, vitamins and minerals while giving you low calories in the body. In general, fruits and vegetables that are deeply colored have more concentrated vitamins and minerals that can give you more benefits. Consuming five slices is enough for a day.
Also, get enough healthy carbs and avoid unhealthy fats. Whole grains are the best source of healthy carbs that can give you lasting energy for the entire day. It is also rich in antioxidants and phytochemicals that can help you stay away from cancer, coronary heart disease and diabetes. On the other hand, eating healthy fats will help you nourish your cells, brain, heart, hair, nails and skin. Additionally, it can help you sustain a good mood and reduce the risk of cardiovascular diseases and also helps you avoid dementia.
Other Details
- 1 Article (DOC)
- 1 Ebook (DOCX, PDF), 31 Pages
- 1 Lead Magnet Report (DOC, PDF), 12 Pages
- 1 Autoresponder Email Messages (TXT)
- 1 Salespage (HTML)
- Ecover (JPG)
- File Size: 51,491 KB