Salespage Snapshot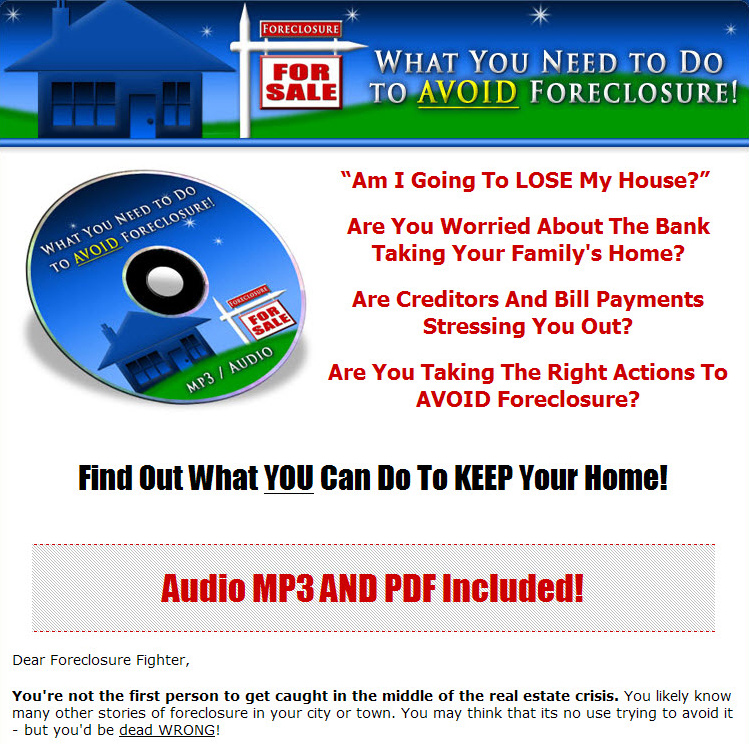 >> Click Here To View Sales Page...
PLR Ebook With Audio Table Of Contents
What is Foreclosure?    4
How will Foreclosure Affect Your Credit?    6
Is Foreclosure Your Only Option?    8
Steps to Take to Avoid Home Foreclosure    10
How Debt Counseling Can Help    12
Can You Rework Your Mortgage?    14
Find Out if Your Lender Will Give You a Grace Period    16
Is Selling Your Home an Option?    18
How to Protect Your Home with a Trust Account    20
Should You Sign Your Home Over to the Lender?    22
How Bankruptcy May Stop a Foreclosure    24
Are There Organizations That Can Help You?    26
What Information Will You Need to Provide?    28
Tips for Getting Your Lender to HELP You    30
Why You Need to Act Quickly to Prevent Foreclosure    32
PLR Ebook With Audio Sample Content Preview
What is Foreclosure?
When a person buys real estate such as a house on a block of ground, they mostly need to borrow money from a lending organization. They then have to pay back this money – plus interest – over a period of years. Since life is not static and things like accident, illness and job loss happen, sometimes the person who borrowed the money finds it impossible to make those regular payments each month.
When this happens, the lender is not impressed because he needs to have his money repaid. In most cases, he then moves in to take the property off the borrower and resell it to pay the debt. This process is called foreclosure. Unfortunately, the borrower loses the property and must then find somewhere else to live.
Foreclosure does not happen immediately after the first payment is missed. In most cases there is a grace period of two or three months. If the payments are not made up by this time, then the borrower will soon receive a notice of foreclosure.
There are two types of foreclosure; power of sale and judicial foreclosure. Very often a power of sale clause is written into the mortgage document. What this means is that the lender has the right to sell the property without having to go through the court system. This makes it a lot easier and quicker for him to get his money back. But if that clause is not in the agreement, then he must go through the courts before he sells the house.
The judicial foreclosure is when there is a court hearing, usually in a state or local court. The sheriff or another representative then supervises the sale of the property by auction. Judicial foreclosure is a requirement in many states. The court sees to it that the lender gets his money first, then other people who are owed money. E.g. utilities may need to be paid. If there is any money left over after all other lien holders have been paid, then it goes to the borrower.
The benefit of judicial foreclosure is that the borrower can be sure of getting any money left over that rightly belongs to him. It may have been that there was not all that much money left to pay on the home and when sold, it realized much more than the debt. In this case, once all other debts have been paid the sum left over belongs to the borrower…
Other Details* Sales Page:
Included, HTML
* File Format:
MS Word Doc, PDF
* Number of Pages:
33
* Included Graphics:
Ecovers, PSD, JPG
* Download File Size:
32,436 KB