Salespage Snapshot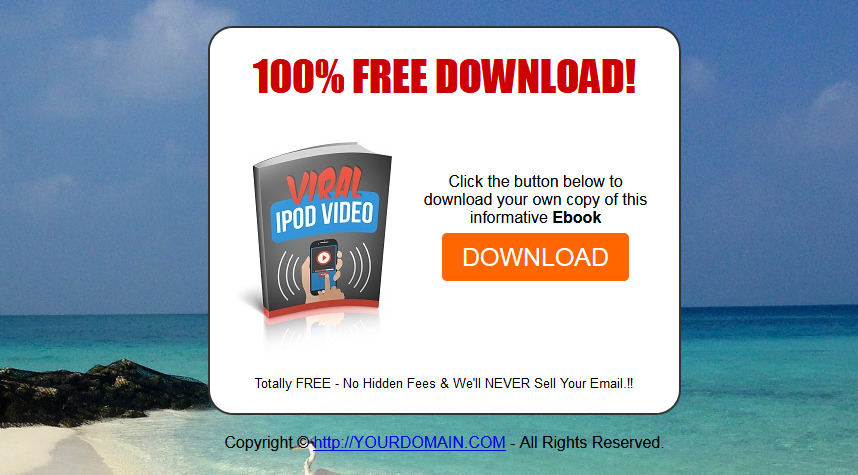 >> Click Here To View Sales Page...
Table of Contents
IPOD VIDEO …….. 1
HOW TO MAKE YOUR VIDEO GO VIRAL …….. 1
CONTENTS….. 2
INTRODUCTION VIRAL VIDEOS, A DEFINITION … 5
1 CONTENT: WHAT GOES INTO A VIRAL VIDEO? 6
TUTORIALS … 7
GET TOPICAL .. 8
THE INTERNET'S FUNNIEST HOME VIDEOS .. 8
ANIMALS, KIDS AND BABIES .. 8
STAR WARS .. 9
2 THE HOOK: GRABBING THE VIEWER'S ATTENTION ……. 10
THE FIRST TEN SECONDS …. 11
TRIAL RUN 11
3 TARGETING YOUR TARGET AUDIENCE … 13
STAY INVOLVED ……. 14
STAY TRUE TO YOUR STYLE . 14
A BRIEF HISTORY OF MYSPACE …. 15
MAKING CONNECTIONS . 16
GET TO KNOW YOUR FELLOW VIDEO MAKER … 17
5 WORD OF MOUTH: HOW VIDEOS GO VIRAL ……. 18
FACEBOOKIN' .. 19
6 FLEAMARKET MONTGOMERY: USING VIRAL VIDEOS AS A POWERFUL MARKETING TOOL ……. 21
WHAT MAKES SAMMY STEPHENS SO GREAT? … 21
A LEVEL PLAYING FIELD …….. 22
7 AN ART, NOT A SCIENCE: WHY VIRAL VIDEOS ARE A TRICKY BUSINESS ……. 24
THE LUCK OF THE DRAW ……. 25
KEEPING AT IT . 25
8 TALKING REALLY FAST AND OTHER TRICKS TO FIT ALL THE RELEVANT INFORMATION INTO A TWO MINUTE VIDEO ……. 27
WHAT REALLY IS RELEVANT? …. 27
TRIMMING THE SCRIPT …. 28
TRIMMING THE VIDEO …. 29
SHOW, DON'T TELL …. 29
9 INSIDE JOKES: UNDERSTANDING THE VIRAL CULTURE OF INTERNET COMMUNITIES ……. 31
MEMES, MEMES EVERYWHERE …. 32
WHAT'S SO FUNNY ABOUT NATURAL SELECTION? … 33
COPYRIGHT LAWS …. 35
ESSENTIALLY, HERE'S WHAT YOU CANNOT DO… 36
AND NOW, WHAT YOU CAN DO… 36
DEFAMATION …. 37
THE FACT OF THE MATTER …. 37
11 DOING IT YOURSELF: A CRASH COURSE FOR THE BEGINNING VIDEO MAKER ……. 39
PRE-PRODUCTION …. 40
WRITING 40
FINDING ACTORS 40
SHOOTING …. 41
THE THREE LIGHT SETUP 41
THE AXIS 42
SOUND 43
POST PRODUCTION . 44
EDITING 44
FINE TUNING ……. 45
PRACTICE, PRACTICE, PRACTICE …. 45
CONCLUSION ……. 47
Sample Content Preview
2THE HOOK: GRABBING THE VIEWER'S ATTENTION
Okay we lied. There is one other thing that all successful viral videos have in common, and that is that they grab the viewer's attention within the first few ten seconds. A common saying regarding movies, "If nothing interesting happens in the first five minutes, nothing interesting will happen in the rest of the movie, either". Well, if your video's only two minutes long, then you've really only got about ten seconds to convince the viewer to keep watching. Think of the whole internet video thing as MTV after a few energy drinks, the audience wants something short, fast and immediately gripping. There are millions and millions of videos out there, and the fact is that most people will just click on something else if they don't think the one they're watching will be worth the time. There are a lot of ways of hooking the viewer right away, and it really does depend on what kind of video you're making, but essentially you just don't want to take the viewer's attention span for granted. In short, viral videos are the pop song of the iPod generation: Start with a something catchy and don't overstay your welcome.
THE FIRST TEN SECONDS
If you're doing comedy, make sure there's a laugh in those first ten seconds and then keep them laughing for the next two minutes. If you're doing an advertisement, the viewer should know what you're selling right off the bat; show the product or service right up front and spend the rest of the video explaining what makes that product or service so great. Not to say that there's no room for subtlety, but subtlety is a tricky thing to pull off in those first ten seconds. Start with a bang and spend the rest of the video getting a little more in-depth. An excellent example would be The Angry Video Game Nerd, James Rolf. He makes a good living reviewing bad video games on Youtube, regularly getting over a million views per video. His videos are insightful, humorous and nostalgic, really getting into the whole philosophy of game design and why the one he's reviewing stinks, but before he gets into all that, he spends the first thirty odd seconds of the video using very imaginative curse words to describe the game in brief. Crude, sure, but it's turned out to be an incredibly catchy hook for his viewers. We're not saying you need to start swearing like a sailor in all your vids, but within the first ten seconds, you should let the viewer know what you're all about, and then spend the rest of the video getting a little more in-depth about it.
TRIAL RUN
Now, before putting your video online, show it to some friends. Make a note of how they react. Tell them to be brutally honest with you and ask… was it funny? Did it make sense? Were there any boring parts? The main thing is cutting out the parts that are boring or confusing. When you're just starting out, that may leave you with a pretty skimpy video, less than a minute in length, but you know what? That's a good thing. The shorter the better. If it's possible to get all the information across in five seconds, then go ahead and make a five second video.
People tend to share the shorter videos via social networking sites and iPod texting more often than they do the longer videos, so you really do have a better shot at going viral if you cut out everything that's not needed. So, in short, just trim it down to the best parts and leave everything else on the cutting room floor. – 13 –
3TARGETING YOUR TARGET AUDIENCE
We said before that, no matter what you're into, there's always going to be somebody else who's into it, too. Well, if you really want to capitalize on that, then you need to get to know your audience. This doesn't mean selling out and just making whatever you think other people will like. Don't worry, you'll have plenty of time to sell out later when you're rich and famous. What this means is just bringing a sense of focus and purpose to your videos. Remember, the golden rule of making anything, be it a video or a sandwich, is to make what you like. That said, keep up with the communities that revolve around what you like. Say you're doing a video blog about movie news. Obviously, you don't want to be reporting as fact something that was debunked as a rumor several weeks ago, nor do you want to be reporting "Breaking news!" a month after it was already reported by everyone else. So basically all we're saying here is; know your stuff and stay up to date. The same goes with using viral videos for marketing. Looking at it from a business perspective, when high speed internet became more accessible to the common user, a lot of dial-up moguls went out of business because they didn't expect high speed to be as big as it wound up being, so they stuck to good old 56k and wound up losing a lot of customers that way. The same can happen to any business owner or marketer who doesn't keep up with their industry.
STAY INVOLVED
Join some online forums relevant to your subject. Besides being a great way to keep up on what's new, you've also got a guaranteed audience right there. Even if you're already making some news sites a regular part of your day, it's tough to keep up on all of it all by yourself, so reading the message boards can help fill you in on what you missed. This would tend to apply to a lesser degree if you're doing videos just for entertainment, but, again, this is where your test audience comes in. If a joke is funny, you'll laugh whether you're a coin collector a video gamer or a movie fan, so there's no real news to keep up with if you're just trying to make people laugh, but showing it to your friends to get some test audience reactions can be immensely helpful. Once more, this comes down to the golden rule of making videos: If your friends like it, someone else will, too.
STAY TRUE TO YOUR STYLE
It's not about changing the content of your videos to please the masses. It's just about getting focused and serious on what your videos are all about in the first place. Don't think that, because movie review videos are big, you need to make movie review videos, or that you need to make any major changes at all, really. So if you want to target your target audience, the main thing is to just remember who your target audience is: Yourself. This is true whether you're trying to entertain or market. What makes you laugh? What would get your attention and make you want to support the company? Start from there and then see how others react to the results. If you don't like it, chances are, nobody else will, either. – 15 –
4FROM LIVEJOURNAL TO TWITTER: USING SOCIAL NETWORKING SITES TO GET YOUR VIDEO OUT THERE
Social networking is really the key ingredient to getting a regular audience for your videos. The whole phenomena of these sites has been around since before Livejournal, and has since gone through a gradual evolution… We'll start with MySpace.
A BRIEF HISTORY OF MYSPACE
Yeah, MySpace pages are kind of annoying. They autoplay a really bad song for you as soon as you load the page up, they're loaded with flashy graphics and they're mostly just a bunchy of photos people took of themselves at a party. But! It's still worth looking into, because that's actually not what the site was designed for. The site was actually created for the purpose of letting musicians promote themselves, with or without a talent agent. On that level, it's been an incredible success. Many musicians who might never have had a shot at getting signed before MySpace have gone on to have incredibly lucrative careers by selling their own CDs over the site, and in fact, most of today's record producers are constantly sifting through MySpace with a fine tooth comb to find the next big thing.
Other Details
- 25 Articles (TXT)
- 1 Ebook (PDF), 47 Pages
- 1 Squeeze Page (HTML)
- 2 Ecovers (PNG)
- Year Released/Circulated: 2018
- File Size: 1,670 KB
License Details:
[YES] Can sell and keep 100% of the sales.
[YES] Can edit the squeeze page.
[YES] Can be bundled into another paid package and sell at a higher price.
[YES] Can be used as a bonus to another product you are selling.
[YES] Can be sold in a Dime sale event.
[YES] Can be added into a paid membership site.
[YES] Can pass on the Master Resell Rights privilege to your customers.
[YES] Can be given away for free AGAINST an email address (lead generation)
[NO] Contents of the product can be edited, modified or altered.