Salespage Snapshot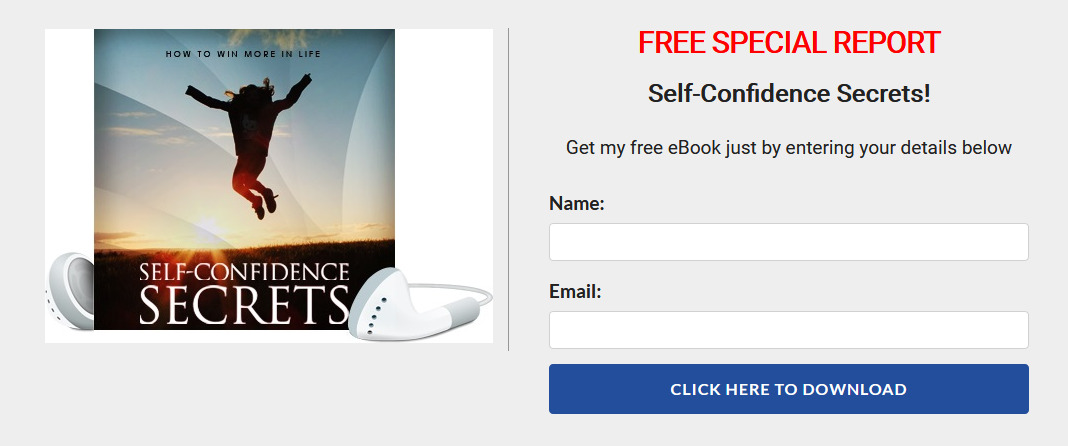 >> Click Here To View Sales Page...
Sample Content Preview
The higher the risk, the higher the reward. Unfortunately, your low self-confidence has really reduced your tolerance for risk, uncertainty and the potential for loss that you fail to see opportunities. Even if they do present, you don't take them.
Even if you are very competent in certain areas of your life, it's very easy to give in to the temptation of coasting. I really can't say I blame you. If you do certain things very well and you produce certain results predictably, it's very easy to think that that's all you need.
It's very easy to think that the rewards that you're getting is enough for you and your needs and you really don't have to apply yourself any further. Believe it or not, this applies to almost everybody because the default standard, as far as the human condition is concerned, is to take the path of least resistance.
Laziness is actually a pretty shallow word for this. It's something deeper. With everything else being equal, if given a choice, we would rather take the easy way out. This is guaranteed. So, when you are presented with opportunities to coast, you instinctively take them.
Even if you're not given such opportunities, you try to coast anyway. After all, why beat yourself up unnecessarily, right? Here's the problem. The reason why you give in so easily is because you have low self-confidence in your ability to keep challenging your areas of competence.
The problem with coasting is you're not learning anything new. You're sticking to the narrow range of knowledge that you already have. Sure, you produce results with that narrow range, but it gets smaller and smaller as the world changes.
Soon enough, you would realize that what you know, as well as your capabilities, are simply not up to the job. That is the bitter "reward" of coasting through life. Sadly, low self-confidence pushes you down that slippery slope.
To get good at anything, you have to not only master a certain set of actions, but you have to constantly try to break things. You're trying to mix and match, slice and dice and try to come up with all sorts of combinations so you can step up your game.
I don't care what you do for a living. Maybe you're a lawyer or a doctor, an architect or an engineer, a chemist, janitor, farmer or domestic helper. It doesn't matter. If you want to be at the top of your game, you can't just focus on the things you already know. You can't just focus on the things that you have mastered and have grown comfortable with.
You have to push yourself to the limit. When you have low self-confidence, you think that challenging yourself to go to the next level is a hassle. You have such a low opinion of your ability to discover new things.
You focus on the discomfort and inconvenience involved that you lose sight of what you stand to gain.
It then all seems like it's just not worth it.
If you are suffering from low self-confidence, it's going to be very hard for you to overcome failures and disappointments. I'm telling you right now as you read this, you're already failing. There's already the possibility of disappointment.
The problem is not whether failures and disappointments happen in our lives. Spoiler alert. They happen all the time. The issue is what are you going to do about them?
Are you going to sit back and just brood over how you worked so hard and missed the mark? Are you going to continue to be disappointed with yourself that you felt that you gave your best, but came up short? Or are you going to try again and again until you get the job done?
Which do you think is a better strategy? Now all of us could agree about the answer. In fact, it's obvious. The problem is most people allow their failures and disappointments to define them. They retreat to their comfort zones until these zones shrink smaller and smaller until they find themselves living in a personal prison complete with invisible walls.
You can't live your life based on whether something is convenient or comfortable. You have to push back against the walls of your comfort zone. Unfortunately, that's very hard to do if you allow your disappointments and failures to define you.
That's really what you're doing. You're letting them set firm boundaries as to what you can and can't do as well as who you can and can't be. A lot of this can be traced to your low self-confidence.
I know that the word "blessing" is quite a strong word. After all, we're talking about challenges here. We're talking about starting a business and then running out of money. We're talking about getting into a new relationship and discovering that he or she is cheating on you. That's what we're talking about. Challenges. The curveballs of life.
What are you going to do? If you have supreme confidence in yourself, you see all these challenges and you look for the blessing. You look for the proverbial silver lining in the cloud. That's what winners do. That's how people who always find themselves at the top choose to handle things.
Unfortunately, if you have such a low view of your ability to get things done and get the results you expect, you look at challenges from a completely different perspective. You look at the inconvenience and the discomfort involved in overcoming them.
Other Details
- 1 Ebook (PDF, DOC), 12 Pages
- 1 Audio (MP3)
- 1 Graphic (PNG)
- 1 Squeeze Page (HTML)
- Year Released/Circulated: 2020
- File Size: 4,771 KB
License Details:
You may add this product to your PAID membership site
You may giveaway the product as a bonus when people buy through your affiliate link
You may edit the included opt-in / squeeze / landing page
You may giveaway the eBook for Lead Generation purpose
No, you may NOT edit the contents of the eBook
No, this product does NOT include private label rights. You are granted Master Resell Rights only