Salespage Snapshot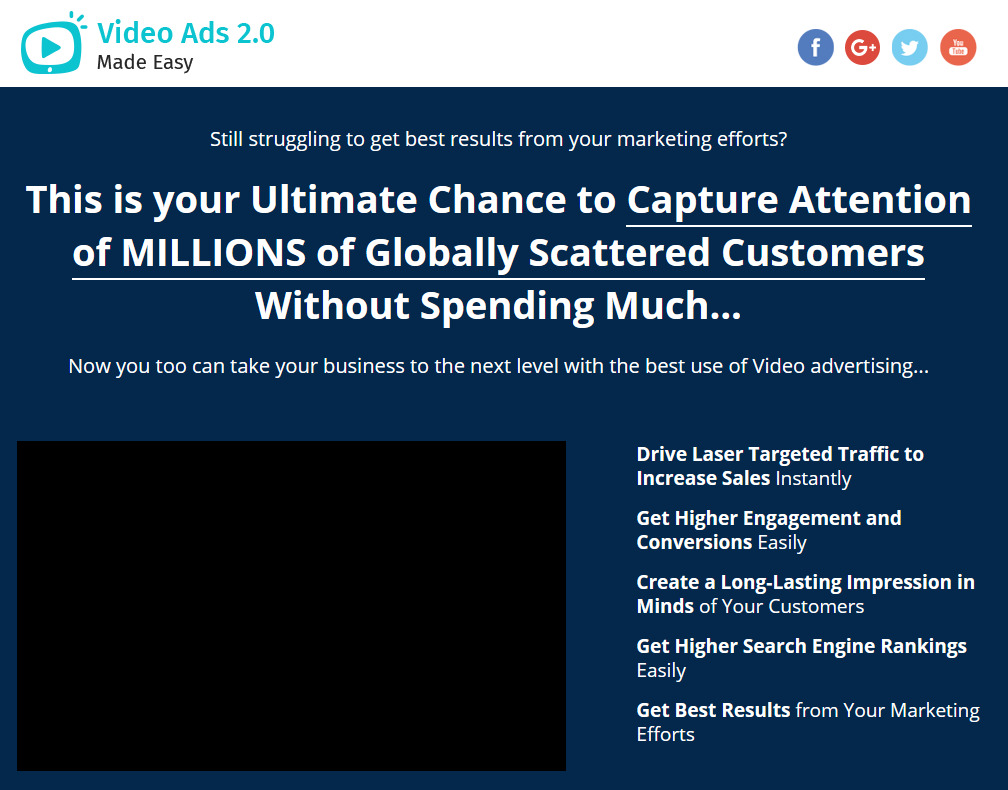 >> Click Here To View Sales Page...
Table of Contents
Introduction 04
Section 1: Video Ads Basics
Chapter 1: What Is Video Marketing All About? 07
Chapter 2: What Are Video Ads? 19
Chapter 3: How Can Video Ads Help Your Business? 12
Chapter 4: Shocking Video Advertising Facts To Consider 15
Section 2: Video Ads – Step by Step
Chapter 5: Finding The Right Tool To Create Your Video 19
Chapter 6: Getting Started With YouTube Advertising 23
Chapter 7: Creating A Basic Video Ad Campaign On YouTube 27
Chapter 8: Using AdWords For Video 32
Chapter 9: Setting Up An In-Stream Ad 37
Chapter 10: Setting Up An In-Display Ad 41
Section 3: Advanced Video Ad Strategies
Chapter 11: Creating A Brand Awareness Campaign 45
Chapter 12: Creating A Video Ad On Facebook 48
Chapter 13: Creating A Video Remarketing Campaign 52
Chapter 14: Other Video Advertising Platforms To Consider 56
Chapter 15: Optimizing Your Video Ads 61
Chapter 16: Video Advertising Tips And Tricks 66
Section 4: Additional Tips to consider
Chapter 17: Do's and Don'ts 71
Chapter 18: Premium tools and Services to consider 75
Chapter 19: Shocking Case Studies 81
Chapter 20: Frequently Asked Questions 87
Conclusion 92
Top Resources 93
Special Offer 94
Sample Content Preview
Chapter 2: What Are Video Ads?
Hey there everyone! So we already talked about video marketing, or about how you can use relevant video content to compliment any type of marketing campaign, and we're sure that you are now seeing how some of your favorite content creators are simply using video marketing to drive home their message as the most effective part of their content marketing strategy.
Yet by now you are also aware that video marketing is often used as part of a larger content marketing campaign for a reason, and that is because it is a longer-term strategy that is mostly used to create engagement instead of, say, create immediate sales.
Granted, you can use video marketing to promote affiliate products and make money off it, but the truth is that you will be required to deliver not only relevance, but also value to your target audience. That means that you won't be able to use video marketing to directly pitch your offers but to show your audience the benefits of your offer in an indirect way, which will in turn drive sales later on.
So the question now is, what if your objective is to send your message in the fastest way possible? What if you want to bypass all the formalities and the difficulties so often associated with organic engagement and tell your target audience to buy your product now or to move on otherwise? Well, we might just have an answer for you: video advertising.
Ok, But What Is Video Advertising All About?
Just as the name implies, video advertising is all about the use of video for advertising. More specifically, video advertising is the use of online video for ad placements. In fact, video advertising is a very broad term that encompasses not only ad placements but also the use of the unique features offered by video sharing platforms for advertising.
In this sense, video ads are no longer understood as simple banner ads flashing in online videos but also as any type of ad unit in video format. This is because you will also be able to see video ads outside of video sharing platforms such as YouTube, such as muted right-hand column video ads on blogs and pre-roll video ads on major sites.
The internet has gotten so used to video ads that you may have a hard time telling one video ad format from another; people are simply happy to watch or interact with a video ad, just like if they were watching a video on YouTube, and that's why so many marketers love video ads. Here are some of the most popular video ad formats; we're pretty sure you have seen them before!
✓ Overlay Video Ads: These are the classic banner ads that appear underneath the screen while you are watching an online video.
✓ Companion Video Ads: These display-like ads appear outside the video, around the video player.
✓ Linear Video Ads: These are non-static video ads that can appear both on online videos as pre-roll, mid-roll and post-roll, and on website content as on-top-of, in-the–middle or on-the-bottom of content advertising, and they often take embed-like positioning.
✓ Interactive Video Ads: This type of video ad often takes over the entire screen and integrates some form of interaction such as links, opt-in pages, and even mini games. They're generally longer, from 1 to 2 minutes long.
Awesome, right? Then wait until we tell you all about how video ads can benefit your business in our following chapter. Tune in!
Chapter 3: How Can Video Ads Help Your Business?
Hey there my friends! When you start looking for ways to rapidly expand your business, not every marketing strategy will do the trick. You need to make money and, just as importantly, you need to get a return on your investment. After all, you can't keep a business alive through brand awareness alone.
That is why video advertising should be your first bet. It is more effective than traditional TV advertising, and it costs substantially less, and there are many other benefits for your business aside from those. Here are our favorite ways video ads can help your business.
Videos Ads Can Help Your Business Reach A Highly Targeted, World-Wide Audience
One of the greatest advantages of video advertising is in its reach. By advertising on video sharing sites such as YouTube, which gets over 30 million visitors a day from all around the world, you will be able to reach out to millions of people with your video advertising campaigns within a very short time.
Other Details
- 1 Ebook (PDF), 95 Pages
- Top Resource Report, Cheat Sheet, Mindmap, Special Report
- Year Released/Circulated: 2018
- File Size: 5,518 KB
License Details:
[YES] Can use
[NO] RESELL OR GIVEAWAY