Salespage Snapshot: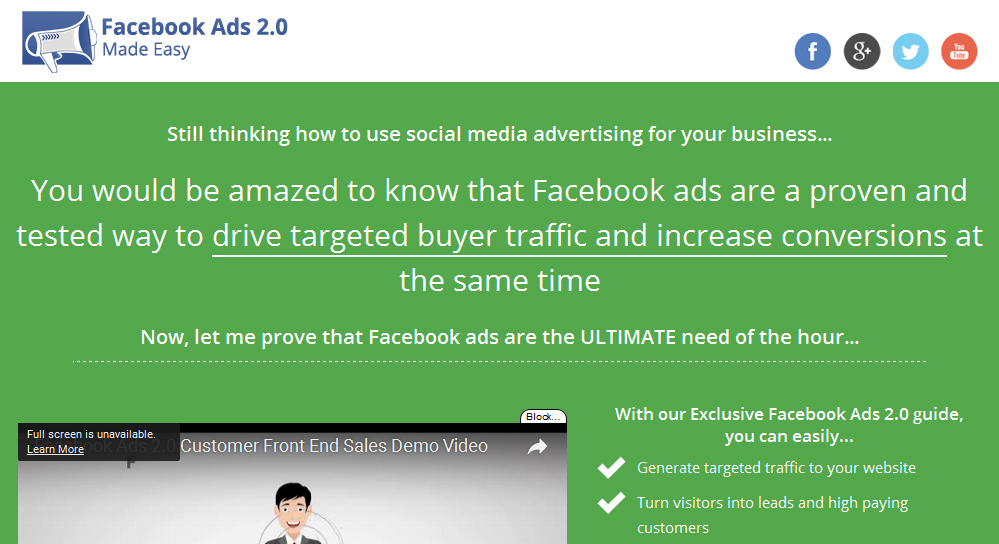 >>> Click Here To View Full Sales Page…
Table of Contents
Introduction 04
Section 1: Facebook Ads Basics 06
Chapter 1: What are Facebook ads? 07
Chapter 2: What can you accomplish with Facebook Ads? 10
Section 2: Setting Everything up before creating your Ads 15
Chapter 3: What should you do right before creating your ads? 16
Chapter 4: What type of websites can you use to advertise with Facebook Ads? 20
Chapter 5: Creating a Facebook Page – Step by Step 23
Chapter 6: Creating a Facebook App – Basic Intro 24
Chapter 7: Creating a Facebook Event – Step by Step 26
Chapter 8: What type of videos should you create to advertise with Facebook Ads? 29
Section 3: Creating Ad Campaigns – Step by Step 30
Chapter 9: Boost your posts 31
Chapter 10: Promote your Page 32
Chapter 11: Send people to your website 37
Chapter 12: Increase conversions on your website 38
Chapter 13: Get installs of your app 39
Section 4: Ad Analysis 43
Chapter 14: How tracking can get you on the right track 44
Chapter 15: How optimizing can get you closer to your goals, faster 45
Section 5: Additional Tips to consider 46
Chapter 16: 10 do's you should consider for a successful Facebook Advertising venture 47
Chapter 17: 10 don'ts you should avoid for a successful Facebook Advertising venture 50
Conclusion
Sample Content Preview
A fact of Facebook ads is that they can be seen on mobile devices. People use smartphones and tablets to discover, communicate and shop more than ever, because they're comfortable to do so.
With this tool for mobile devices, you can have your campaign controlled easily and comfortably by getting the statistics of your posts, and making more ads that can be seen by more than 700 million people that log into Facebook every day on their phones and tablets.
People seeing your Facebook ads can get directions to your store, buy something there, download your app if they like it, view your videos, add an item to a shopping cart or take any action on your website. Your ads are placed in the stream of information that people view on Facebook, so they're more likely to take action.
Facebook ads update you on how your ads are performing and how your budget is spent. You can visit the Ads Manager for managing your ads and check your performance. You can also use the Ads Manager app.
How they Work?
People use Facebook to discover what's new with their friends, family and the things they care about by viewing photos, videos, and information posts, so you can become one of the many sources of content for them.
When people like your Page, their friends are more likely to be interested in what you have to offer. How do they do this? Facebook suggests you to people that may be interested in your content, and they can also see if one of their friends likes your page, so you'll get recommended.
You'll become relevant the moment that Facebook starts showing your ads to all the right people that might be interested in your content, your software, blog, or anything you have based on their age, gender, location, interests and much more.
Facebook is super actionable because they make a lot of calls to action to your ads. Facebook ads can send the people you need to your website or app, and increase your sales.
Facebook can help you be naturally social when someone's Facebook friends likes your page, because these people will be more likely to be interested in what you have to offer by checking your shared posts, videos and photos.
Facebook allows you to meet your customers, get new people into your store, interact with them, choose the audience you want and check the results of your ads, all in one place. You have to start using Facebook ads now!
Chapter 2: What can you accomplish with Facebook Ads?
Facebook ads offer you many ways to create successful promotions. We are going on a tour to check the tools found on Facebook for Business Advertising to help your businesses grow enormously and guarantee you even more opportunities, traffic, and customers with a few clicks.
Page Post Engagement Ads
When you run a Page Post Engagement Ad, it will reach more people and get them to see, like, comment on or share your page on Facebook, helping to reach those people's friends which is more organic traffic, keeping them up to date depending on their location, age, gender and interests. This way you can engage those people with follow up posts to reach your business goals faster.
Page Like Ads
When people like your Page, their friends are more likely to be interested in what you have to offer. Make campaign Ads to be shared on the main page of every single person you reach on Facebook. When their friends like your ads, you'll get more likes to your page, and it is a great way to increase community traffic to your page.
Clicks to Website Ads
On Facebook you can run an ad that can be featured with a photo or a video and even include special buttons for your audience to 'Learn More' or to 'Go to the Shop'. Running an Ad to drive more people to your website is a good way for people to discover the products and services that you're offering.
Website Conversions
You may track certain actions to your sites with Website Conversion ads, because they allow you to create a Pixel to add to your Website. When you're ready, copy the code and paste it within the
and lines on your page, save and exit. You can also send the HTML code to a Third Party. You can start writing as people arrive to the webpage.
App Install and Engagement Ads
You may run an Ad for your App, so people can see it in their newsfeed, install it and grow your user base. They just need to click on your Ad to get it instantly available on their PCs, Android or iOS mobile devices. More than 700 million people visit Facebook on their PCs, phones and tablets every day, so this tool can get the most out of your Application.
Event Response Ads
With an event response ad, you can let people know about your grand opening, party or other special event with the Facebook Ad tool. When someone clicks your Event Ad, they can choose to either join the event or learn more about it.
When this information is updated by Facebook, you may start tracking traffic for a successful event.
Offer Claim Ads
People can claim your offers, so you can encourage customers to get to your store by giving them a discount or deal that they can claim from your website. Just choose the right audience and set the terms, like how many people can claim it and how long the offer will last. This way you can grow your business.
Video Views
Promote videos that show behind-the-scenes footage, product launches or customer stories to raise awareness for your brand. You may choose a thumbnail for people to see or add a description. You can do all of this from your own business webpage.
Other Details
- 1 Article (PDF)
- 7 Ebooks (PDF), 55 Pages
- Cheat Sheet, Mind Map, Top Resource Report, Traning Guide,
- Year Released/Circulated: 2016
- File Size: 6,814 KB
License Details:
[YES] Can learn from product
[NO] Can sell
[NO] Can giveaway